'Russia expects this war to go on for some time': North Korea meeting shows Putin 'playing long game', ex-MI6 spy says
12 September 2023, 19:16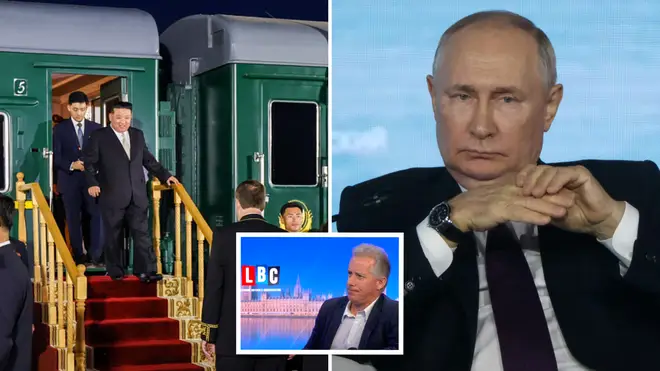 Vladimir Putin's meeting with North Korean leader Kim Jon Un shows Russia is planning to "hunker down" for a long war in Ukraine, a former MI6 spy has told LBC.
Speaking after Kim Jong Un arrived in Russia ahead of a meeting with Mr Putin, the former head of MI6's Russia desk told LBC's Andrew Marr there is "serious intent" behind the meeting.
"The Russians are now indicating they expect this war [in Ukraine] to go on for a long time and in fact, that may well be what lies behind their meeting with Kim Jong Un today," Christopher Steele told LBC.
"You consider that the Russians have probably fired about half of the artillery shells they have in stock...clearly they still have quite a lot of shells left - probably at least another year or two.
"So this move, I think, with the North Koreans - it might be theatre to some extent - but I think there's a serious intent behind it as well. And that intent is to hunker down for a long war."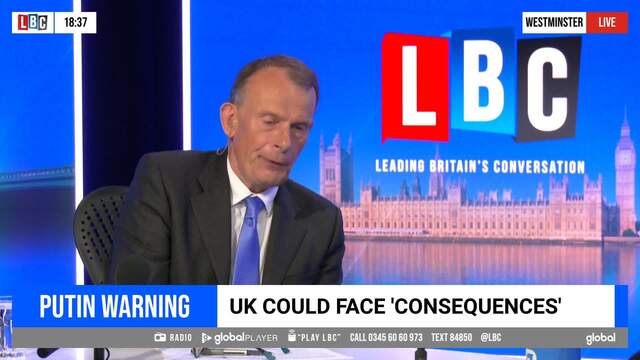 Former Head of MI6's Russian Desk: "Russia is planning to hunker down for a long war with Ukraine"
Kim Jong Un is planning to meet with Mr Putin in his first trip abroad in four years, having met the Russian leader in 2019.
It is not yet clear where they will meet, with the North Korean leader's train heading north.
According to the United States, Mr Putin wants to buy ammunitions from North Korea to help them in their invasion of Ukraine.
Read More: Putin claims British Secret Service behind attack on Russian nuclear plant and warns of 'serious consequences'
Read More: Trump criminal cases show 'rottenness' of US political system – Putin
In return, analysts say, North Korea will want food aid and technological help as they attempt to expand their nuclear programme.
Mr Steele said North Korea are likely to get "quite a lot" out of a meeting with Russia .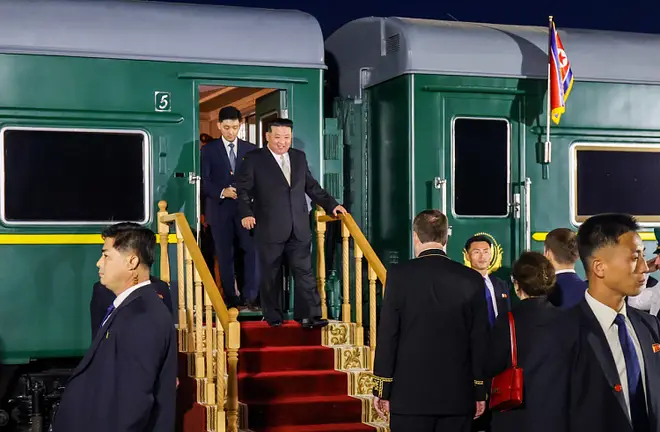 As for Russia's relationship with the US, Mr Steele told LBC it is extremely likely Mr Putin would "like to see Donald Trump back in power".
"An isolationist, Republican president who ran foreign policy that was based on interests and not values and poses, in my view, quite a serious threat to the integrity of NATO," the former MI6 spy said.
"He has a big stake, I think, in the return of an isolationist, republican as president. Donald Trump is the pinnacle of that."
It comes after Mr Putin said the criminal cases against Mr Trump are political revenge that show the fundamental corruption of the United States.
"As for the prosecution of Trump, for us what is happening in today's conditions, in my opinion, is good because it shows the rottenness of the American political system, which cannot pretend to teach others democracy," Mr Putin said at an Eastern Economic Forum gathering in Russia's Pacific Coast city of Vladivostok.
"Everything that is happening with Trump is the persecution of a political rival for political reasons. That's what it is. And this is being done in front of the public of the United States and the whole world," he said.
Opinion polls indicate that Mr Trump is by far the strongest contender to become the Republican Party's candidate in the 2024 presidential election.
During his four years in the White House, Mr Trump repeatedly touted having good relations with Mr Putin, while critics alleged he was submissive to the Russian leader.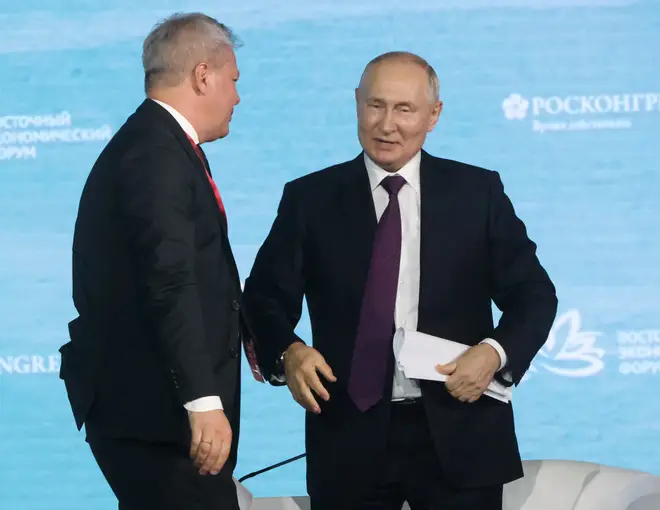 Mr Trump has claimed he could resolve the conflict in Ukraine in a matter of days if he regains the presidency. He has not provided details of his potential approach.
"We hear that Mr Trump says that he will solve pressing problems in a few days, including the Ukrainian crisis. Well, this cannot but bring happiness. This is good," Mr Putin said.
However, the Russian leader said his country's poor relations with the United States were unlikely to change significantly regardless of who becomes president.
"What to expect from the future, no matter who the president is, it's hard for us to say, but it's unlikely that anything will change radically," Mr Putin said.
He claimed the Biden administration has instilled a strong bias against Russia and "it will be very difficult for them to somehow turn this whole ship" in the other direction.
Russia also is due to have a presidential election in 2024. Mr Putin refused to say when asked if he would seek another term after being in power, as president or prime minister, since 2000.
"We will talk about it" after the Russian parliament sets an election date, he said.
Watch Again: Andrew Marr 12.09