Russian journalist who protested war in Ukraine on live TV may have been poisoned
13 October 2023, 08:34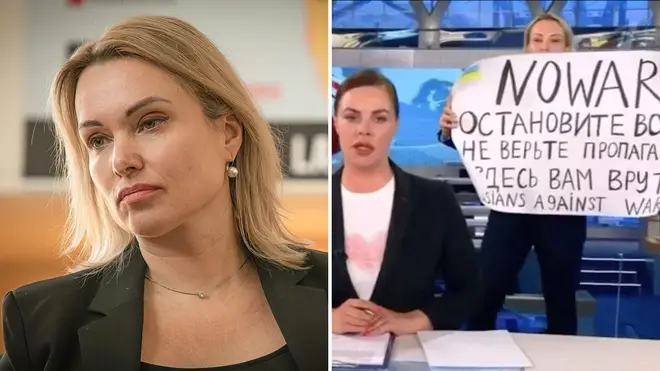 A Russian state TV journalist may have been poisoned in France, having condemned Vladimir Putin's invasion of Ukraine live on air.
French prosecutors have opened an investigation into why the exiled journalist, Marina Ovsyannikova, was taken ill and called emergency services on Thursday.
Ms Ovsyannikova attracted international attention in March 2022 (weeks after Russia invaded Ukraine), after appearing behind an evening news broadcaster, holding a sign saying, "Stop the war, don't believe the propaganda, they are lying to you here."
Read more: Russian anti-war journalist who protested live on air on wanted list as she escapes house arrest
Remember this woman?

Marina Ovsyannikova protested against the war live on #Russia's main news.

Many still believe was an elaborate Kremlin plot.

Tonight French police are investigating a possible poisoning after she fell ill near her apartment in #Paris. pic.twitter.com/qKYICJQEqs

— Tim White (@TWMCLtd) October 12, 2023
The journalist, now living in Paris, has been hospitalised, with the media watchdog Reporters Without Borders saying its team had been "at her side" ever since she was admitted into a hospital.
Christophe Deloire, director general of Reporters without Borders, updated his followers on X (formerly Twitter): "We were afraid for Marina Ovsyannikova, and the hypothesis of poisoning was raised and not ruled out."
"Marina's condition improved during the afternoon. She remains under medical supervision," he added in a separate post on Thursday.
French police have examined her apartment and an investigation is currently underway, according to the prosecutor's office.
The incident follows Ms Ovsyannikova's sentencing in absentia to more than eight years in prison this month in Russia – for having protested against Mr Putin's war in Ukraine.
A court in Moscow found her guilty of "spreading false information about the Russian army".
She fled Russia with her daughter a year ago after escaping house arrest.