Russian pilot 'tried to shoot down RAF spy plane over Black Sea' because he wrongly thought he was clear to attack
14 September 2023, 10:09 | Updated: 14 September 2023, 10:14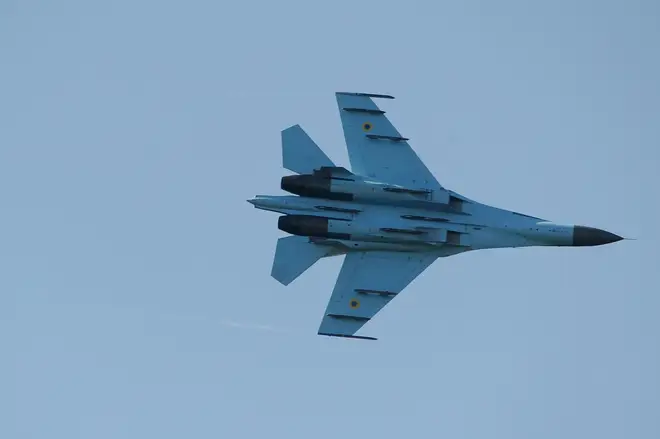 A Russian fighter jet tried to down a British spy plane off the coast of Ukraine.
The Su-27 fighter fired two missiles at the British jet in the incident last September.
At the time, then Defence Secretary Ben Wallace said the unarmed RAF plane was on a routine patrol in international airspace when it was followed by two Russian fighters.
During the encounter that lasted 90 minutes, one of the jets fired two missiles near the RAF plane.
The first one missed the target - and Moscow blamed the launch on a 'technical malfunction'.
The UK's Ministry of Defence (MoD) publicly accepted the Russian explanation.
Defence sources told the BBC that Russian communications intercepted at the time revealed confusion in his chain of command.
One of the pilots thought he had been given the green light to target the British plane - following an ambiguous command from a Russian ground station.
The second pilot disagreed and swore at his wingman when he opened fire.
The MoD said it would not be releasing details of the intercepted communications.
A source said the command from the ground station translated to "you have the target" - with the ambiguous language being interpreted by the Russian pilot as permission to fire.
Read more: Sara Sharif's fugitive father, stepmother and uncle arrested on suspicion of murder after return to Britain
Read more: Government plan to scrap water pollution rule to boost housebuilding defeated in House of Lords
An air-to-air missile was fired, but it failed to lock on to its target, before a row broke out between the two pilots.
The first pilot then released another missile, but it failed to properly fire and simply fell from his plane's wing - indicating a failed or aborted launch.
In a statement to MPs on 20 October, the then Defence Secretary Ben Wallace called it a "potentially dangerous engagement".
Had the Russian missile blown the RAF plane out of the sky, the UK and Nato allies may have been forced to declare war.
Nato member nations agree that an armed attack against one or more of them 'shall be considered an attack against them all', according to Article 5 of Nato's founding treaty.