Safety review held after massive overcrowding at London Bridge station as commuters feared being crushed
26 January 2023, 16:19 | Updated: 26 January 2023, 17:08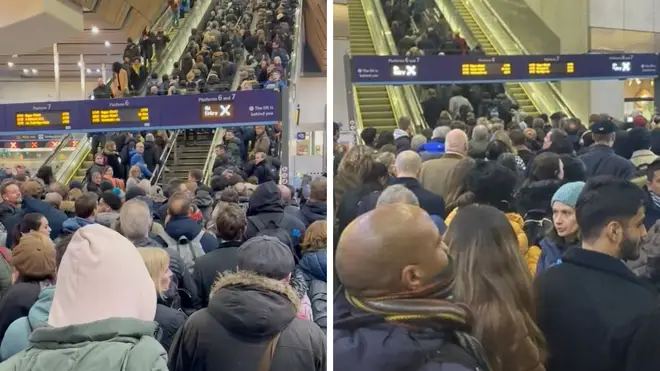 A safety review was being held today after huge overcrowding at London Bridge Station in a "dangerous" situation during rush hour yesterday.
Thousands of people were caught in the chaos for over an hour from 5.30pm yesterday, leading to frantic scenes at the train station.
Network Rail blamed the situation on train delays and cancellations as a result of a trespasser on the tracks at Hither Green.
But travellers told the Standard that a "dangerous" situation developed as passengers attempted to push their way up escalators onto platforms at the station, with some saying a "total lack of information" from staff at the station the anxiety of people trying to return home.
It was believed by some that the situation has been exacerbated following the introduction last month of a new timetable on Southeastern trains, which has caused thousands more people to have to change trains at the station.
Read more: Nadhim Zahawi did not make 'innocent error' with his tax, HMRC chief tells MPs
Read more: Andrew Bridgen threatens to sue former Health Sec Matt Hancock over Covid vaccine row
Southeastern managing director Steve White told the paper today that the review into passenger safety and the number of train services at the station with Network Rail would be wide-ranging.
It will look at whether future incidents could be more quickly resolved and if customer care could be improved.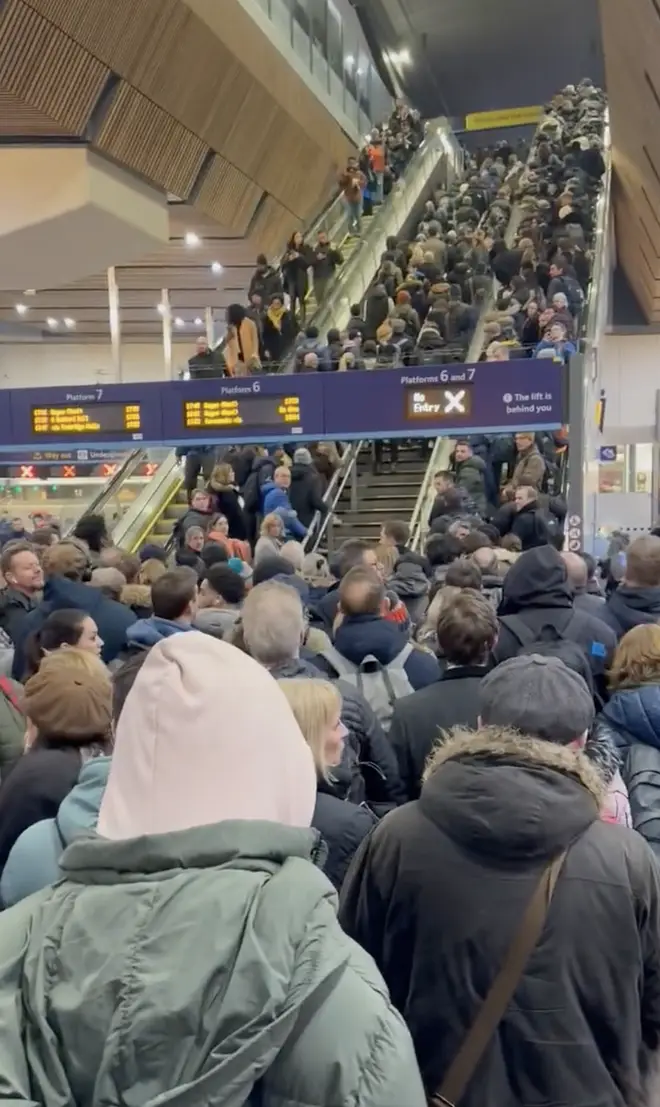 Mr White said the firm was looking to swiftly increase train capacity in the evening rush hour by providing more services through the station and/or longer trains.
In response to concerns voiced on Twitter, Mr White admitted that it was the second time that "crowd control" had been needed within days at London Bridge Station.
He said: "The last occasion was when a points failure caused disruption. [Last night's] disruption was due to an emergency call stopping all trains due to a trespasser. A review will be held [today]."
He said as a result of the incident, which isn't considered to have been malicious and may have been an attempted suicide, 19 trains had to be cancelled or curtailed.
Mr White said the disruption lasted from 5.30pm until 6.45pm.
He said: "When we have a major disruption, we hold a review to ask what happened: Could it have been avoided in the first place? Could it have been dealt with more quickly? How did we look after passengers? What lessons are there to be learned?"
Trains had been stopped around the Hither Green area after an emergency call from a driver who spotted the person on the tracks, he said.
He said to prevent crowding in platforms six and seven, passengers were held on the concourse at the station.
But as travellers gathered around the escalators rather than along the concourse, it made problems worse.
City worker Suzanne Whitlock, who was trying to get to Clock House station in Beckenham, had arrived at the station from Cannon Street and was attempting to descend an escalator to catch a train at a different platform.
"It was just ridiculous," she told the oulet. "I couldn't believe people were going up the escalator when they could see the volume of people on the platform."
As the situation was so bad, she had to get on train back into Charing Cross, she said. "I think there was a trespasser further down the line. It shows how one small incident causes an incredibly dangerous situation."
Ms Whitlock said the new timetable had doubled her commute as she now had to "double back" and travel via London Bridge to Charing Cross rather than get a direct train.
Commuter Jimmy Court, who was travelling from Cannon Street to Hayes, told the BBC: "You can see it looks like it was in the thousands.
"It was quite concerning and dangerous. Staff seemed to not know what to do and more and more people seemed to be joining the crowd from the new connecting services.
"There was no way out and the staff closed the escalators to the platforms.
"At least a couple of people had to be managed towards the exit [and] let through to the barriers with panic attacks.
"Most of the mess seems to be because of the December changes to the timetable that makes a huge number of Canon Street passengers change at London Bridge as the direct trains were removed."
Danny Thorpe, an ex-leader of Greenwich council, called for Southeastern and the Department for Transport, which allowed the Government-run train company to alter its timetable without consultation, to appear before the Commons transport committee.
NHS nurse and Greenwich councillor Sammy Backon tweeted to Mr White: "Having been one of those passengers kettled at London Bridge, it is beyond unsafe. Please act before something terrible happens."
Southeastern said demand at rush-hour was higher this month than it had been before Christmas. Mr White said: "We need to improve resilience. I think we need to run more capacity in the evening peak.
He added: "We are actively looking at whether we can make some trains longer and run some additional services."
A spokesperson for Network Rail said: "There were delays at London Bridge last night due to a trespasser on the tracks at Hither Green station. Normal working was resumed by 17.39."
A Southeastern said spokesperson: "An earlier trespasser on the line at Hither Green last night caused line closures, cancellations and delays in and out of London, which had an impact on services at London Bridge.
"The trespasser was apprehended, with power restored to all lines by Network Rail and normal services resumed by 17:39. We're sorry for any inconvenience caused to our customers due to this incident."
"A safety review will be held this morning [Thursday] with Network Rail".