Boris Johnson 'ramping up preparations for reopening of schools' as Covid cases fall
2 February 2021, 07:54 | Updated: 2 February 2021, 09:16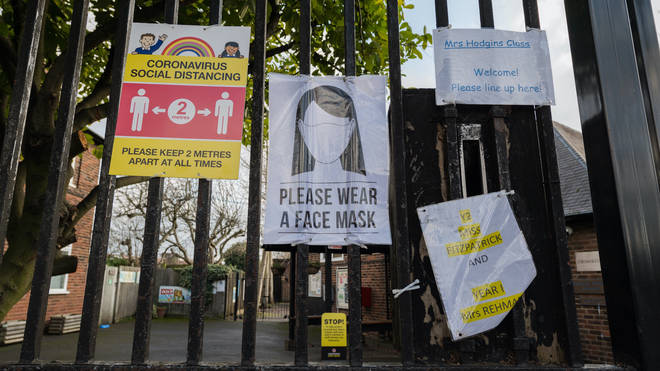 Boris Johnson has asked ministers to ramp up preparations for reopening schools as hundreds of thousands more people receive their first vaccine dose every day and coronavirus cases continue to fall.
It comes as England's chief medical officer Professor Chris Whitty is said to have told Mr Johnson that the peak of infections was passed last week.
The Prime Minister is also expected to announce further measures to help children catch up after almost a year of disruption, according to The Daily Telegraph.
READ MORE: Door-to-door testing to root out 'every single case' of South Africa Covid variant
READ MORE: Captain Sir Tom Moore's family with him in hospital as he continues Covid-19 battle
A senior Government source told the paper: "The Prime Minister is really determined to get children's education back on track and to make sure that those who have fallen behind don't stay behind."
Mr Johnson has repeatedly said that schools are his number one priority when it comes to relaxing lockdown restrictions.
The number of daily UK Covid-19 cases totalled 18,607 on Monday, while 406 more deaths were announced.
Health Secretary Matt Hancock revealed at yesterday's Downing Street press conference that almost nine in 10 of all those aged over 80 had been vaccinated, with over half of those in their 70s receiving a jab.
Data up to January 31 shows 9,296,367 first doses of the vaccine have been given, a rise of 319,038 in 24 hours.
The latest figures show that an average of 407,402 first doses of vaccine are needed each day in order to meet the Government's target of 15 million first doses by February 15.
The news comes as children's commissioner Anne Longfield said teachers must be considered for vaccinations after the first on the priority list.
She wrote in The Sun: "For the under-70s to wait an extra two days for their jabs is not much to ask. We must get children back to school to prevent our kids becoming part of a lost generation."
Meanwhile, parents in Scotland will find out on Tuesday if their children will be able to return to school by the middle of February, as Nicola Sturgeon gives the latest update on Covid-19 lockdown restrictions.
The Scottish Government has already said the current restrictions will last until at least the middle of February but the statement to MSPs will provide some detail on "other steps we are planning to take", the First Minister said.
It comes as 11 cases of South African variant identified in England over the past week were in people who had no links to travel, prompting concerns the mutation may be spreading in communities.
Door-to-door testing of 80,000 people in parts of the country aims to find "every single case" of the strain in a bid to stop its spread.
The South African variant is thought to be as transmissible as the Kent one but there is no evidence yet that it causes more severe disease.
Public Health England (PHE) is studying whether those who have already had the vaccine could need a booster shot "a bit like the annual flu vaccine" to help protect them against Covid-19 mutations, such as the South Africa, Brazil and Kent variants.
Dr Susan Hopkins, from PHE, said three different vaccines trialled so far had shown effectiveness against the South African variant at a level higher than the minimum standard set by the World Health Organisation and the US Food and Drug Administration.
"We expect all other vaccines to have a similar level of effectiveness, particularly in reducing hospitalisation and death," she said, adding that laboratory studies were being carried out to provide further evidence.