Simone Biles pulls out of women's team final at Tokyo Olympics citing mental health
27 July 2021, 12:56 | Updated: 27 July 2021, 17:50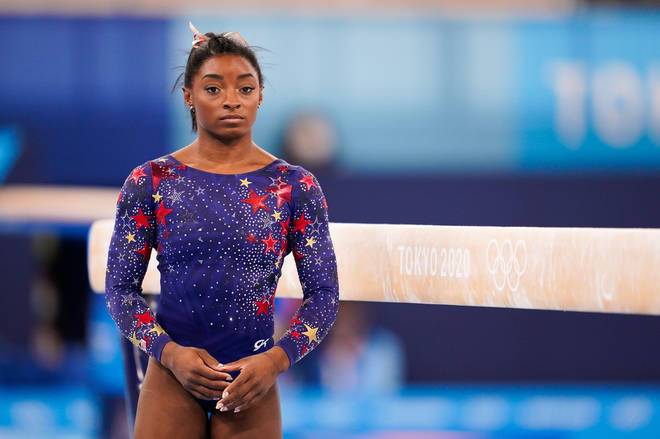 Simone Biles has cited a desire to prioritise her mental health after pulling out of the women's gymnastics team final at the Tokyo Olympics.
Biles pulled out of the event at the Ariake Arena on Tuesday after making a mistake on her opening vault, briefly leaving to the arena before returning to support her team-mates for the remainder of the competition.
The 24-year-old later confirmed she was not suffering a physical injury, and had decided to take a step back because she feared she would not be able to contribute to her team's pursuit of a third consecutive team gold medal.
Read more: Team GB swimmer Tom Dean becomes Olympic champion after battling Covid twice
Read more: Minister outlines plans to make police feel 'valued and supported' after pay freeze anger
"I just felt it would be a little bit better to take a back seat and work on my mindfulness," said Biles in a remarkably honest interview following the competition.
"No injury, thankfully. That's why I took a step back because I didn't want to do something silly out there. I thought it was best if these girls took over. I knew they would be OK."
Biles had entered the Tokyo Games targeting a repeat of her quadruple gold medal haul in Rio, which would make her one of the most decorated gymnasts in Olympic history.
She qualified for all four individual apparatus finals on Sunday, but still made a series of uncharacteristic mistakes by her own all-conquering standards, and said she will take the next two days to decide whether she will elect to return for the women's all-around final on Thursday.
Read more: Government 'looking carefully' at rules for people double jabbed abroad
Read more: London council 'culture of cover-up' saw Lambeth care home children abused
Biles said: "It's been really stressful these Olympic Games, not having an audience. It's been a long week, a long Olympic process, a long year. We are just a little bit too stressed out. We should be out here having fun.
"I feel like I'm also not having as much fun and this Olympic Games I wanted it to be for myself and it felt like I was still doing for other people. It hurts my heart that doing what I love has been taken away from me to please other people.
"We are going to take it a day at a time. We have a morning off tomorrow so that will be a good mental rest. We will take it from there."
Biles misjudged her opening vault on Tuesday, scoring 13.766, the lowest of the first rotation, before leaving the floor briefly with the US team trainer.
Although the 24-year-old returned with her foot strapped, she put on her tracksuit and did not compete in the Americans' next apparatus, the uneven bars.
USA Gymnastics said in a statement: "Simone Biles has withdrawn from the team final competition due to a medical issue. She will be assessed daily to determine medical clearance for future competitions."
Official statement: "Simone Biles has withdrawn from the team final competition due to a medical issue. She will be assessed daily to determine medical clearance for future competitions."

Thinking of you, Simone! pic.twitter.com/QA1GYHwWTv

— USA Gymnastics (@USAGym) July 27, 2021
On Sunday, Biles had qualified for every individual apparatus final and finished top of the all-around standings. She had hoped to take home six gold medals at Tokyo.
She made history at the 2016 Olympics in Rio by winning four gold medals.
Read more: Boris Johnson hints at possible UK-US travel corridor
Read more: Record 1.13m pupils in England absent at end of term due to Covid
Teammate Jordan Chiles has replaced Biles and Team USA will be forced to finish the rest of the team's final without her, potentially hurting their bid to claim a third straight Olympic title.  
The US trailed the team from the ROC by a relatively wide 2.500 points after two of the four rotations, raising the likelihood that they would fail to win women's team gold for the first time since Beijing 2008.