Sir Keir Starmer tries to clarify comments on Gaza-Israel siege after LBC interview sparks backlash
20 October 2023, 17:00
Sir Keir Starmer has tried to clarify his comments on the Gaza-Israel conflict - after his LBC interview sparked a backlash.
The Labour leader insisted that he did not mean to imply that Israel would be justified to cut off power and water to Gaza, which is home to 2.2million civilians.
And he stressed he intended to say that Israel had a right to defend itself following the horrific terror attack nearly two weeks ago, where more than 100 hostages are feared to have been taken by Hamas.
The Labour leader was grilled on the UK's support for Israel by LBC's Nick Ferrari last week at the party's conference in Liverpool.
Nick asked him if "cutting off power, cutting off water" was appropriate as a response to the atrocity.
Sir Keir replied: "I think that Israel does have that right... It is an ongoing situation. Obviously, everything should be done within international law."
His comments sparked a furious backlash and demands for the Labour boss to formally call for a ceasefire in the region.
Several Labour councillors quit over his remarks - including Amna Abdullatif, the first Arab Muslim woman elected to Manchester City Council, Russell Whiting in Colwick, Nottinghamshire, and Mona Ahmed, a Labour councillor in Kensington and Chelsea.
And this morning a number of protestors held a demonstration outside the Labour HQ in central London.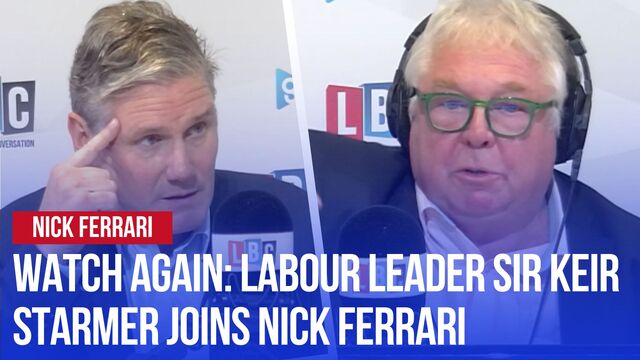 Keir Starmer joins Nick Ferrari at Breakfast | Watch Again
Sir Keir wrote to Labour councillors earlier this week in a bid to calm the tensions within his party.
A number of MPs have signed an Early Day Motion calling for a formal ceasefire.
The Labour boss was asked to clarify his remarks today in an interview with the BBC.
Sir Keir said: "I welcome this question, because I know that LBC clip has been widely shared and caused real concern and distress in some Muslim communities.
"Let me clear about what I was saying, and what I wasn't saying.
"I was saying Israel had the right to self defence. When I said 'that right', it was that right to self defence.
"I was not saying Israel had the right to cut off water, food, fuel, or medicines, on the contrary.
"For over a week now, I have been leading the charge, calling for that humanitarian aid to come in.
"We all know there are innocent civilians in Gaza, in a humanitarian crisis, a million children. That aid urgently needs to get in.
"I was saying, yes they have the right to self defence, that right they do have, but not the right to withhold that humanitarian aid that needs to get in. It is now absolutely urgent."