Masked robbers steal £5 million after sneaking into cash depot strapped to bottom of truck and tying up helpless staff
31 March 2023, 09:27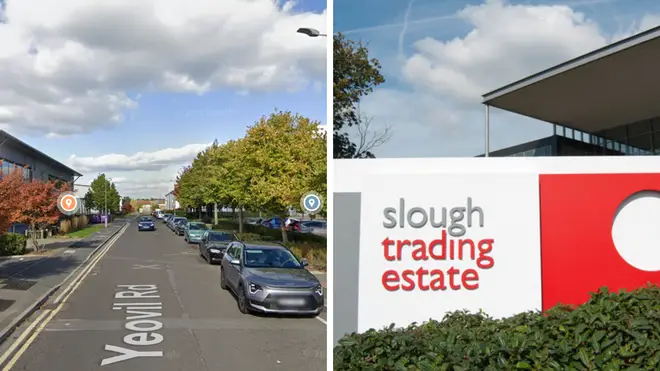 Masked robbers have made off with £5 million in a daring raid that saw them sneak into a cash depot by strapping themselves to the underside of a truck.
The robbery, which took place in a high-security cash storage facility Slough in the early hours of Wednesday morning, targeted delivery vans set to take cash off to banks and ATMs.
The brutal robbers threatened and tied up workers at the cash storage facility on the Slough Trading Estate, west of London, with cable ties, the Mirror reported.
Read more: Father and son shot dead amid 'custody battle' named, as police arrest three over attacks in two Cambridgeshire villages
Read more: Met police firearms officer faces criminal charges over fatal shooting of Chris Kaba
They appear to have cut their way through a metal fence with angle grinders during their getaway from the scene after the carefully planned robbery. They then drove away in two cars.
Police said the robbers were wearing bulky clothing and masks, but did not confirm if they were armed. No one was hurt during the heist.
Thames Valley Police's serious organised crime unit are investigating.
Det Supt Kevin Brown said: "I am appealing for anyone with information about this robbery to please come forward.
"While I understand this may be alarming, there is no evidence of any wider threat to the public.
"Our Serious and Organised Crime Unit has launched an investigation to find those responsible and bring them to justice."There will be an increased police presence in the area while we investigate and anyone with concerns should speak to a uniformed officer."
One nearby worker, who did not want to be named, said: "The police have been here since Wednesday.
"It looks as though the robbers have gone through a fence into a neighbouring yard. The police are saying very little, they're telling us nothing."
A spokesperson for the Pivotal Group, who run the warehouse, said: "We can confirm that an incident took place at our Slough facility early yesterday morning.
"Our greatest concern is for our employees and whilst none suffered physical injury, we are working to support their well-being.
"Police were immediately notified and we will continue to assist the authorities during the investigation."