Weather warnings issued as Storm Babet set to bring 'extremely' heavy rain and floods to parts of Britain
16 October 2023, 12:25 | Updated: 17 October 2023, 11:21
The Met office has warned over the arrival of 'extremely heavy rain' later this week with Storm Babet due to cause floods and disruption.
The UK's second named storm of the season, Storm Babet, is going to being 'strong southeasterly winds' with downpours.
There is a "chance of extremely heavy rain to cause flooding and disruption" - as well as "strong south-easterly winds", which would "exacerbate" any impacts, the forecaster said.
As much as 150 to 200mm of rain is expected to fall on central and eastern areas of Scotland and there is a possibility of 70mph gale-force winds affecting northern parts of the UK.
Weather warnings are currently in place for parts of the UK from Wednesday to Saturday.
From Wednesday, a yellow weather warning covers parts of the north east of England and southern Scotland.
From Thursday most of Scotland is covered by yellow warnings for wind and rain.
Further weather warnings are likely to be announced by the Met Office in the coming days.
Read more: Three million households told from today if they get £150 energy bill discount for this winter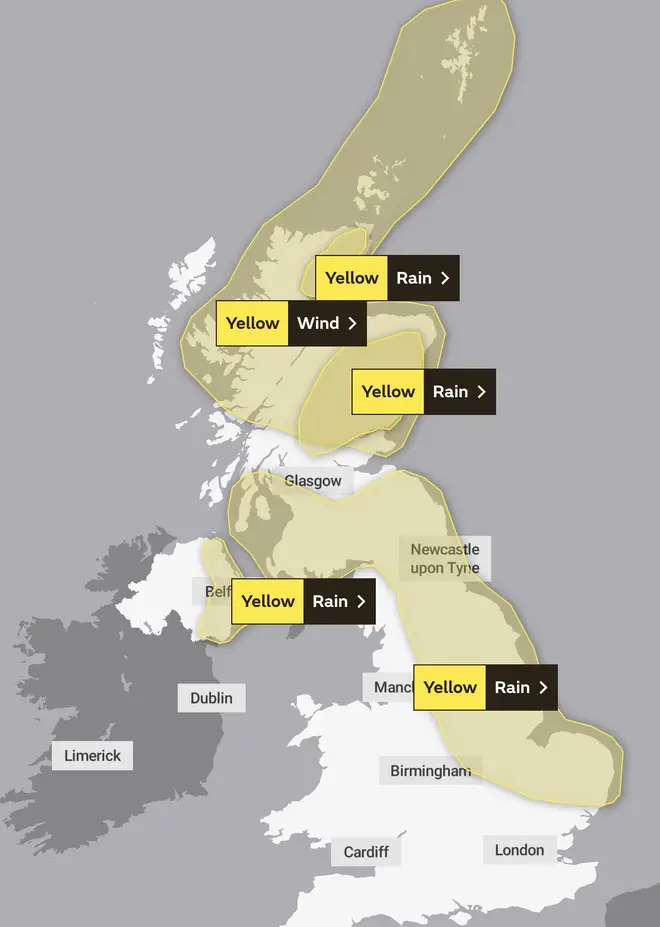 The west is likely to experience downpours from Tuesday evening spreading more widely across the UK by Wednesday.
Deputy chief meteorologist Steven Keates said: "Storm Babet will bring impactful rain to many parts of the UK, but especially parts of eastern Scotland, Northern Ireland and northern England later this week.
"Heavy and persistent rain will fall onto already saturated ground bringing a risk of flooding. It is important to stay up to date with warnings from your local flood warning agency as well as the local authorities.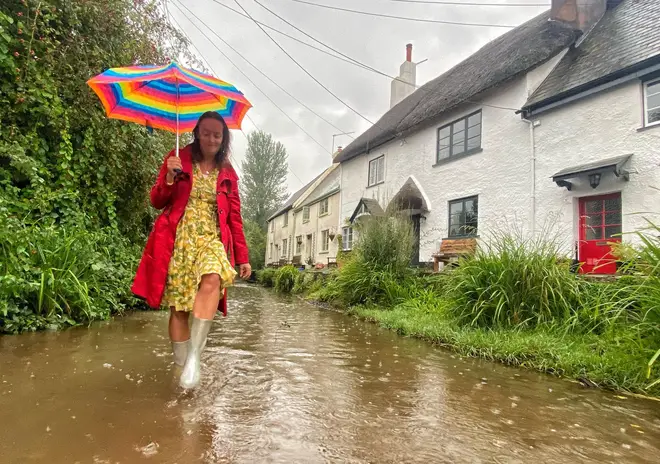 "As well as heavy rain, Storm Babet will bring some very strong winds and large waves near some eastern coasts too. Gusts in excess of 60mph are possible in eastern and northern Scotland from Thursday. It is likely Met Office warnings will be updated through the week."
Temperatures dropped to -2.2C (28F) in the Scottish Highlands early this morning, while the coldest place in England was Charlwood in Surrey at -1.4C (29.5F).
The rest of the UK is likely to see "milder" but unsettled conditions from the middle of the week.
Storm Babet is the second named storm of the season, after Storm Agnes swept through the UK and Ireland in late September.