Home Secretary Suella Braverman claims people arriving in the UK on small boats have 'values at odds with our country'
26 April 2023, 08:33 | Updated: 26 April 2023, 09:52
Home Secretary quizzed on Jenrick's illegal migration comments
Migrants who come to the UK across the English Channel in small boats "possess values which are at odds with our country" with "heightened levels of criminality", Suella Braverman has said.
Speaking to Nick Ferrari at Breakfast on LBC the Home Secretary said: "I think that uncontrolled and unprecedented levels of illegal migration are totally unacceptable to our country and to our values."
Asked whether she agreed with Immigration Minister Robert Jenrick's view that uncontrolled migration "threatens to cannibalise the compassion of the British public", the Home Secretary said: "I think that the people coming here illegally do possess values which are at odds with our country.
"We are seeing heightened levels of criminality when related to the people who've come on boats related to drug dealing, exploitation, prostitution.
"There are real challenges which go beyond the migration issue of people coming here illegally. We need to ensure that we bring an end to the boat crossings."
Read more: 'They're causing misery!': Braverman slams 'militant eco-zealots' for 'selfish' protests as she urges police to 'intervene'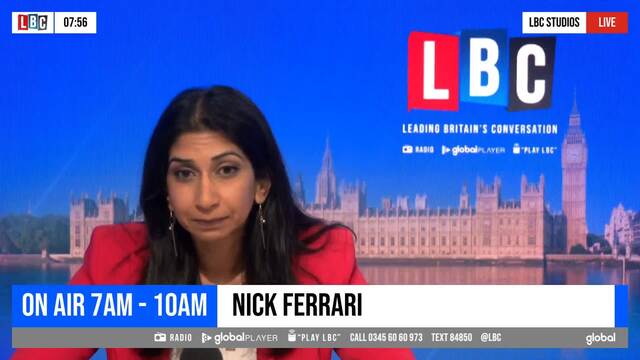 The Home Secretary Suella Braverman comments on the Golly Dolls confiscated in an Essex Pub
Read More: Angry driver who confronts eco-protesters blocking the road and snatches their banner gets told off by police himself
The conversation comes as Labour claims the cost for asylum hotels could increase by a further £7.5 million every day due to the Conservative Illegal Migration Bill.
Analysis by Labour is said to have shown that spending on hotels for asylum seekers could rise to more than £4 billion a year.
It comes as the Bill returns to the Commons on Wednesday.
Home Office Spends £6m Per Day On Migrant Hotels
The Home Office is currently spending £6 million per day on hotel accommodation for asylum seekers, a Labour statement said.
Almost 50,000 people are currently in hotels on top of approximately 57,000 in long-standing asylum accommodation.
The Illegal Migration Bill changes the law so that people who arrive after March 7 will still be placed in asylum accommodation, but will not "ever" have their case for asylum assessed, Labour said.
The party added that although Government ministers have promised that people will be removed from the country, Rwanda is expected to take only a couple of hundred people.
According to Government forecasts, around 53,000 people will be subject to the Bill's provisions this year.
The Home Office is drawing up plans for "huge numbers" of new hotels as well as bases and barges as a result of the Bill, Labour said.
The party added that new asylum hotels have been proposed or opened across the country - including in Hereford, Kegworth and Aberdeen - since the Prime Minister "promised" to end hotel use in December.