Taliban declares 'amnesty' and says it will 'respect women's rights' in Afghanistan
17 August 2021, 16:19 | Updated: 17 August 2021, 17:24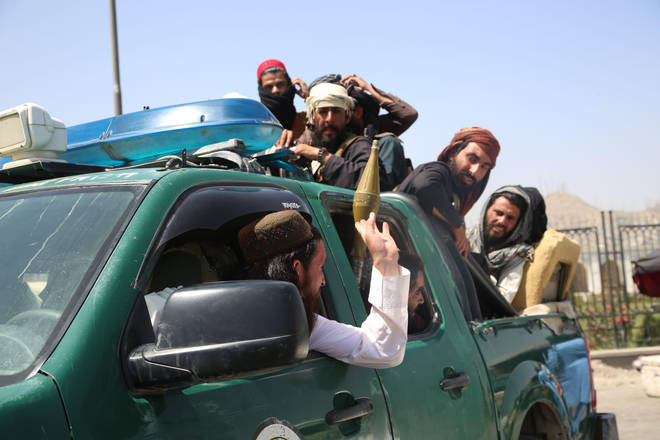 Taliban spokesman Zabihullah Mujahid has told a press conference in Kabul that "after 20 years of struggle, once again we have emancipated our country".
Speaking to the media in Afghanistan's capital, the group's spokesman said: "This is a proud moment for the whole nation."
He said nobody should be "worried about our norms and principles", and that the rights of women would be respected within the "frameworks of Sharia" law.
He said: "Our women are Muslim, they will also be happy to be living within our framework of Sharia."
He told the briefing that women can work, go to school, and can work in schools and in hospitals.
He said Afghans have "given great sacrifices for the establishment of an Islamic government" and they have the right to implement Shariah.
Different countries "have their own laws" and "Afghans have the rights to live under their own laws", he added.
"We want the world to trust us so we can work for the betterment of Afghan people."
Pressed on what assurances can be given on the rights of women, he said: "I have already mentioned that women will be allowed to work according to the principles of Islam."
The Taliban also says it is assuring the safety of all those who have worked with the US and other forces.
Read more: Further 200 UK troops to be sent to Afghanistan
Read more: Boris Johnson to unveil Afghan resettlement scheme for those 'most in need'
It comes after a huge evacuation mission was launched by the UK to get British nationals home safely, with shocking footage showing Afghans clinging to aircrafts in a desperate bid to flee the Taliban.

Mr Mujahid said the Taliban "is not going to revenge anybody", adding it does not "have any grudges".
"Freedom and independence-seeking is a legitimate right of every nation," the spokesman said.
"We know that we have been undergoing very challenging periods and crises, a lot of mistakes were made that were in the advantage of the occupiers.
"We want to make sure that Afghanistan is not the field of conflict, the battlefield of conflict, any more."
He added: "We have pardoned anyone, all those who have fought against us. We don't want to repeat any conflict, any war, again, and we want to do away with the factors for conflict.
"Therefore, the Islamic Emirate does not have any kind of hostility or animosity with anyone, animosities have come to an end, and we would like to live peacefully.
"We don't want any internal enemies and any external enemies."
An extreme form of sharia law is expected to be reinstated by the Taliban, as was in place prior to allied intervention in 2001. This would include public executions and amputation of limbs for criminal offences, as well as strict restrictions on women's rights and freedom of speech.
Women could face being unable to work or be educated, as well as being forced to wear a burka and being unable to leave their home without a male relative.
Read more: Taliban 'going door to door' marking those of prominent women
Read more: Foreign Secretary praises 'heroism' of British ambassador in Afghanistan
A Taliban spokesperson has insisted however, that girls will have access to education and work under its new regime in Afghanistan.
There have been concerns about the insurgents' treatment of women - but the group says they'll only have to follow Islamic rules.
Taliban spokesman Zabihullah Mujahid claimed the group had planned to stop at the gates to Kabul but said that because the previous administration was "so incompetent", they had moved into the city to "ensure security".
He said the security of foreign embassies was of "crucial importance" and that residents of Kabul should "be assured that your security is guaranteed".
Read more: 150 Brits and 289 Afghans evacuated from Afghanistan - Foreign Secretary
He added: "I would like to assure the international community including the United States that nobody will be harmed in Afghanistan, I would like to assure our neighbours, regional countries, we are not going to allow our territory to be used against anybody, any country in the world."
He said the Taliban should be "treated accordingly" by the international community.
"We do not want to have any problem with the international community," he said.
"We have the right to act on the basis of our religious principles and rules and regulations, this is the right of Afghans."