Tax cuts 'virtually impossible' Chancellor tells LBC in blow to Tory right
22 September 2023, 10:14 | Updated: 22 September 2023, 10:54
Listen again to Andrew Marr's full interview with the Chancellor on Global Player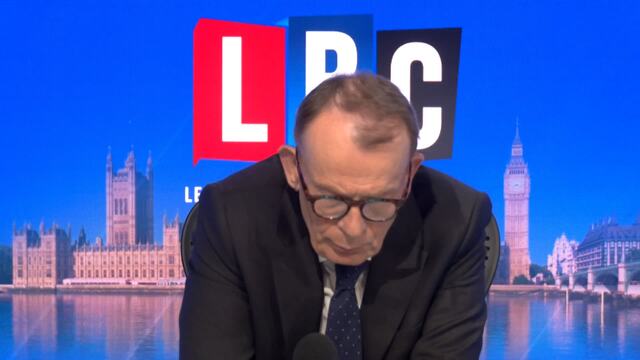 Jeremy Hunt says even after interest rates being held at 5.25% tax cuts are "impossible"
Tax cuts are virtually impossible, Chancellor Jeremy Hunt has told LBC - opening up another Tory spat as he disappoints the right of the party.
The UK's long term debt is now higher than it was at the spring budget, he said.
And there have been fears about putting more money into wallets and purses while inflation remains high at 6.7%.
LBC's Andrew Marr asked Hunt if there was any leeway for cutting the tax burden on cash-strapped Brits after the Bank of England held interest rates at 5.25%, ending a run of 14 consecutive hikes to tackle rampant inflation.
Hunt was told the Resolution Foundation think tank suggested that the government would now be £11bn better off than it was in March because the cost of state borrowing will be lower than it would have been - suggesting there could be some fiscal room for tax breaks.
Read more: 'We are finally starting to win this battle': Chancellor says the 'plan is working' as interest rate stays at 5.25%
Read more: Bank of England keeps interest rates at 5.25% after 14 consecutive rises as inflation unexpectedly slows
But Hunt poured cold water on the idea.
"I really, really wish it was true but unfortunately it just isn't," he said.
"If you look at what we are having to pay for our long-term debt, it is higher now than it is at the spring budget. I wish it wasn't it makes life extremely difficult, it makes tax cuts virtually impossible.
"And it means I will have, frankly, another set of very difficult decisions."
His comments will infuriate the Tory right, who have called for tax cuts that could boost the party's otherwise dismal prospects ahead of the next election.
Liz Truss, now bold enough to defend her horrendous time at No10 in which her mini-budget wrecked financial markets, called for reduced marginal tax rates and cutting the corporation tax to 19%.
"Further changes like abolishing the tourist tax, abolishing the Windfall Tax and IR35 need to be made," she said this week.
Simon Clarke, who served as Truss's levelling up secretary, and now one of the leading figures in the Conservative Growth Group, said his colleagues will keep pushing for tax breaks.
"If the Treasury logic is going to be that no tax cuts are possible over the course of the next year because of the inflation consequences, I think that's wrong and that gets the balance wrong," he said.
"I'd like to see a very clear commitment that we will lower the burden of tax before the election.
"I'm not going to say Jeremy [Hunt] must cut taxes in November, but I certainly think we have to announce tax cuts in the spring."
There have been suggestions the government will revisit whether it can introduce tax cuts ahead of the election.
Hunt has to deal with the twin headaches of inflation and debt when it comes to adjusting his fiscal policies.
The Bank of England finally stopped hiking interest rates on Thursday, having raised them repeatedly since late 2021.
The Chancellor told LBC he believes "we are finally starting to win this battle" against inflation, but "the fight against inflation never happens in a straight line".
Read more: 'We are finally starting to win this battle': Chancellor says the 'plan is working' as interest rate stays at 5.25%
"All I would say is that if we do want those long-term debt costs to come down, then we need to stick to this plan to get inflation down," he said.
"To get interest rates down I don't know when that's going to happen but I don't think it's going to happen before the Autumn Statement on November 22nd, alas."