Top GCSE grades fall but remain above pre-pandemic levels - as students in England suffer sharpest drop
24 August 2023, 10:32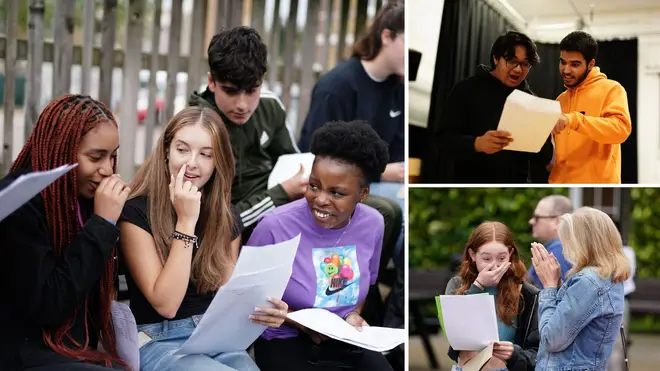 GCSE grades have fallen from last year but remained above pre-pandemic levels, with students in England suffering the sharpest drop compared to other UK nations.
Hundreds of thousands of teenagers across the country received their GCSE exam results on Thursday.
Tougher grading was introduced this year in a bid to return to pre-pandemic levels.
More than a fifth (22.0%) of UK GCSE entries were awarded the top grades - at least a 7 or an A grade - this year, down by 4.3 percentage points on last year when 26.3% of entries achieved the top grades.
But it remained higher than the equivalent figure for 2019 - before the pandemic - of 20.8%.
The figures, published by the Joint Council for Qualifications (JCQ), cover GCSE entries from students in England, Wales and Northern Ireland.
Overall, there were around 203,000 fewer top grades (7/A) compared to 2022, but there were 142,000 more top grades awarded this year than in 2019.
Read more: GCSE students face record number of exam retakes as return to tougher grading slammed as 'too harsh' on pupils
Read more: GCSE pupils told to brace for 'shock' as 300,000 fewer top grades expected amid return to pre-pandemic grading
Sir Anthony Seldon on the importance of recognising all abilities on GCSE results day
Data from this year's cohort of students revealed a dramatic change in subject choices at GCSE.
The number of students taking Chinese doubled compared to 2019 while those studying Russian increased by almost 53%.
Business studies saw the biggest jump in entries among major subjects this year - up 14.8% on last year - while Spanish entries increased by 11.3% compared with 2022.
Girls continued their lead over boys for the top grades, with 24.9% of entries awarded 7/A or above compared with 19.1% for males - a gap of 5.8 percentage points.
But the gap has narrowed from last year when girls were ahead of boys by 7.4 percentage points (30.0% girls, 22.6% boys) and from 2019 when girls led by 6.5 percentage points. It is the narrowest lead enjoyed by girls at 7/A since 2009.
More than 390,000 certificates were awarded to students for Level 2 vocational and technical qualifications (VTQs) taken in schools and colleges alongside, or as an alternative, to GCSEs.
Congratulations to everyone receiving GCSE or VTQ #examresults today - you should all be really proud of your amazing achievements

🧵 Here's a quick thread on what these results show and all the opportunities available to you now you've received your grades 👇

1/8

— Gillian Keegan MP (@GillianKeegan) August 24, 2023
Geoff Barton, general secretary of the Association of School and College Leaders (ASCL), said: "An enormous amount of hard work has gone into these qualifications in often difficult circumstances and the young people receiving their results today deserve great credit for what they have achieved."
He added: "We would caution against direct comparisons between this year's grades and those in 2019 because of the disproportionate impact of the pandemic and subsequent cost-of-living crisis on young people from disadvantaged backgrounds.
"It is likely that the outcomes for many of these young people will be affected by these factors and this may also impact on the results of schools which serve disadvantaged communities.
"The Government has failed to grasp the gravity of this issue. It did not invest sufficiently in education recovery from the pandemic - causing its own recovery commissioner to resign in protest - and it has failed to address the high level of child poverty in the UK.
"We are concerned that this will lead to a widening of the attainment gap between rich and poor."
Margaret Farragher, chief executive of the JCQ, said: "This year's results recognise the fantastic achievements of students across the country.
"They have worked incredibly hard throughout the pandemic period to achieve these well-earned grades.
"The 2023 results show that students are well equipped to continue their educational journey."