Wickes faces boycott after boss said trans critical shoppers are 'not welcome in our stores'
16 June 2023, 13:45 | Updated: 16 June 2023, 14:13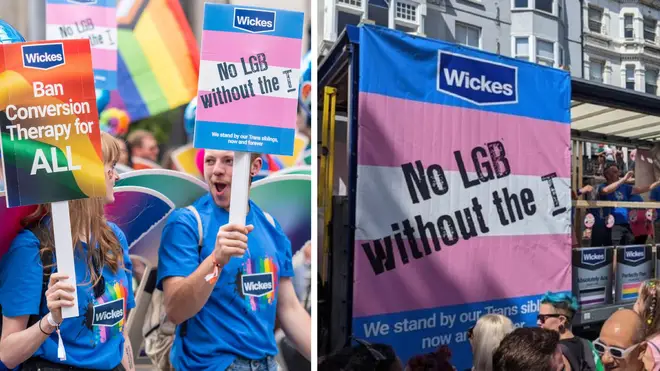 Customers have slated the store and and threatened to cancel orders worth thousands of pounds after comments made by Wickes CEO.
Wickes, a DIY retailer and garden centre, is facing a torrent of outrage from shoppers after the company's boss took part in an online trans summit hosted by Pink News yesterday, where he addressed backlash the company has faced over its Pride stance.
Fraser Longden discussed a float the company paraded at Brighton Pride over the weekend, he said: "I don't think I'm ever going to change some of the bigots out theres minds', I'm never going to win that argument with them, so we were doing [the Pride float] to show support to the community'.
The float featured a poster that read "No LGB without the T" promoting trans inclusivity amid June's pride month, along with the accompanying message underneath "we stand with out trans siblings now and forever".
Mr Longden's alleged comments at the summit, alongside the Pride float which featured the blue, pink and white trans flag, has since sparked fury online.
#BoycottWickes started trending online among those who disagreed with the company's stance as campaigners for LGB alliances hit out at the retailer, accusing it of discriminating against lesbian, gay and bisexual people.
Tweets poured in from previous customers of the store professing they would never shop there again.
Olympic swimmer Sharron Davies hit out at Mr Longden's comments, as she wrote: "So Wickes thinks anyone in the UK that thinks biological females deserve fair and safe sport is a bigot! That's an lawful lot of mums, dads, grandparents, brothers and of course females who'll be taking their bigoted business elsewhere."
James Esses, a former child therapist student who was reportedly expelled from his university degree for his gender critical views, also said: "These offensive, divisive and discriminatory remarks are an absolute outrage."
Elon Musk weighed in on the former student's comments, as he replied an enthusiastic: "!!"
Allison Bailey, an activist of LGB alliance and reported friend of JK Rowling, tweeted: "To be clear, this is Wickes promoting unlawful discrimination against lesbians, gays & bisexuals & making our rights conditional on supporting another group."
Meanwhile one tweeted the store saying: "Dear Wickes. As I am no longer welcome in your stores I shall be cancelling my £4,000 kitchen order and moving it over to Howdens. You can also rest assured that I will no longer bring my bigoted self into your store for any future purchases. Toolstation all the way from now on."
Listen and subscribe to Unprecedented: Inside Downing Street on Global Player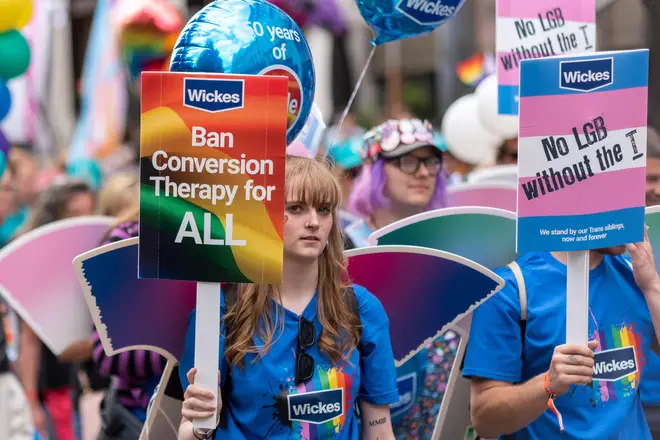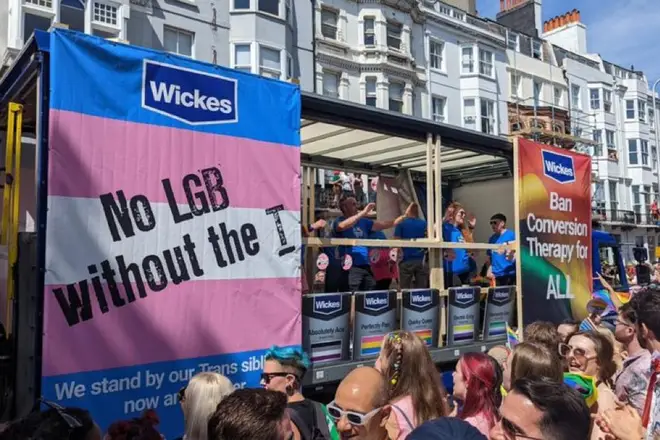 Read more: England ladies angling team in chaos as half of squad quit in protest over trans competitor
Read more: Oxford college threatens to expel students who misgender or 'deadname' trans peers
Responding to the threats of a boycott during the summit, Mr Longden reportedly said that 90% of the population are "sort of slightly ignorant but mostly kind position".
He went on: "The other ten per cent you know, they're just hot air and they will go and buy a tin of paint in the nearest place to them.
"That might have been us before, it might not be us afterwards - and equally, if they do come in and buy a tin of paint and behave that way, they're not welcome in our stores anyway."
Not long after the controversial online debate, the share price of Wickes hit one of its lowest points in the last five years, dropping by over 7% in the last five days.
But others were quick to back the home improvement store for its trans inclusive stance, as one said: "Well done Wickes for actually taking a stand on LGBT+ issues in Pride month and not just putting the odd rainbow here and there in the branding.
While another said: "Love you, Wickes!"
A statement shared by Wickes responding to the online controversy read: "We were proud to take part in Brighton Pride this weekend to celebrate their 30th year, and even prouder of our LGBTQ+ Employee Network who work hard every day to make sure everyone can feel at home at Wickes. We are an inclusive home improvement employer and retailer and support the LGBTQ+ community in its entirety."
The home improvement store also promoted an anti-conversion therapy banner at the pride event, following the government's decision not to include transgender people in its ban conversion therapy last year.
It comes after earlier this year, beer chain Bud Light faced controversy after they hired Dylan Mulvaney, a trans woman and influencer, to promote their products as she celebrated 365 days as a woman.
Nike also came under fire just weeks later after, as Ms Mulvaney also shared a partnership video with the sports brand where she donned a sports bra, attracting outrage from gender critics.