Treasury sparks pay storm after advertising Head of Cyber Security job at £50k
30 March 2023, 13:07 | Updated: 30 March 2023, 15:01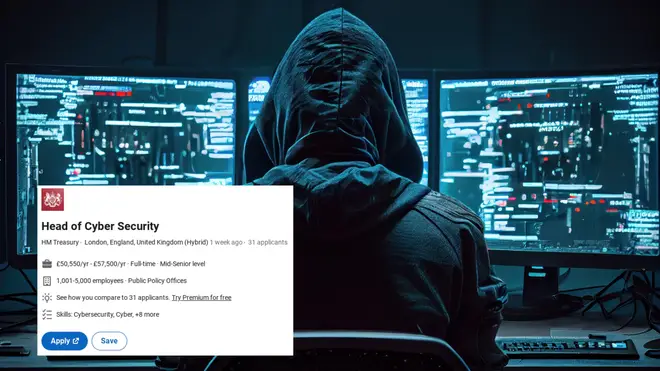 The Treasury has kicked off a pay row after advertising for a Head of Cyber Security on a salary starting at slightly over £50,000.
The advertised 'hybrid' job is described as being of 'mid-senior level' and pays a salary of between £50,550 and £57,500 per year. It involves managing a team of two other people and "advise seniors on cyber risks across our services and systems.
It is described as "an exciting and meaningful opportunity to work on cyber security at the heart of Government in a time of momentous change."
The ad states: "The Head of Cyber Security encompasses service delivery, people and service management, budget and supplier relationship management, security governance, monitoring and assurance.
"The role will supervise specialist security processes and the provision of device security throughout the organisation. It will be the responsibility for the role holder to assess and facilitate compliance with security procedures in order to safeguard organisational information and technology assets."
Read more: Plans to increase state pension age to 68 frozen
Read more: King Charles thanks Germany 'from the bottom of my heart' for reaction to Queen Elizabeth's death in historic visit
If they have any competent staff left, this needs to be on the Risk Register in BIG letters as a significant, but complex, risk.

For a start, hiring. Who can you hire? Anyone with the skills & knowledge for this role can get 2-3x as much with almost no effort.

— Taz Wake (@tazwake) March 29, 2023
According to job site Glassdoor, the average salary for the position in the private sector is around £130,000 per year.
One security professional spotted the ad and posted online: "Head of cyber for the treasury of Britain. £57k. Head of cyber security for a trading company no-one has ever heard of, £450k."
"I'd assume the UK treasury would be looking for people like me with suitable qualifications. But London for £57k? Crackers."
Cyber security trainer Tan Wake posted: "It is a senior role, whatever LinkedIn says. It needs someone to be in the most expensive city in the country (at least some of the time) and it needs them to have the knowledge & experience to defend a Critial National Infrastructure target.
"It is a Civil Service role, so the current crazy thinking about "overpaid civil servants" and our weird government obsession with cutting all public-paid salaries except their own has an impact.
"But this is is a significant problem. It really is.
"Who can you hire? Anyone with the skills & knowledge for this role can get 2-3x as much with almost no effort."
Politics website Guide Fawkes highlighted that a diversity executive was being offered higher pay. The House of Lords' Head of Inclusion and Diversity was offered £66,440 per annum.
An HM Treasury spokesperson said: "Pay must be affordable and fair so that it delivers value for the taxpayer while recognising the importance of talent.
"The wider remuneration package for this role contains a generous public sector pension entitlement, a substantial potential allowance and access to other benefits."