'Will you shut up man?' - Trump and Biden get personal in first debate
30 September 2020, 04:09 | Updated: 30 September 2020, 10:53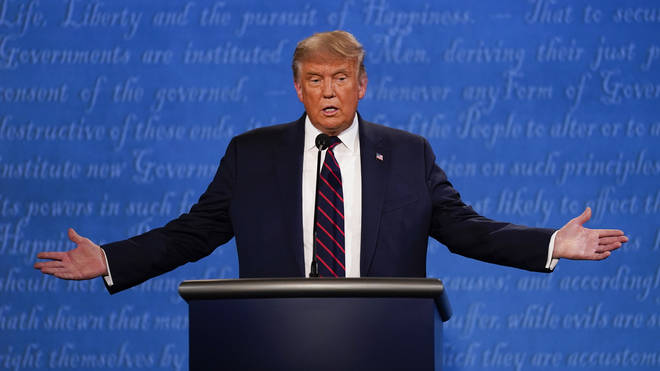 Donald Trump and his presidential rival Joe Biden have fiercely clashed over coronavirus and race protests in the first US presidential election debate.
The president and his Democratic challenger made a number of scathing personal attacks on each other throughout the exchange which took place in Cleveland, Ohio, a key swing state, on Wednesday morning.
Moderator Chris Wallace had a difficult time controlling the two candidates who were repeatedly shouted at for interrupting one another.
Both men tried to assert their authority over the debate which caused a messy and uncivilised affair, with many people on social media calling it the "worst debate" they have ever seen.
After a raft of interruptions and badgering from the president, Mr Biden eventually snapped at his rival saying "Will you shut up, man?"
As it happened: Trump and Biden's fiery debate in Ohio
That came after Mr Trump pressed him over his refusal to comment on whether he would try to expand the Supreme Court in retaliation if the president's high court pick, Amy Coney Barrett, was confirmed to replace the late Justice Ruth Bader Ginsburg.
Mr Trump said the Republicans "won the election and therefore we have the right to choose" Ms Barrett as a replacement for the late Ms Bader Ginsburg.
The former US vice president responded, saying Ms Barrett seems like "a very fine person" but that her nomination after "tens of thousands of people have already voted" was troubling.
On the issue of coronavirus, Mr Trump claimed without evidence that two million people would have died if his opponent had been president during the pandemic
Mr Biden replied to this claim and others made by his rival, saying: "Here's the deal, the fact is that everything he's saying so far is simply a lie."
He added: "I'm not here to call out his lies. Everybody knows he's a liar."
Mr Trump then said he has had "no negative effect" from massive campaign rallies with thousands of attendees not adhering to social distancing recommendations amid the ongoing pandemic.
He added that he thought masks "are OK," pulling one out from his pocket and saying: "I wear masks when needed."
But Mr Trump also bragged that he has drawn "35 to 40,000 people" at his campaign rallies, saying he brings such large crowds to outdoor events "because people want to hear what I have to say."
He portrayed Mr Biden's socially distanced events as insignificant affairs where the Democrat "has three people (in) some places".
The president also refused to say when he will finally release his personal taxes to the public as he has long promised.
He was asked specifically about a report in The New York Times that revealed he paid only 750 dollars (about £583) in personal income taxes each of those years.
All presidents except Mr Trump have publicly released their taxes since the presidency of Richard Nixon.
Mr Trump has repeatedly said since 2016 that he would eventually release them, but he replied when asked by moderator Chris Wallace when that would occur: "You'll get to see it."
Mr Biden quickly used that to attack his rival, saying Mr Trump "does take advantage of the tax code" and "pays less tax than a school teacher".
The US leader shrugged off the accusation, saying that all business leaders do the same "unless they are stupid".
The two candidates then traded insults about each other's families, with Mr Trump interrupting his opposite man by digging up past claims about the former vice president's son Hunter working overseas.
He said Hunter Biden reaped millions in ill-gotten profit from China and other overseas interests, accusations that have been repeatedly debunked.
Mr Biden shot back "none of that is true", before adding of his opponent: "His family, we could talk all night."
Shortly after, the president danced around a question from Mr Wallace about whether he was willing to condemn white supremacists and military groups.
"I would say almost everything I see is from the left wing, not the right wing," Mr Trump said. "I'm willing to do anything. I want to see peace."
He added: "Proud Boys - Stand back, stand by, but I'll tell you what, somebody's got to do something about Antifa and the left because this is not right-wing problem... This is a left wing problem."
On the issue of climate change, Mr Trump said he does see human beings as contributing somewhat to climate change but does not support strict regulations in part because of negative ramifications for business.
In response, Mr Biden said he would champion job-creating schemes that embrace green technologies and that he would rejoin the Paris Accord, which is "all falling apart" without US involvement.
The debate concluded with a question from the moderator, who asked both candidates if they will "urge your supporters to stay calm during this period, not to engage in civil unrest and will you not declare victory until the election has been independently verified?"
Mr Trump said he will tell his supporters "to go into the polls and watch very carefully because that's what has to happen. I'm urging them to do it".
The Democratic candidate replied: "Once the ballots are all counted, that'll be the end of it. If it's me, that's fine. If it's not me, I'll support it."
Covid-19's effects were in plain sight throughout the debate, with the candidates' lecterns spaced far apart, all of the guests in the small crowd tested and the traditional opening handshake scrapped.
Neither candidate wore a mask to take the stage, however their families did sport face coverings.
The Tuesday night debate offered a significant platform for Mr Trump and Mr Biden to outline their starkly different visions for a country facing multiple crises, including racial justice protests and a pandemic that has killed more than 200,000 Americans and cost millions of jobs.