Two men in their 30s arrested over felling of Sycamore Gap tree
1 November 2023, 11:22 | Updated: 1 November 2023, 11:44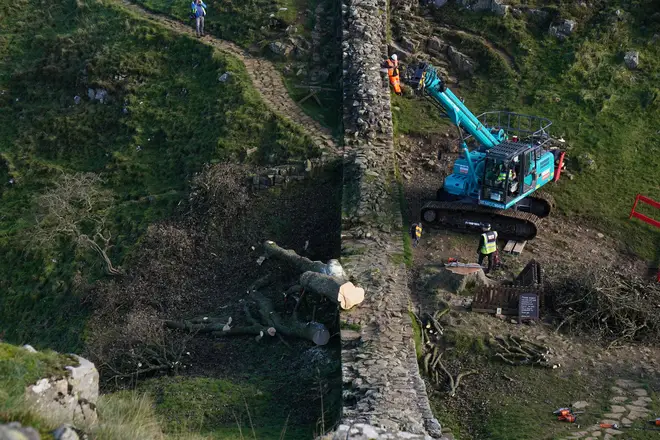 Two men in their 30s have been arrested and bailed by officers investigating the felling of the world-famous Sycamore Gap tree, Northumbria Police has said.
The tree in Northumberland, believed to have been about 300 years old, was cut down overnight between September 27 and 28 in what police believe was a deliberate act of vandalism.
The two men, both in their 30s, have since been released on police bail.
Detective Chief Inspector Rebecca Fenney-Menzies, of Northumbria Police, said: "The loss of Sycamore Gap has been felt deeply across the community as well as further afield.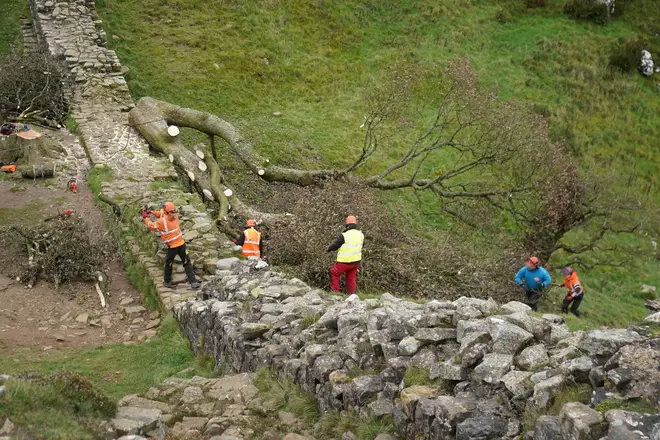 "As a force, we have seen many touching tributes from those who have detailed what this iconic landmark meant for them personally and for our region.
"We've been working tirelessly to identify anyone responsible and bring them into police custody and we are committed to getting justice.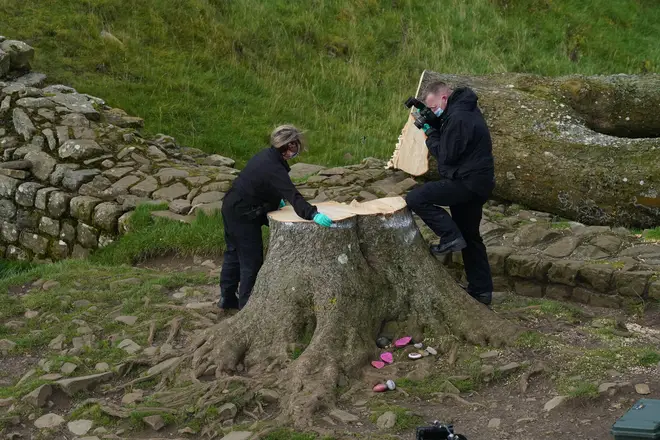 Read more: Storm Ciarán to hit today with 'danger to life' warning and 100mph winds to blast Brits as Met Office issues alert
"I hope this recent wave of arrests demonstrates just how much work has been undertaken by our dedicated specialist teams in what has, so far, been a very difficult and complex investigation."
The Sycamore Gap tree itself is being stored in a secret location to protect it from souvenir hunters.
According to the Sunday Times, police caught several members of the public trying to take pieces of the tree from the site where it was felled near Hadrian's Wall in Northumberland.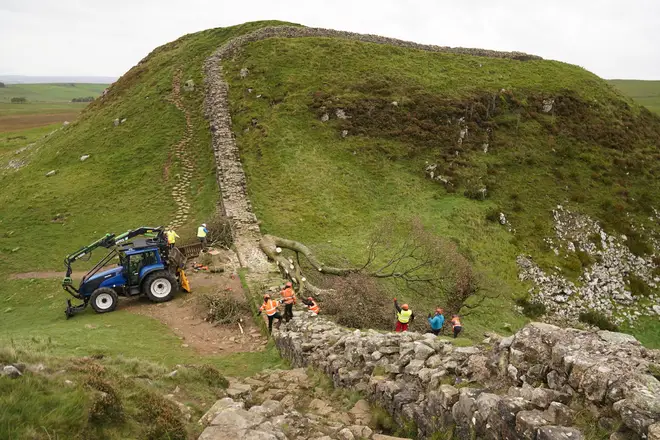 The tree has since been removed from the site by a crane, and is now being kept at a storage facility by the National Trust, it emerged last month.
Much-photographed and painted, the lone sycamore is considered to be one of the most famous trees in the world and an emblem for the North East of England.
It was situated in a dramatic dip in the Northumberland landscape.
Lady Jane Gibson, chairwoman of the Hadrian's Wall Partnership, told the Sunday Times: "The wood from the tree has been taken away and stored for safekeeping at a secure location.
"There were concerns people were taking pieces of it for mementoes, like what happened with the Berlin Wall, when people would take a piece as a keepsake.
"It is now being safely stored as we work on potential future uses for the timber."
The National Trust has asked the public for suggestions on what to do with the leftover wood from the felled tree, with options including turning it into a bench where the tree once stood, or even making it into pencils.