Ukraine won't be given fighter jets in the short term, top NATO admiral tells LBC
3 July 2023, 19:25 | Updated: 4 July 2023, 13:26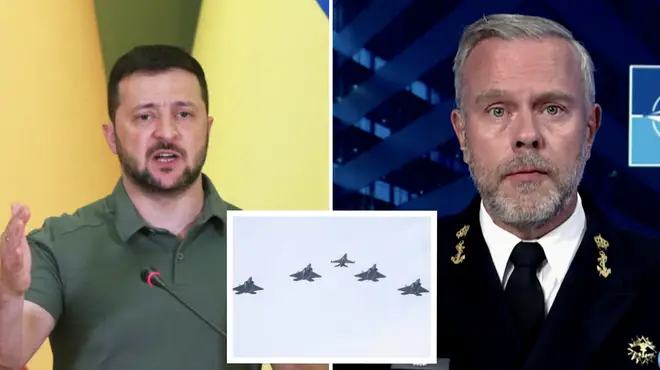 Ukraine won't be given fighter jets until its long-awaited counter-offensive against Russia has finished, a top NATO admiral has told LBC.
Speaking exclusively to LBC's Tonight with Andrew Marr, Admiral Rob Bauer, chairman of the military committee of NATO, said providing Ukraine with the fighter jets they have been asking for "will not be solved in the short term".
Ukraine's President Volodymyr Zelenskyy has been pleading with Western nations to provide his war-torn country with fighter jets, including F-16s, which a number of NATO members possess.
Ahead of a key NATO summit in Vilnius, Lithuania, Mr Bauer told LBC: "The discussion on the fighters is an important one, but it will not be solved in the short term for this counter-offensive.
"Training those pilots, training the technicians, making sure there is a logistic organisation that can actually sustain these aircraft will not be available before this counter-offensive.
"We shouldn't mix the two discussions – I think it's important and understandable that Ukraine asks for these fighter aircraft – but we should not mix it with the counter-offensive discussion now."
The Chair of the Military Committee of NATO, that the war in Ukraine remains 'very unpredictable'
Pressed on whether he thinks Ukraine can win the war against Russia without the fighter jets, Mr Baeur added: "I think Ukraine is in an advantage because it has the western weapon systems, it has the better training, and it has, very importantly, the much higher morale and motivation.
"We knew from history, basically, that it is an extremely important part of the military operations.
"We see it again here in Ukraine, people are fighting for their – it's an existential fight – the Ukrainians understand what they are fighting for, the Russian's don't have a clue what they are fighting for.
"So that makes a difference. And at the same time, it is difficult as I've said before, it is not an easy job to get through those barriers. I think they can be successful, absolutely, but it will take time.
"And when they move forward, and when they gain more terrain, they will have to take long air defence systems and protect what they have just gained. So again, it is possible, but it will not be easy."
Read More: Three killed and 17 hurt from Russian attacks in Ukraine
Read More: Russian media watchdog blacklists outlets linked to Wagner mercenary chief
Ukraine's Zelenskyy has pleaded with the UK to provide his army with fighter jets, which he believes is crucial to stopping Russia.
In a landmark visit to the UK in February, Mr Zelenskyy said: "I trust this symbol will help us with our next coalition, the coalition of planes... wings for freedom."
Then, during a visit in May, Mr Zelenskyy called for a "jet coalition", with the UK Prime Minister saying that the provision of warplanes was "not straightforward" but said Britain will play an integral role in such a coalition.
"It is not a straightforward thing as Volodymyr and I have been discussing to build up that fighter combat aircraft capability," Mr Sunak said at the time.
"It's not just the provision of planes its also the training of pilots and all the logistics that go alongside that and the UK can play a big part in that.
"One thing we will be doing starting actually relatively soon is training of Ukrainian pilots and that's something we've discussed today and we're ready to implement those plans in relatively short order."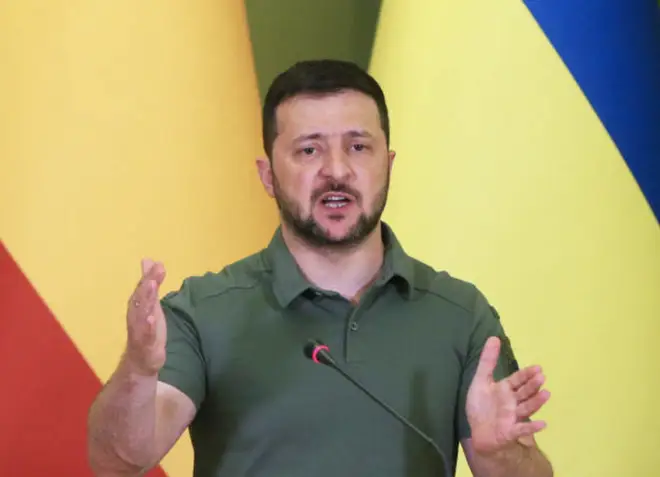 It comes amid warnings from Ukraine that Russia has mined the Zaporizhzhia nuclear power station in southeastern Ukraine, which is the largest in Europe and among the 10 largest in the world.
If the station were to be attacked, Mr Baeur said the consequences would reach beyond a typical security issue, affecting the entire world.
"If this would happen - if this would happen - then it is a much bigger problem than just a military problem or something only for NATO. This is something that the world will be involved in, this will have an enormous impact in Europe," he said.
Chair of Nuclear Consulting Group says Zaporizhzhia Nuclear Plant is a 'very difficult' situation
"It is an environmental disaster, it is a medical problem, so this is beyond just NATO, this is beyond just a security issue.
"And therefore, one would think, one would hope, that the Russians will not do this because I think it will take away a lot of the support they have in the world if they would do this.
"I cannot imagine a number of nations that support them would support this act by the Russian government."