Stand with Ukraine protests: More anti-war demonstrations as activists denounce 'lunatic' Putin
5 March 2022, 15:32 | Updated: 6 March 2022, 16:39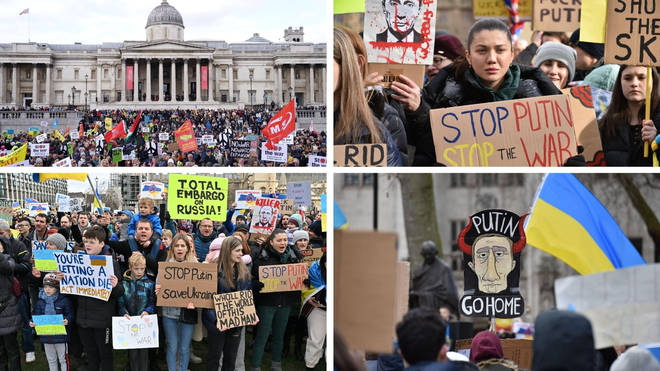 Demonstrators denounced Russian President Vladimir Putin as a "delusional lunatic" and a "bully" as hundreds gathered in central London for another major protest against his invasion of Ukraine.
It is the second weekend in a row of protests in the capital and across the UK, with hundreds again descending on the streets.
Some members of the crowd, including expats from Russia, Poland and Lithuania, wept as they voiced support for people affected by the war.
Campaigners waved signs saying "Russian troops out" and "No Nato Expansion", and chanted "Stop the war" and "Russian troops out now" as they began their march through the centre of the capital.
Speakers are due to address the crowd at Trafalgar Square on Sunday afternoon.
READ MORE: Zelenskyy urges Russian people to stand up to Putin and 'overcome evil'
READ MORE: Russia shells nuclear reactor in Kharkiv amid warnings of 'large-scale disaster'
The march was held by the Stop the War Coalition, as well as the Campaign for Nuclear Disarmament (CND), the No to Nato network, and CODEPINK.
Stop the War has caused controversy in recent months for its Nato-critical stance. It has described itself as opposed to the British Government's "aggressive posturing" and Nato's "eastward expansion".
But it has repeatedly been accused of harbouring anti-Western sentiments.
Zoja, an NHS worker whose parents are Russian, wiped away tears as she said she felt the "need to apologise" for Mr Putin's actions.
"Russia does not represent Russian people. We are not standing with him, we are standing against him," she said.
"He declared war in our name but I didn't ask him to do it.
"Continue fighting and I believe we will win. Russian soldiers have nothing to fight for."
On Saturday, demonstrators came together all over the country, including Manchester, London, Cambridge and Glasgow, to protest against Russia's assault on Ukraine.
In Trafalgar Square, a giant banner was unfurled on the steps of the National Gallery reading: "When the last Ukrainian soldier falls, Putin will come for you ladies & gents."
Others carried placards saying "Putin terrorist" and "Protect Ukraine, save Europe", with many draped in the blue and yellow national flag of Ukraine.
The rally began with the singing of Ukraine's national anthem and prayer.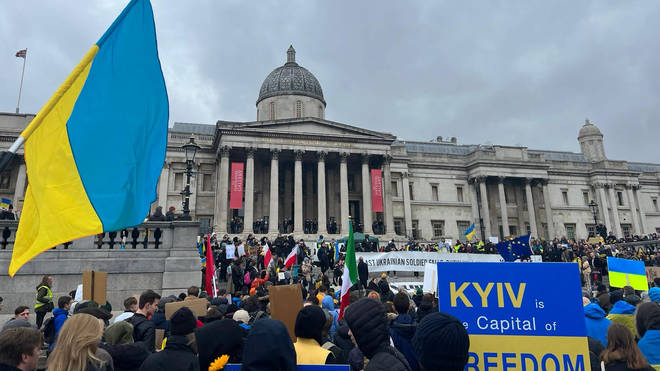 Archbishop Claudio Gugerotti, the papal nuncio to Great Britain, led the prayer, saying: "Today we are all Ukrainians."
Demonstrators filling the central London square waved flags and banners and chanted: "Stop Putin, stop the war."
The rally comes on the 10th day of Moscow's invasion of Ukraine, as the heavy bombardment of many cities by Russian forces continues and refugees attempt to stream out of the country to join the more than a million who have already fled.
In Manchester, one protester named Catarina - from Ukraine - told LBC: "I'm feeling really helpless at the moment.
"As much as thoughts of hopping on a plane and going over there and getting involved keep creeping into my mind, I don't think that'd make any difference at the moment."
She added that seeing what was going on in her home country was "exhausting" and "disappointing".
"Apparently we don't learn from previous situations," Catarina said.
Anti-war demonstrations have not been limited to the UK, with them taking place worldwide in recent days.
Crowds came together in Tokyo, Rome and Berlin, among other places, demanding an end to the ten-day-long conflict.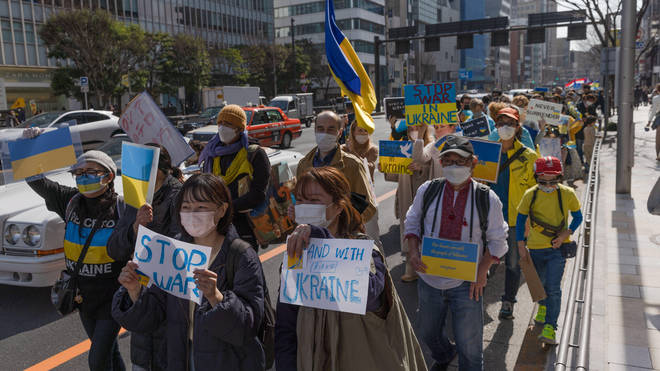 It comes as tensions continue to rise in the east, with evacuations in the Ukrainian city of Mariupol having been postponed due to Russia 'bombing civilians' as they tried to make their escape.
Russia's defence ministry instead accused Ukrainian "nationalists" of preventing the movement, according to Russia's RIA news agency.
On Saturday afternoon, blasts were also reported to have been heard on the outskirts of Kyiv as fighting continues to intensify.
As the conflict shows no signs of slowing down, several major companies, including Zara, Paypal and Samsung, have suspended business in Russia.
However, the growing number of sanctions from the West has has not gone amiss, with Putin saying on Saturday: "These sanctions that you can see are equivalent to declaring a war - but thankfully it has not come to an actual war but we understand what these threats are about."