Ukrainian boy, 10, wearing Spiderman pyjamas, killed alongside grandma in Russian missile attack on Kharkiv
6 October 2023, 15:18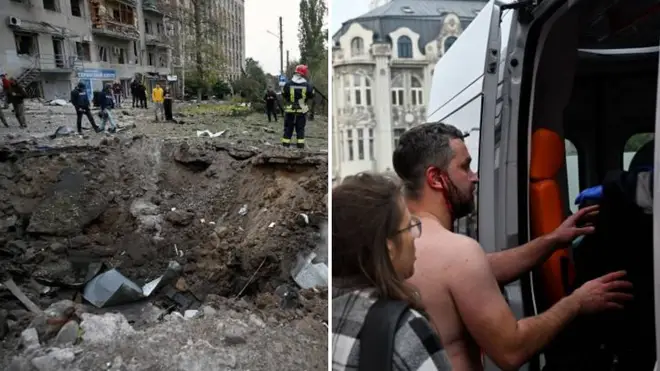 A ten-year-old boy killed in a Russian shelling attack on the Ukrainian city of Kharkiv alongside his grandmother was pulled from the rubble in Spiderman pyjamas.
Some 30 others have also been wounded in the onslaught on the city, which Russia has targeted consistently throughout its invasion of Ukraine.
The injured include an 11-month-old baby, according to Russian-language outlet Meduza.
Oleh Bychko, the father of the dead boy, who was called Tymofiy, was able to pull his wife and younger son from the ruins of their home, but not Tymofiy.
Sharing a video of the scenes of destruction, Ukrainian president Volodymyr Zelenskyy confirmed the boy's death and said: "All the injured are receiving the necessary assistance. The rescue operation is ongoing, and I thank everyone who is helping our people.
"I also express my gratitude to all our warriors who, despite everything, are moving forward, defeating the occupiers, and bringing justice for Russian crimes closer.
"Our resilience, our movement, and the daily losses of the occupiers are the response to Russian terror."
Read more: Russian attack kills at least 51 people, including child, as bombs target eastern Ukrainian village
Read more: Ukraine claims 'senior officers' killed after 'British' missile smashes into Russian Black Sea navy HQ in Crimea
Kharkiv, Russian strike this morning.
A child, a boy, 10 years old... My condolences to his family and loved ones!
Over 20 people have been injured. All the injured are receiving the necessary assistance.
The rescue operation is ongoing, and I thank everyone who is helping our… pic.twitter.com/gfgAdsSq7N

— Volodymyr Zelenskyy / Володимир Зеленський (@ZelenskyyUa) October 6, 2023
The body of the boy, who was wearing Spiderman pyjamas, was seen being hauled from the wreckage of a block of flats by emergency workers on Friday morning.
The missile attack left a large crater in the street, leaving piles of debris scattered around.
Local residents said their windows were blown out, cars were damaged and buildings were blackened by the blast.
It comes just a day after a Russian shelling attack on a village in the Kharkiv region killed at least 51 people, including a child.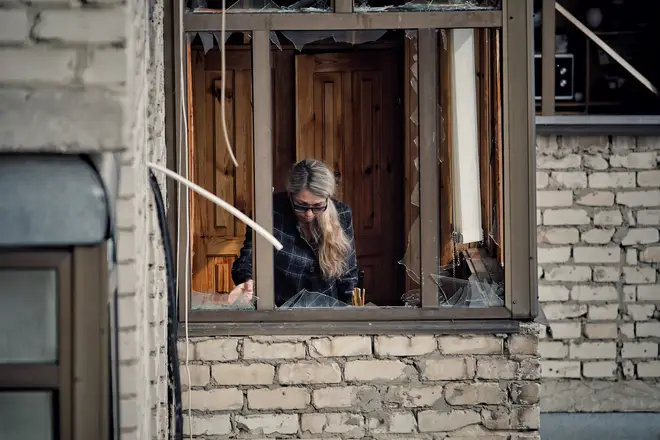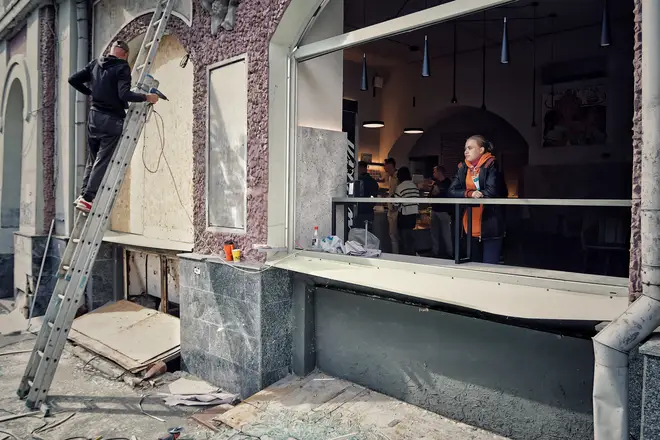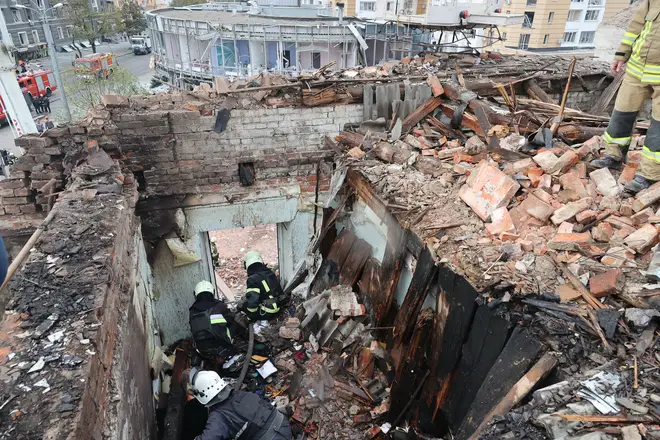 A six-year-old boy was killed in Hroza, an hour and a half's drive from Kharkiv. Several more were injured, including a six-year-old girl.
Presidential chief of staff Andrii Yermak and Kharkiv Gov. Oleh Synyehubov said Russian forces shelled a cafe in the village in the Kharkiv region, at 1:15 pm local time on Thursday (10:15 GMT).
Ukraine's interior minister, Ihor Klymenko said 300 people were at the cafe attending a wake for a fellow villager who died, Interfax Ukraine reports.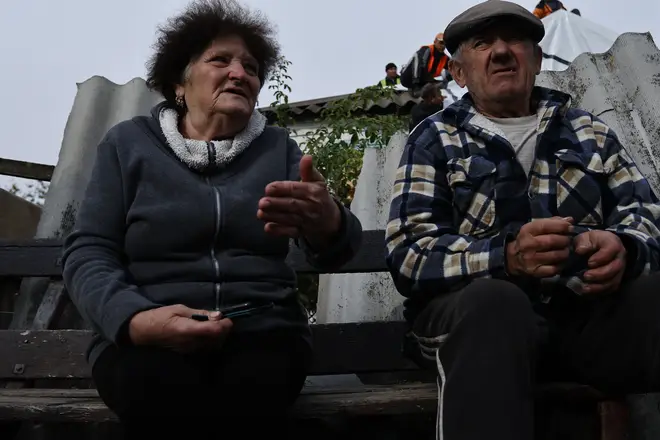 Mr Klymenko said: "In total, 300 residents of the village, one from each yard, attended the memorial service."
Some observers fear that Moscow will start attacks on power and electricity infrastructure over the brutally cold Ukrainian winter, in a repeat of last year's tactics.
Mr Zelenskyy is also fighting against signs that Western support for his country's war effort could be flagging amid political turmoil in the US and warnings that Europe's ammunition and military hardware stocks are running low.