Most Virgin Atlantic pilots have seen a tired colleague make mistakes as they fear staff 'not fit to work'
7 August 2023, 08:20 | Updated: 7 August 2023, 16:51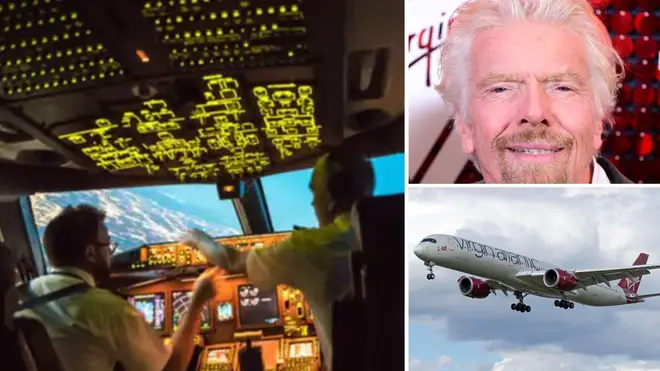 Most pilots at a major airline have seen a colleague make a mistake in the cockpit, with three quarters claiming they had witnessed a fellow pilot clearly too tired to work.
A union survey of Virgin Atlantic pilots was handed to staff only last month but the results, seen by LBC, have piled pressure on the airline.
Some 75.6% of the respondents to a survey of nearly 900 pilots at the airline said they had operated with a colleague who was "clearly not fit to do so due to fatigue or tiredness".
Over 88% said that they had experienced or witnessed a colleague make a mistake in the flight deck.
The stress and strain of the current conditions are also affecting the wellbeing of Virgin Atlantic's pilots, respondents said.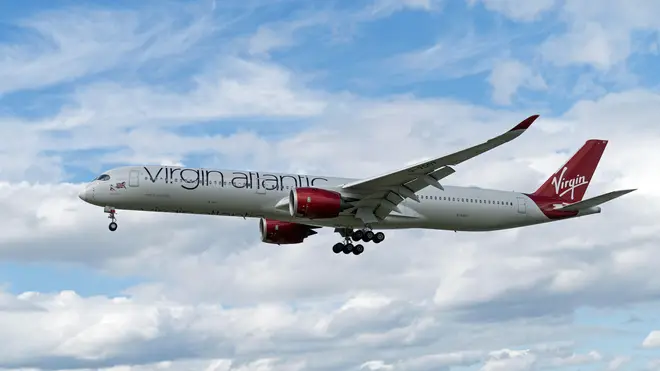 Annual flying hours for pilots have increased by 20% under the current roster for Virgin Atlantic, which was imposed during Covid at a time of job-cuts. But staff say a short-term measure is now having profound long-term consequences - with the number of pilots reporting unfit due to fatigue at record high levels.
Some 96.3% of survey respondents said the current roster was having a detrimental impact on wellbeing, 96.9% said that their home life had suffered as a result and nearly 80% said that their mental health had been negatively impacted.
Pilots with Virgin Atlantic are represented by BALPA (the British Airline Pilots' Association). Bosses at the registered trade union have echoed concerns to LBC, and have confirmed that strike action is possible.
Miranda Rackley, BALPA's interim general secretary, said: "There are serious concerns relating to pilot fatigue and wellbeing around scheduling and rostering arrangements".
Some 96% of pilots at the airline have voted for strike action, with Ms Rackley labelling the result "an overwhelming mandate".
Read more: Pilot carried on flying after thinking co-pilot who suffered cardiac arrest and died was joking around
Read more: Real-life snakes on a plane: Pilot forced to make emergency landing after spotting highly venomous cobra in cockpit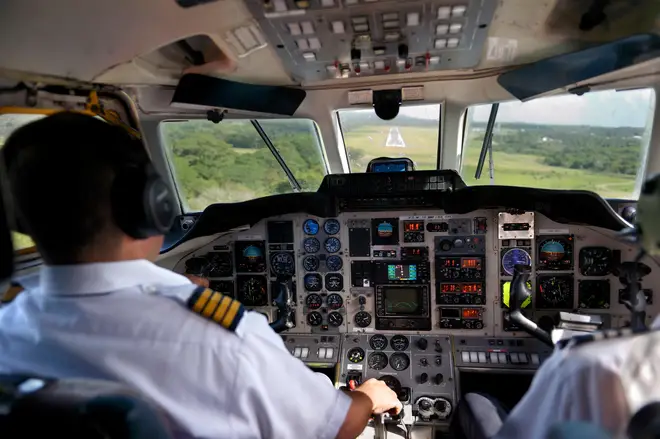 In a memo circulated to members, the union said that "our message to our employer is clear – there must be change, and that change has to start now", adding that there is "a genuine safety risk presented by cumulative fatiguing flights". BALPA also said that the survey should make "Virgin Atlantic, their shareholders, and the regulators, stop and think".
Other concerning factors in the survey are that over half of pilots have admitted to not operating a flight due to tiredness in the last year and that during flights CRR (controlled rest) was being overused.
For example, CRR which usually involves 30 minutes of sleep, is not meant to be used outbound from the UK – yet 99% of pilots admitted to using it on that leg, with nearly 56% saying that they mostly or always did so.
Some 97% of pilots said that they "mostly" or "always" slept for more than the suggested 30 minutes.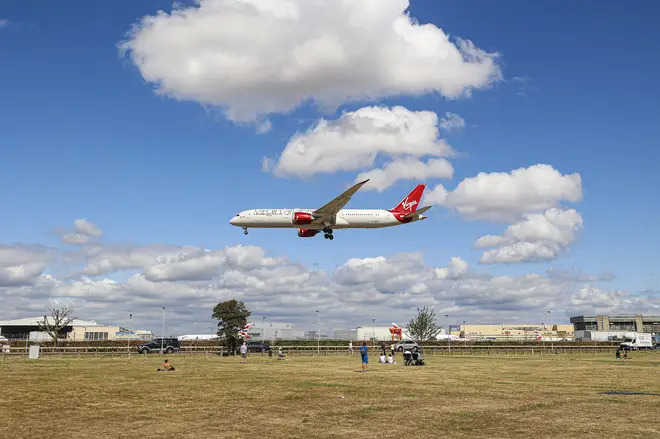 One pilot affected told LBC that there were "constantly" pilots calling in fatigued. "We're now the crew of the Titanic telling Captain Smith that there's an iceberg of fatigue ahead, but he's sailing on thinking about the glory".
Despite the CEO of Virgin Atlantic Shai Weiss earning over £3.5million last year, the anonymous pilot said: "We are not asking for more money, we are asking for a roster which allows us to be safe. No passenger would want to fly with a pilot who is suffering with fatigue."
Paul Charles, the former Communications Director for Virgin Atlantic, told LBC that the findings would prompt "serious concerns" among the airline's senior management.
Mr Charles, who runs the PC Agency, a PR firm, added that "Virgin's working conditions have always been pretty good" but that they "would clearly be sidewinded by this", saying "they will want to do a deal and avert any strike action."
Lord Kirkhope, a Conservative peer and licenced pilot, told LBC: "I'm somewhat surprised and slightly concerned. We need to sort this out. This has the potential to be dangerous. I'm very bothered by this".
Meanwhile there could soon be political pressure for the airline given that Captain Warren Braverman, brother-in-law of Home Secretary Suella Braverman, is on the Virgin Atlantic pilot roster – while James Mordaunt, brother of Leader of the House of Commons Penny, is a Flight Service Manager with the company.
A spokesperson said: "The health, safety and security of our people and customers is our number one priority. We operate a comprehensive, data driven, Fatigue Risk Management System (FRMS) with regulatory oversight, operating well above industry standards.  
"We carefully analyse and manage working and fatigue levels to ensure the wellbeing of our pilots and the safety of our operation at all times. ​Our pilots only fly when they are fit to fly. It is their duty as well as ours. Virgin Atlantic is one of the safest airlines in the industry and we will defend our reputation fiercely.
"We are ready to commence Pay and Lifestyle discussions now with our pilot union representatives on the topics that are important to all of us."
Virgin Atlantic are also understood to be challenging the methodology of the survey.
Addressing the possibility of strike action, the spokesperson added: "Virgin Atlantic underwent a radical transformation as a result of the impact of Covid-19, which was possible due to the collective effort of our amazing people. This was fundamental to our survival and our steadfast commitment to returning to sustainable profitability. We're grateful to them all, including our pilots who play a pivotal role in the success of our operation.
"We currently have an existing pay and lifestyle agreement in place until the end of 2023, that was agreed, developed and supported by BALPA's pilot representatives within Virgin Atlantic, and our pilot community. We continue to honour all agreements and have offered to enter formal pay and lifestyle negotiations with BALPA's pilot union representatives in the coming weeks, well in advance of the agreement expiring in December."
Rob Bishton, Interim Joint-Chief Executive at the UK's Civil Aviation Authority, said: "The safety of the travelling public is the number one priority for the aviation industry and the Civil Aviation Authority. Managing pilot fatigue is vital to maintaining high safety standards. We know Virgin Atlantic takes this issue very seriously.
"The Civil Aviation Authority remains confident Virgin has the appropriate processes and procedures in place to manage fatigue and Flight Time Limitations."