Woman in her 80s found dead in flat in Derbyshire after Storm Babet floods
22 October 2023, 10:04 | Updated: 22 October 2023, 11:14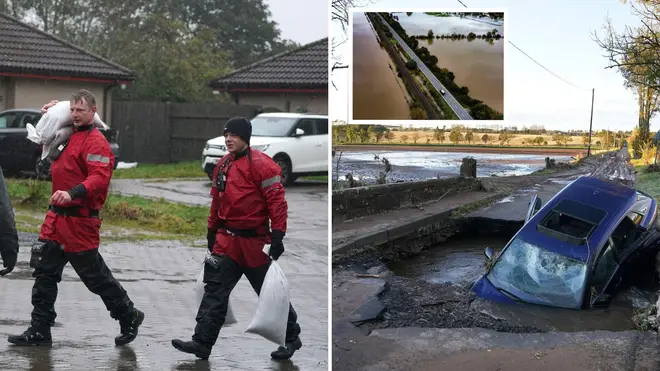 A woman in her 80s has died at a home in Chesterfield after Storm Babet flooded the area.
Police in Derbyshire found her just after 10.35am on Saturday as the storm flooded towns across England, Wales and Scotland.
Officers and firefighters found the woman in a flat in Tapton Terrace.
"Investigations are continuing into the cause and circumstances surrounding her death, but it is believed it is related to the flooding seen in the Chesterfield area," police said.
Read more: Watch: Strong winds cause forest floor to 'move like the sea' in dramatic footage as Storm Babet batters Britain
However, Derbyshire Police later said they were investigating and removed any reference to the flood. Chesterfield's MP said at least 400 homes flooded on Saturday.
Storm Babet brought floods and strong winds as the Met Office issued a rare red danger to life warning that was in place in Scotland.
Severe weather has been linked to as many as eight other deaths over the last few days.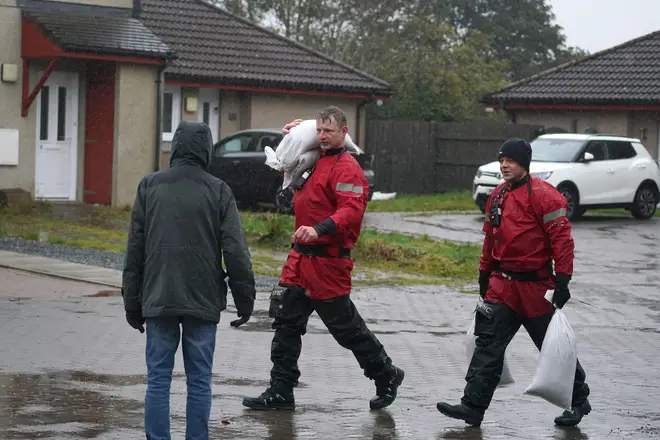 A 57-year-old woman was killed after being swept away in Angus, Scotland and a 56-year-old man was killed when a tree fell near Forfar on Thursday.
A man in his 60s was swept away by floods in Shropshire on Friday, and late that day a 19-year-old man was killed in a crash in Halifax which is understood to have been linked to the weather.
Two women were also killed after a pile-up on the M4 which amid strong winds.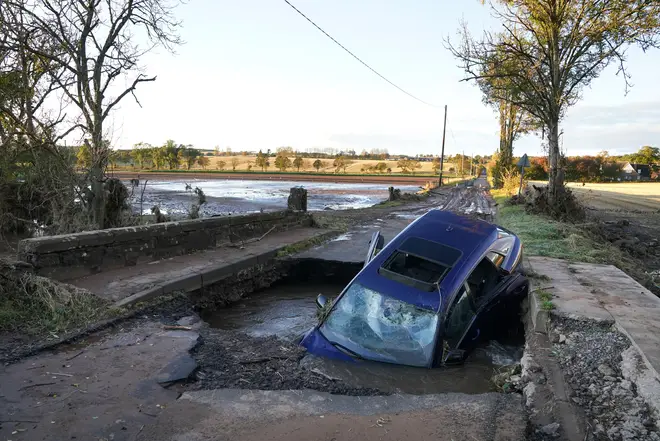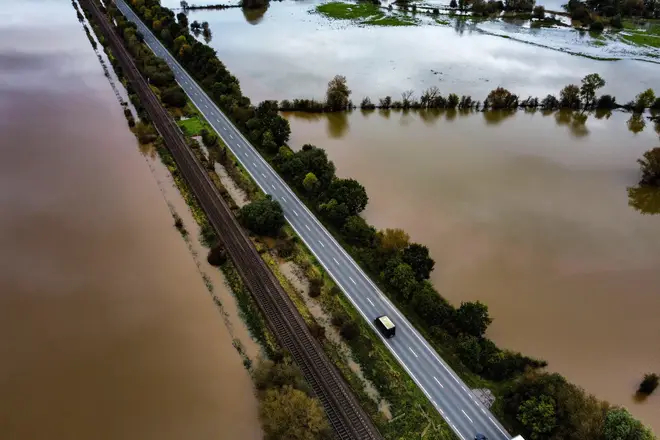 And on Saturday two people were killed when their car came off a bridge near Skipton in North Yorkshire, though it was not confirmed immediately if this was due to winds.
Meanwhile, travel disruption continues after the weather led to police closing King's Cross station temporarily when it became overcrowded.
LNER continues to tell customers to avoid travelling north of Edinburgh, with services between Aberdeen and Inverness scrapped.
Services throughout Scotland are heavily disrupted, as are some routes in Yorkshire and East Anglia after flooding.
Urgent repairs are being carried out at Plessey Viaduct in the North East, limiting the service between Morpeth and Newcastle.