'You killed them, now I'll kill you': sickening threat 'shouted at Muslim mother and child' following Hamas attack
20 October 2023, 15:46 | Updated: 21 October 2023, 11:43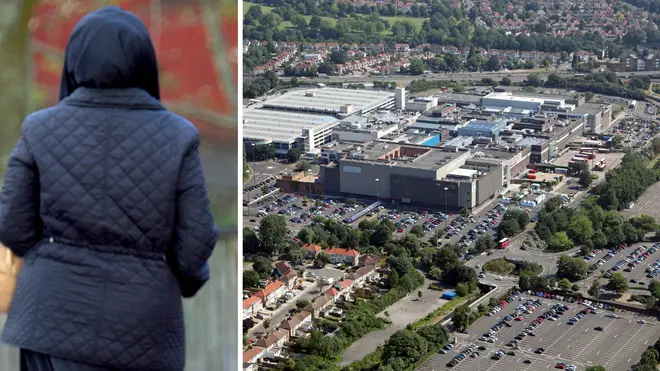 A Muslim mother and her child were allegedly threatened in a north London shopping centre car park following Hamas' attack on Israel.
Charity Tell Mama, which measures anti-Muslim hate crimes in the UK, told LBC the hijab-wearing woman was pushing her child in a pram when a man reportedly pointed his fingers at them, imitating a pistol.
The woman reported that he shouted "you killed them, now I'll kill you" in reference to the attacks in Israel by Hamas terrorists, as she was walking to her car at a North London shopping centre on Thursday, October 19th.
Iman Atta, director of Tell Mama, told LBC: "As she was going to her car someone stepped out of their car and made a pistol gesture with his hands, and told that woman 'you have killed them, I will kill you now'.
"That person is horrified and shocked, obviously she had a child in the car as well who was terrified."
Read more: Machine gun fire breaks out on Israel's border with Gaza as soldiers told 'you will soon see it from the inside'
Ms Atta said other cases reported to them following the October 7 attacks involve assaults, threatening behaviour and abusive language.
The charity said it also received a call from a man who had a Palestinian flag on his car, who suspected it had been doused in acid.
"He is a Muslim person and had stuff that identified him as Muslim on his car - you'd easily know it belonged to a Muslim person. He also had a Palestinian flag on his car.
"He came back to the car to see something dripping from it, and the colours from the flag had become quite faint.
"He touched the flag and his fingers started burning and became blistered - he understood it was acid on his car. Thankfully his hand wasn't badly damaged, but being subjected to such an attack is horrific."
The Metropolitan Police said it was unaware of the incidents and urged the victims to report it.
In another case reported to the charity, a Muslim woman was allegedly targeted by an 'elderly woman' on the London Underground who made a slit-throat gesture towards her.
Ms Atta told LBC: "A visibly Muslim lady was threatened to be killed - that is under investigation and we've provided evidence to the police, who are looking hopefully to identify the perpetrator."
She also claims the alleged suspect was "holding a newspaper with a headline 'rapist butchers' on it".
British Transport Police confirmed it was investigating the alleged incident, which was said to have taken place on the Northern Line on October 11th.
A spokesperson for BTP said: "British Transport Police is aware of a video currently circulating on social media showing a woman making threatening gestures on the London Underground. Enquiries into the incident are ongoing. Anyone with information is asked to contact us by texting 61016 or calling 0800 40 50 40 quoting reference 766 of 13/10/23."
Ms Atta urged people not to hold Muslim communities responsible for the actions of Hamas.
"If they're supporting Palestine it does not mean they're supportive of terrorists. They aren't responsible for the acts of terrorists 2,500 miles away", Ms Atta told LBC.
"Equally, people are taking out their anger on the other - both Jewish and Muslim communities are being targeted. Both Jewish and Muslim people are not responsible for the terrorist attacks that took place, and the attacks taking place in Israel and Palestine.
"We're better in London, and across the UK, than this. We're the ones who usually stand up for each other and look out for each other.
"We're asking people to look at our human connection. Let's think of humanity - we are all human beings. We might not agree, but we ought to look out for each other and respect each other. At this time, when everyone is going through high levels of grief and anger, it's the time for us to come together."
It comes as the Metropolitan Police revealed Islamophobia offences between October 1 and 18 increased from 42 last year, to 101 this year - an increase of 140%.
Antisemitic offences in London increased by 1,353% this month compared to the same period last year.
The Metropolitan Police said there had been "a significant increase in hate crime across London" and that officers had made 21 arrests for hate crime offences, amid the Israel-Hamas war.
These arrests included a man detained on suspicion of defacing posters of missing Israelis in Camden and another man in relation to 10 incidents of Islamophobic graffiti on bus stops in New Malden and Raynes Park.
The Metropolitan Police said there had been 218 antisemitic offences between October 1 and 18, compared to 15 in the same period last year.
Thousands of officers are undertaking extra "reassurance and safety" patrols across London following the terrorist attack on Israel and ensuing conflict with Hamas.
Officers have visited more than 200 schools as well as more than 300 synagogues, mosques and other places of worship.
A spokesperson for the force said: "Hate crime has no place in London and we would ask urge who has been subjected to, or witnessed such behaviour to contact police immediately. This means any victims can be supported and any offences can be investigated."