Joe Biden says masks are 'not a political statement' as he warns of 'dark winter'
9 November 2020, 18:55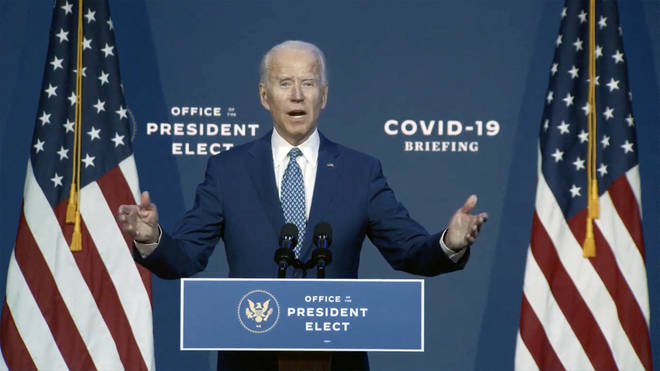 Joe Biden has said that masks are 'not a political statement' as he implored all Americans to wear them ahead of a 'dark winter' caused by the coronavirus pandemic.
Despite positive vaccine news, Joe Biden said the country is "still facing a very dark winter" from Covid-19.
The Democrat said that wearing masks is still needed and could slow the death toll in the Covid-19 pandemic, which he noted could climb by 200,000 more before a vaccine is widely available.
Read more: How Joe Biden spent his first day as President-elect
Read more: Joe Biden: 'The people of the nation have spoken, they have delivered us a clear victory'
He said: "We are Americans, and our country is under threat. Please, I implore you, wear a mask."
He noted masks could save the lives of older people, children and teachers, and added: "It could even save your own life."
Expressing a message of unity, he said: "I implore you, wear a mask. Do it for yourself. Do it for your neighbour. A mask is not a political statement. But it is a good way to start pulling the country together.
"It doesn't matter who you voted for, we can saved tens of thousands of lives if everyone wears a mask in the next few months.
"The goal of mask wearing is not to make your life less comfortable, or to take something away from you. It is to give something back to all of us, a normal life."
Read more: People dance in the streets as Joe Biden becomes next US President
Read more: George W. Bush congratulates Joe Biden on winning US presidency
Mr Biden noted that he does not take office until January 20 but was assuming a public leadership role in the fight against the pandemic ahead of being sworn in.
Since the start of the pandemic, there have been more than 9.9 million coronavirus cases and over 237,000 deaths in the US.
The nation currently has the highest death toll of any country in the world.
Read more: Kamala Harris cements place in history as first female Vice President
Read more: Boris Johnson congratulates Joe Biden on US election victory
The president-elect also warned that 200,000 more Americans could die before an effective Covid-19 vaccine is widely rolled out.
His comments come as a vaccine being developed by Pfizer and BioNTech has been found to be 90% effective in preventing people from getting the virus.
Mr Biden praised the announcement but also cautioned that Americans must continue wearing a mask and social distancing as "any effective vaccine would not be widely available for many months to come."
Today, I have named a COVID-19 Transition Advisory Board, comprised of distinguished public health experts, to help our transition team translate the Biden-Harris COVID-19 plan into a blueprint we can put into place as soon as @KamalaHarris and I are sworn into office.

— Joe Biden (@JoeBiden) November 9, 2020
On Sunday, Mr Biden signalled that he plans to move quickly to build out his government, focusing first on the pandemic that will likely dominate the early days of his administration.
Mr Biden named a former surgeon general, Dr Vivek Murthy, and a former Food and Drug Administration commissioner, David Kessler, as co-chairs of a coronavirus working group set to get started, with other members expected to be announced on Monday.
Transition team officials said that also this week Mr Biden would launch his agency review teams, the group of transition staffers that have access to key agencies in the current administration to ease the transfer of power.
The teams would collect and review information such as budgetary and staffing decisions, pending regulations and other work in progress from current staff at the departments to help Mr Biden's team prepare to transition.
"People want the country to move forward," said Kate Bedingfield, Mr Biden's deputy campaign manager, in an interview on NBC's Meet The Press, and see Mr Biden and vice president-elect Kamala Harris "have the opportunity to do the work, to get the virus under control and to get our economy back together".
Mr Biden also made coronavirus a major feature of his victory speech at a drive-in rally in Delaware on Saturday night.
"We cannot repair the economy, restore our vitality, or relish life's most precious moments - hugging a grandchild, birthdays, weddings, graduations, all the moments that matter most to us - until we get this virus under control," he said.
It comes as Downing Street revealed that Prime Minister Boris Johnson has not yet spoken to US President-elect Joe Biden.
Asked if it was a worry that the UK may not be the among the first nations Mr Biden will speak to, the Prime Minister's official spokesman said: "No, that's not something that we're concerned about."
Boris Johnson was asked whether he thought Donald Trump should "throw in the towel", during a press conference at Downing Street.
He said: "I don't wish to offer any other commentary on the US election. Our friends in America have their processes. (It's) not for me to offer commentary on it.
"Clearly, I want to congratulate president-elect Biden."