'To me you were everything': Adam Johnson's fiancée pays emotional tribute as ice hockey star laid to rest
7 November 2023, 13:40 | Updated: 7 November 2023, 13:53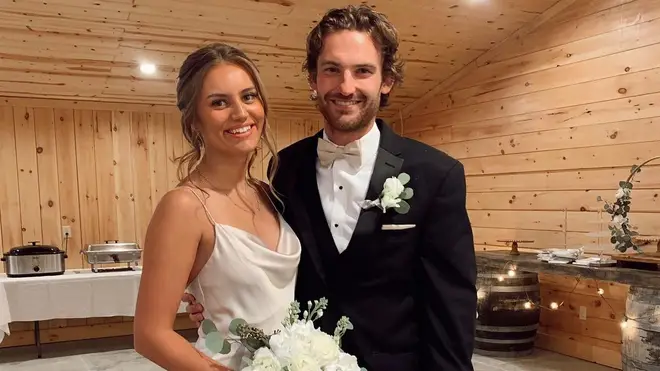 Adam Johnson's fiancée Ryan Wolfe has led tributes at the memorial to the ice hockey star, calling him her 'everything' - after his death in a freak accident on the ice.
The 29-year-old ice hockey player was laid to rest in his hometown of Hibbing, Minnesota on Sunday.
His fiancée, Ryan Wolfe, read a letter at the memorial service to 'the love of her life' with her sister at her side.
"You've been so amazingly supportive and kind to me since the day we met," she said.
"And I couldn't have been more grateful for it. I always thought that maybe if I was lucky enough, after a lifetime together, that I might start to be more like you.
"You're such a special person, you have the best sense of humour, the biggest heart, the quickest wit and the kindest soul. You're unbelievably loyal, dedicated and smart. You're so, so smart.
"Whether it came to school or life in general, you just seem to have it all figured out, which gave me so much peace and comfort, and made me feel like we could do anything, or be anything, and we'd be OK. We'd be happy."
She brought up her late fiancé's desire to eventually run a farm or coffee shop.
"I just hope in heaven they let you have your farm, and all the cows and chickens your little heart desires."
She finished her speech by saying, "To me you were everything. You were my home, my best friend, my sounding board, my rock, my safe haven and the love of my life.
"I'm never gonna stop thinking about you, missing you and loving you until we can be together again. Love you."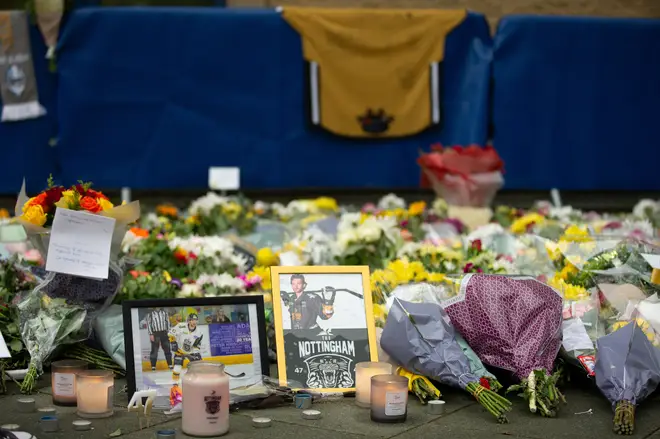 CEO of the Nottingham Panthers, Omar Pacha, also spoke at the service.
"As much as Adam would come across as quiet, he was very caring and loved around his teammates," he said.
"He was appreciated by them all so much... but the coaching staff probably a bit more. How can you blame them? The best player on the team, working hard, contagious smile with zero ego and loved coming to the rink every single day."
Pacha continued: "Always humble, always polite, always grateful: that was our No. 47."
Over 4,400 people tuned into the online livestream of the service.
Read more: Coroner sends 'sincere condolences' to family of ice hockey star Adam Johnson after his throat was cut in freak accident
Read more: Tragic ice hockey star Adam Johnson's father and grandmother watched game on TV as they saw him suffer fatal injury
Adam Johnson, 29, was fatally injured in a freak accident when his throat was slit by an opponent's skate during a match on 28 October.
He was taken to hospital in Sheffield where he was pronounced dead.
His family wrote in his obituary: "He was many things to many people, but to those who were lucky enough to be loved by Adam knew he was thoughtful, patient and genuinely authentic.
"He loved his fiancée, family, and friends above all else. His loving and quiet demeanour will be eternally missed."