Alex Salmond warns reuniting SNP a 'big challenge' for Humza Yousaf after bitter leadership race
27 March 2023, 19:03 | Updated: 5 April 2023, 08:44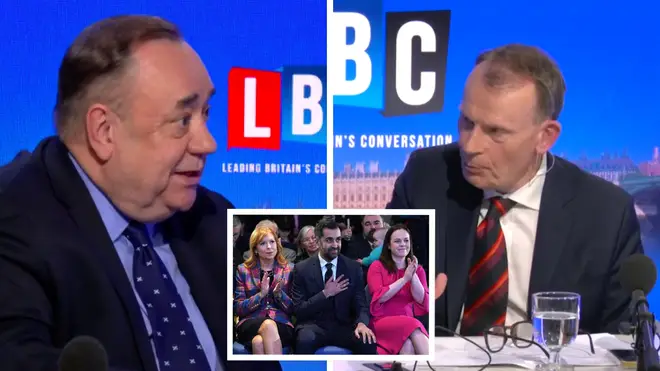 Alex Salmond has warned that reuniting the SNP will be a "big challenge" for new leader Humza Yousaf, after a leadership contest that laid bare bitter divisions within the party.
Appearing on Tonight with Andrew Marr, the former SNP leader said the disorderly character of the early stages of the leadership campaign hadn't furthered the cause of independence, and the fact that Mr Yousaf was elected by a minority vote meant that the former health secretary has a job in his hands to bring warring factions of the party together.
"Thats a challenge," he said, "he's got a big challenge to reunite the party.
Mr Salmon said if he were in Mr Yousaf's position, he would be "immediately offering the hand of friendship" to leadership rivals Kate Forbes and Ash Regan, whom he said "had the best independence policy".
He also praised Ms Forbes as a "clearly outstanding candidate", and said the new leader should "let bygones be bygones and invite them back into the fold".
Read more: Andrew Marr: The SNP have a new leader, but the reputational damage caused by the leadership race will only help Labour
Read more: Prince Harry lost friends and suffered from 'paranoia', court hears in bombshell privacy battle with the Daily Mail
Asked whether he thought Mr Yousaf's reference in his speech to a "broad civic movement" when addressing independence suggested a lack of urgency, Mr Salmond said: 'If Humza means that he's now converted to the idea of an independence convention, to bring together the fractured independence movement, not just the political parties incidentally, but the think tanks like Common Weal, the grassroots pressure group, that'd be a good thing.
"But it shouldn't be seen as a means of delaying the independence initiative. It should mean that you're uniting the independence forces to take on the Westminster establishment.
He added: "And that shouldn't be a matter of prevarication and delay, it should be a matter of urgency and necessity."
Mr Yousaf succeeded in the voting run-off with 26,032 votes, or 52.1 percent, after predecessor Nicola Sturgeon announced last month that she was standing down after more than eight years as Scotland's First Minister.
He saw off current Scottish Finance Secretary Ms Forbes and former community safety minister Ms Regan in what was the SNP's first leadership contest for almost 20 years.
Mr Yousaf said he was "honoured" to be entrusted by the SNP membership after winning the leadership election.
Alex Salmond: Humza Yousaf should take Scottish independence seriously
He said: "It is hard for me to find the words to describe just how honoured I am to be entrusted by our membership of the SNP to be the party's next leader and to be on the cusp of being our country's next first minister.
Mr Yousaf paid tribute to colleagues Ms Forbes and Ms Regan, adding: "It's felt we've seen each other more than our respective families.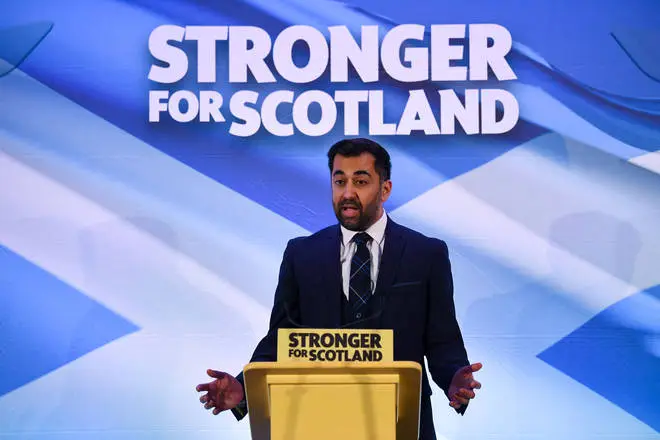 "You both have put in an incredible shift and I know that collectively we will work hard as part of Team SNP."
He will replace Ms Sturgeon as party leader right away but it will take a vote by MSPs, due to take place at Holyrood on Tuesday, to decide whether he will be named first minister.