Prince Harry lost friends and suffered from 'paranoia', court hears in bombshell privacy battle with the Daily Mail
27 March 2023, 10:33 | Updated: 28 March 2023, 01:40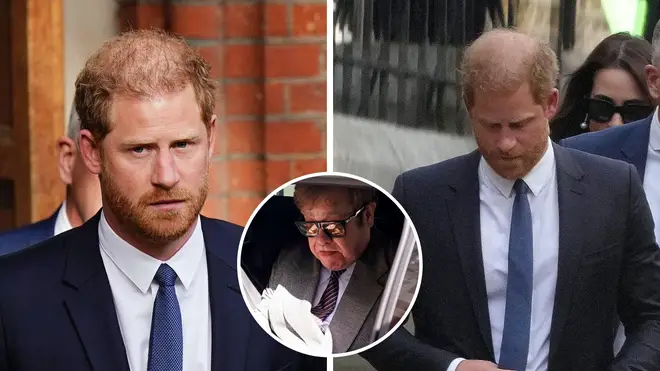 Prince Harry lost friends and suffered from the pressures of "suspicion and paranoia", a court has heard at the start of a case dealing with alleged phone-tapping by a newspaper company.
The Duke of Sussex, who has not been seen in the UK since the Queen's funeral, is among several people suing Associated Newspapers, the company that publishes the Daily Mail.
His trip will be seen as demonstrating the strength of his determination over the legal action and he is not expected to see Charles or William during his visit.
The seven claimants, who also include Elton John and his husband David Furnish, Sadie Frost, Liz Hurley and Doreen Lawrence have made allegations of unlawful information gathering against the publisher.
Legal submissions heard in court today revealed Harry says he suffered "suspicion and paranoia…caused by Associated's publication of the unlawful articles - friends were lost or cut off as a result and everyone became a 'suspect', since he was misled by the way that the articles were written into believing that those close to him were the source of this information being provided to Associated's newspapers."
Read more: Prince Harry's drug use could threaten his US visa, lawyer says
Read more: Prince Andrew 'to write tell-all autobiography' after Prince Harry's Spare success
Prince Harry leaves Royal Courts of Justice after first day of case against Associated Newspapers
Sir Elton John, who arrived at the court wearing a grey suit, was also present at court today.
The four-day preliminary hearing at the Royal Courts of Justice in London began on Monday and is set to include ANL's bid for the claims to be dismissed without a trial.
Associated Newspapers has "utterly and unambiguously" denied the allegations, describing the claim as "preposterous smears" and claiming it is a "fishing expedition by [the] claimants and their lawyers".
The publisher will seek to have the case thrown out of court.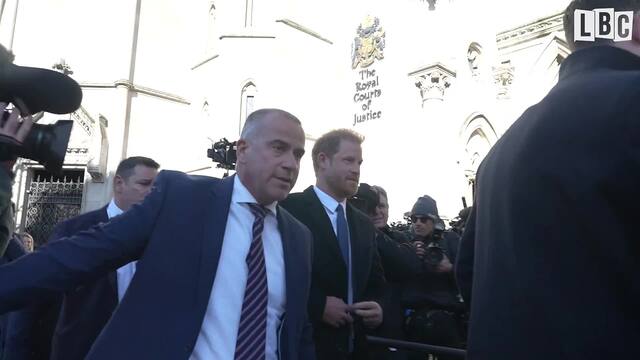 Prince Harry arrives at Royal Courts of Justice
The claimants have made accusations that their phones were tapped and their homes and cars were bugged, and that police were paid to divulge sensitive information.
They described Associated Newspapers' alleged actions as "abhorrent criminal activity" and said the affair was "highly distressing" and constituted "gross breaches of privacy".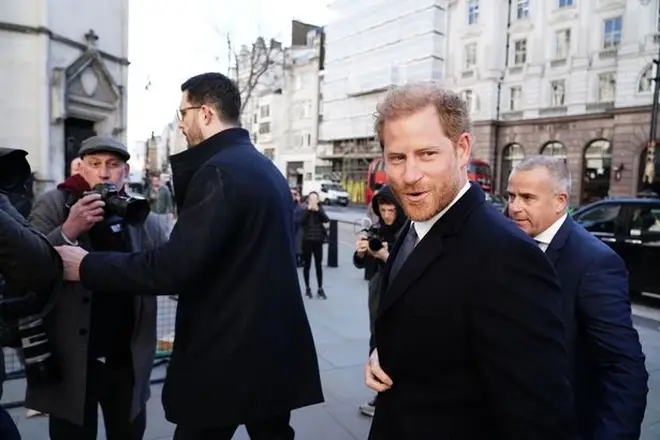 Specific claims include:
Private investigators being hired to bug homes and cars
People being paid to listen to and record live, private telephone calls
Corrupt police officers with links to private investigators being paid to hand over sensitive information
People impersonating others in order to get access to sensitive medical information
Reading bank accounts, credit histories and financial transactions illicitly and through manipulation
The group announced they were suing Associated Newspapers in October last year.
While there have been a number of damages claims over unlawful activity at newspapers in the wake of the phone-hacking scandal - most of which have settled - this is the first claim to be brought against Associated Newspapers.
Harry, who was not expected to attend the hearing, bid photographers and reporters a "good morning" as he arrived at the High Court.
The King was due to be away on Monday on the first official state visit of his reign, but the trip to France was cancelled due to rioting over pension reforms, meaning Charles is now in the UK at the same time as Harry for the first time in six months.
But Buckingham Palace said the King was not in Windsor or London and would be leaving for a state visit to Germany on Wednesday morning. Harry is also unlikely to be meeting up with William.
The Prince and Princess of Wales and their children Prince George, Princess Charlotte and Prince Louis are not currently in Windsor because of the youngsters' school Easter holidays.