Alicia Keys insists paraglider reference in online post 'completely unrelated' to Hamas attacks amid fan controversy
17 October 2023, 16:19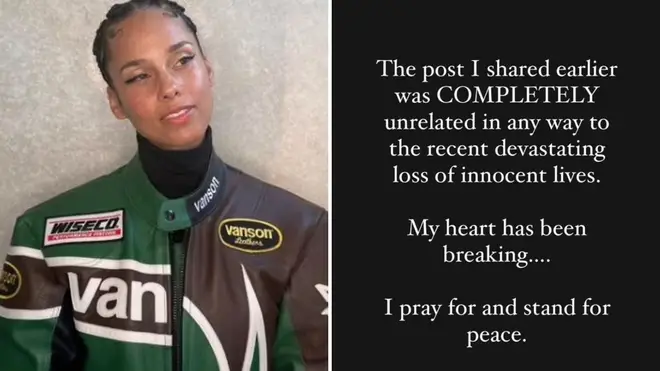 Alicia Keys has denied claims of making a 'sick ode to Hamas attacks' after she shared a divisive post online.
Alicia Keys, 42, has been called on by fans to publicly denounce Hamas after she shared a post to Instagram.
The singer sparked outcry among some as she wrote in a post shared to the platform: "Question: What would u do if you weren't afraid of anything???
"Tell me your truth... I've had my eyes on paragliding," (sic).
Keys' choice of clothing drew further speculation from fans, as she donned a green, black and white racing jacket - which some suggested may have been an allusion to the Palestinian flag.
But the post whipped up controversy after fans started to speculate that 'paragliding' was an indirect reference to the Hamas attack on Israel.
Gunmen from Hamas crossed the border using paragliders on October 7 and breached the wire that separates the two regions during the attack.
An organisation called 'Stop Antisemitism' reshared Keys' post after it was deleted, as they wrote: "In a now deleted tweet, Alicia Keys shares an IG post about trying paragliding if she wasn't afraid.
"Is this some sick ode to the Hamas terrorists that infiltrated Israel, killed over 1300 people, beheaded babies, raped women, and kidnapped Holocaust survivors @aliciakeys?"
Read more: Don't cry for me O2 Arena: Madonna faces £300,000 fine after 'breaching' strict venue rules
Read more: 'I wanted it to go away, but I had to battle on': Coleen Rooney says she was forced to expose 'Rebekah Vardy's leaks'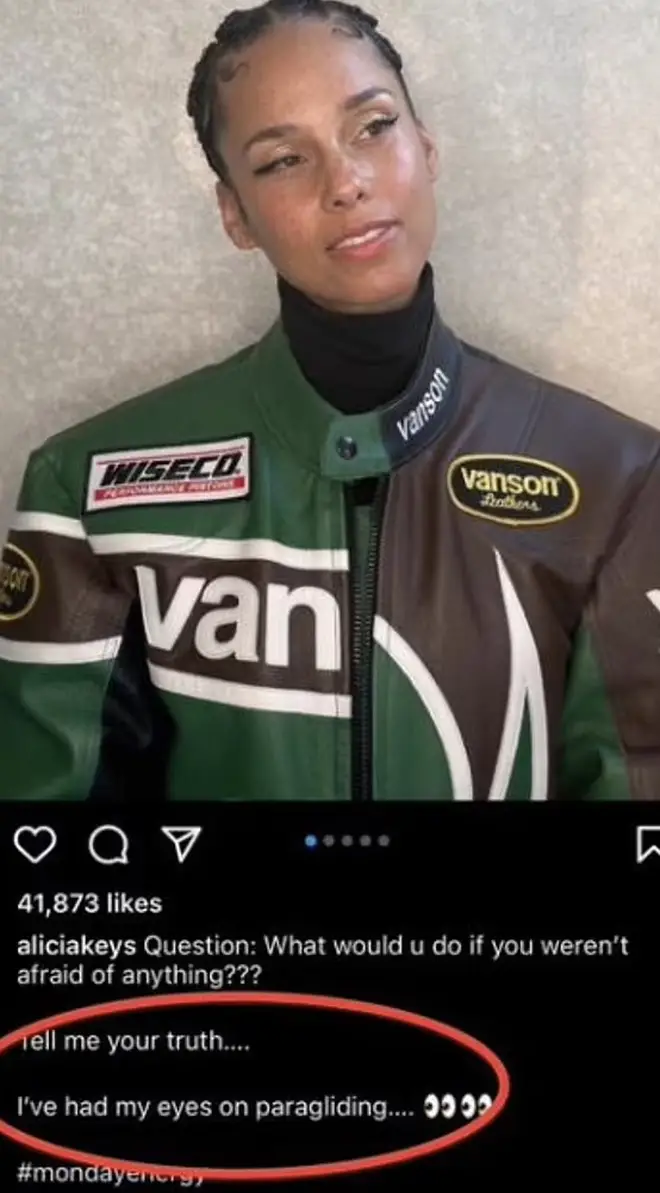 They also later wrote: "Let's wait until she responds; the jacket colours are also a bit off putting the two together".
Keys deleted the post after an influx of criticism from fans and later denied speculation around her post, as she wrote on Instagram: "The post I shared earlier was COMPLETELY unrelated to the recent devastating loss of innocent lives,' she said.
"My heart has been breaking... I pray and stand for peace."
Some have since pointed out that the pair, according to TMZ, live near a well-known paragliding site.
The singer's friends' have since spoken up in Keys' defence, as music manager Guy Oseary, who was born in Israel wrote: "There's talk of an anti-Semitic post that my dear friend Alicia Keys had up on her Instagram,' Oseary wrote. 'I can confirm to anyone in my community that needs to hear it: it's NOT true.
"There was a specific word in her post that our community at this very painful time find very triggering, but it was absolutely not connected in any way.
"I spoke to Alicia and she was horrified to learn what the word implied and immediately took it down. Alicia has always been a fighter for all human rights.
"I've had a front row seat for over a decade of seeing her positive influence in the world. Her humanitarian work reflects her empathy and her heart."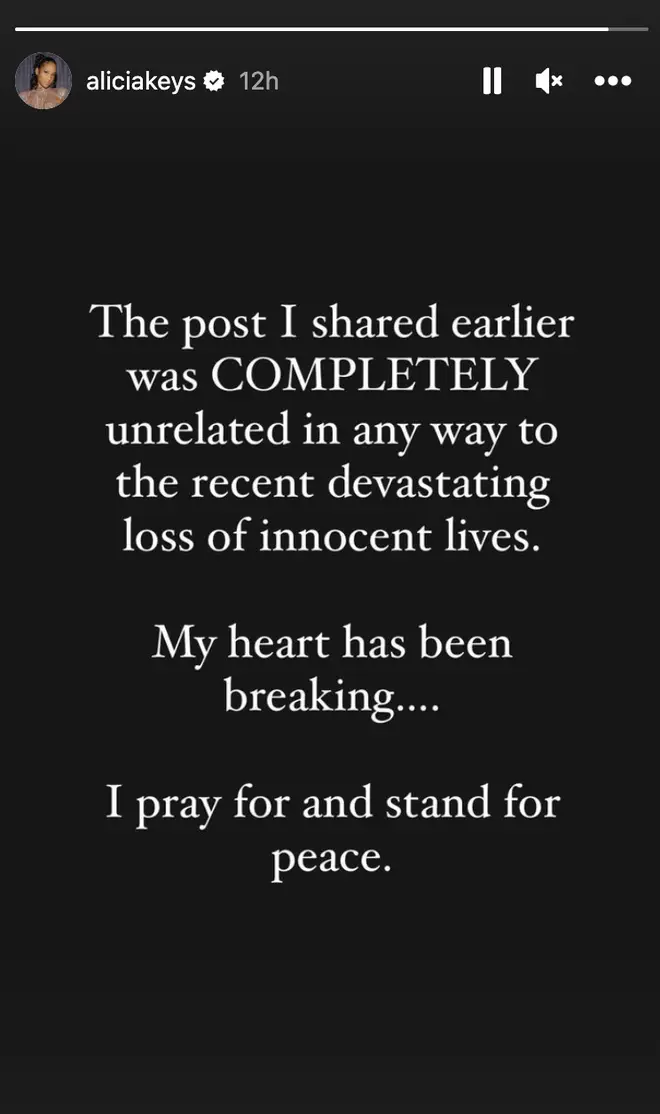 But some remained unconvinced by the arguments made in her defence, as podcaster Sara Foster replied to Oseary's post: "Crazy. What a coincidence."
While comedian Elon Gold wrote: "She needs to prove it herself. She needs to speak up against Hamas after appearing to be winking at them. I'm sure her heart is good. But she can't be silent after this slaughter, mass rape, baby beheadings…"
But others leapt to Keys' defence as they argued the accusations against the singer were far-fetched.
"To be fair, her house in San Diego is by the gliderport in La Jolla (it's public knowledge), and she sees the paragliders every day.
"She MIGHT not be referring to Hamas."