American authorities considering filing criminal manslaughter charges following Titan sub implosion
16 October 2023, 07:08 | Updated: 16 October 2023, 07:46
American authorities are considering filing manslaughter charges following the "catastrophic implosion" of OceanGate's Titan sub.
Five were killed in the tragic incident, including OceanGate's CEO Stockton Rush, which took place around 1,600 feet (488 meters) away from the Titanic.
A person close to the investigation into the sub's implosion said: "Interviews with those involved, both people who were directly involved with Titan and those who warned against it, have been taking place."
"There is serious discussion about criminal charges being brought against those responsible, including possible negligent homicide charges or manslaughter charges," they told the Mail on Sunday.
An investigation is understood to be focusing on people who were aboard the Titan's support vessel at the time, the Polar Prince, as well as current and former staff working for OceanGate.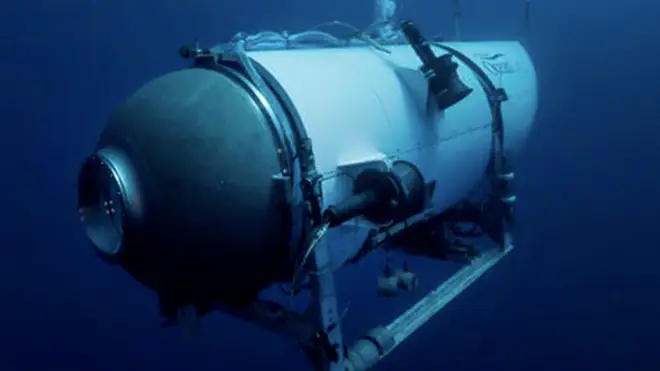 It comes after remaining debris from the OceanGate Titan sub has been discovered by the US Coastguard, four months after five were killed in a "catastrophic implosion" near the bottom of the ocean.
A follow-up salvage mission was conducted under an agreement with the US navy, following an initial recovery mission that took place after the implosion.
The implosion also killed British billionaire Hamish Harding, French explorer Paul Henry Nargeolet, businessman Shahzada Dawood and his son, Suleman.
The OceanGate Titan sub voyage was put on so tourists could pay to see the Titanic's infamous wreckage.
The coastguard said on Tuesday that the recovery and transfer of remaining parts was completed last Wednesday, and a photo showed the intact aft portion of the 22-foot (6.7-metre) vessel.
Investigators believe the Titan imploded as it made its descent into deep North Atlantic waters on June 18.
The multi-day search mounted after Titan went silent captured attention around the world.
Read More: 'Too soon': Fury at movie producers' plans to turn OceanGate Titan sub tragedy into Hollywood blockbuster
Read More: OceanGate Titan sub tragedy set to be made into a film as writers say it will 'honour those involved'
The coastguard previously said it recovered presumed human remains along with parts of the Titan after the debris field was located at a depth of 12,500 feet (3,800 metres).
The materials were offloaded at an unnamed port.
The coastguard's Marine Board of Investigation is continuing its analysis and conducting witness interviews ahead of a public hearing on the tragedy.
OceanGate has since gone out of business.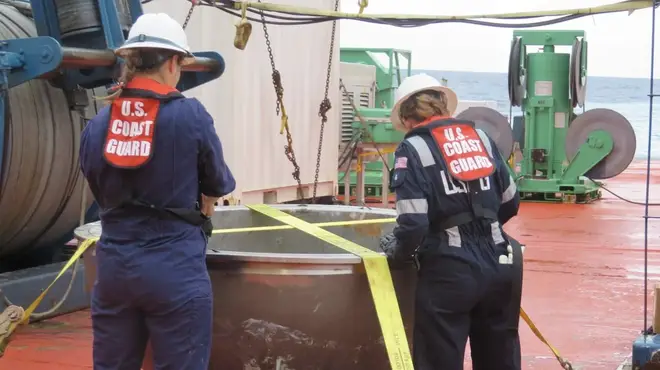 Much of the focus since the catastrophic implosion has been on OceanGate's CEO Mr Rush, who made a number of unconventional claims about submarine safety.
OceanGate's boss once slammed regulation as an obstacle to innovation but an expert has said last month's Titan implosion was an "avoidable tragedy".
In a 2019 interview with The Smithsonian, Mr Rush said: "There hasn't been an injury in the commercial submersible industry in over 35 years.
"It's obscenely safe because they have all these regulations," he said.
"But it also hasn't innovated or grown — because they have all these regulations."