Andrew Tate faces being sued by three women alleging sexual assault and physical abuse
13 April 2023, 09:21 | Updated: 13 April 2023, 13:10
Under-investigation social media influencer Andrew Tate is facing a sexual assault lawsuit in the UK.
Three women, aged in their early thirties and late twenties, also accuse Andrew Tate of physical abuse and controlling behaviour.
Their allegations date between 2013 and 2016, and they claim they suffered injury and psychiatric harm.
The former kickboxer-turned-social media personality, whose misogynistic views have generated significant controversy over its impact on younger men and boys, is under house arrest in Romania.
Tate, 36, previously denied claims against him in the UK, saying: "They wanted money because I fired them.
"The police understood after the investigation that I am innocent."
Police in the UK investigated the claims but did it did not result in any charges being brought forwards.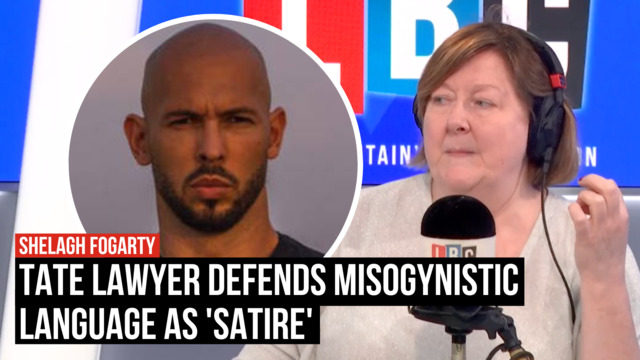 Lawyer Tina Glandian defends misogynist comments made by Tate
In a statement, the women have now said: "We intend to take action to encourage a criminal investigation in the UK and pursue a civil case against Tate for compensation to help rebuild our lives.
"In doing so, we hope to empower other victims of his abuse.
"We want to show them that we, as survivors, can stand up to him and that every one of his despicable acts has consequences.
Read more: UK economy flatlines with zero growth in February as public sector strikes drag on GDP
"Our goal is to reveal his true face in a UK court and prevent other women from becoming his victims, and to release impressionable young boys from his toxic hold."
Tate is being investigated in Romania over organised crime and human trafficking claims. He was detained for months before being allowed to stay under house arrest.
He and his brother, Tristan, deny the claims against them.
Tate, who was born in America but raised in Luton, previously appeared on Big Brother in 2016 but was kicked off after the police flagged allegations of abuse at his sex business at the time.
But prosecutors decided there was no realistic prospect of a conviction after four years.
Tate, his brother, and two alleged accomplices – Georgiana Naghel and Luana Radu – have not been indicted and are still being investigated.