UK economy flatlines with zero growth in February as public sector strikes drag on GDP
13 April 2023, 08:17 | Updated: 13 April 2023, 09:45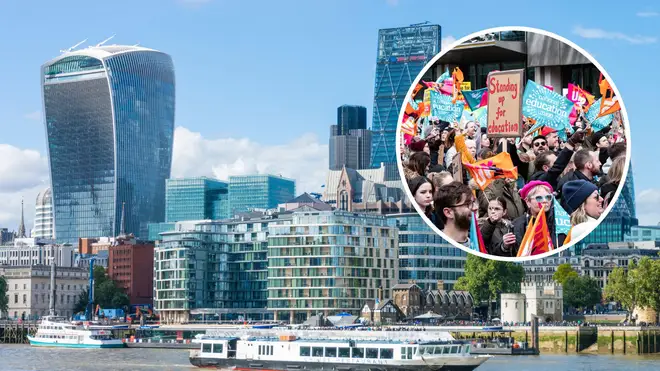 The UK economy showed no growth in February as public sector strikes hit productivity.
Teachers' and Civil Service strike action acted as one of the biggest drags on gross domestic product (GDP), with thousands of workers walking out during the month.
The decline in the services sector offset growth in the construction sector, which saw a rebound particularly due to more mild weather and from new work and repairs.
GDP was expected to grow by 0.1% in February but the economy eked up by just 0.02%.
It comes as the ONS said the UK's consumer prices index (CPI) inflation rate surged to 10.4% in the same month, unexpectedly jumping higher despite efforts from the Bank of England to pull it back to its 2% target.
Read more: UK set to become worst performing G7 economy this year as IMF says world economy entering 'perilous phase'
Read more: Brexit as bad for economy as Covid and war in Ukraine, head of government's watchdog says
Chancellor of the Exchequer Jeremy Hunt said: "The economic outlook is looking brighter than expected - GDP grew in the three months to February and we are set to avoid recession thanks to the steps we have taken through a massive package of cost-of-living support for families and radical reforms to boost the jobs market and business investment."
But Labour shadow chancellor Rachel Reeves said: "Despite our enormous promise and potential as a country, Britain is still lagging behind on the global stage with growth on the floor.
"The reality of growth inching along is families worse off, high streets in decline and a weaker economy that leaves us vulnerable to shocks.
"These results are exactly why Labour's mission to secure the highest sustained growth in the G7 is so important - it's that level of ambition that we need to strengthen our economy, get our high streets thriving again and make families across every part of Britain better off."
The economy grew by 0.4% in January, revised from the 0.3% the ONS previously predicted, meaning it saw a slowdown the following month.
The UK avoided falling into a recession at the end of last year, with GDP edging up by 0.1% over the final three months.
A recession is generally defined in the UK as two quarters of declining GDP in a row.