Apple and Disney boycott X adverts as Musk threatens 'thermonuclear lawsuit' against pressure group in anti-Semitism row
18 November 2023, 09:40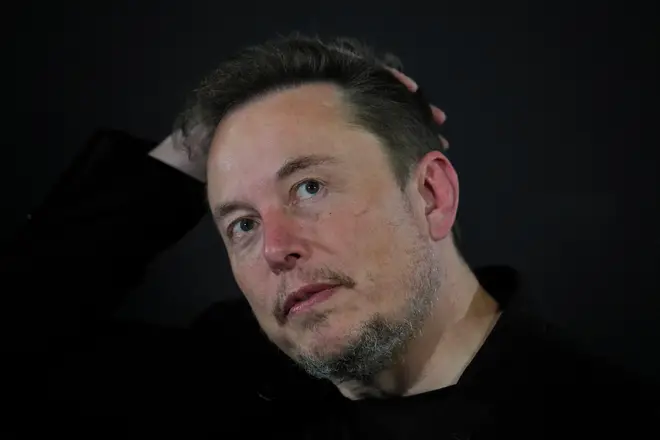 Huge businesses including Apple and Disney have halted advertising on Elon Musk's X amid an anti-Semitism controversy.
They boycotted the platform - formerly known as Twitter - along with IBM after a left-leaning pressure group said adverts were appearing next to pro-Nazi posts.
Musk was also caught up in a storm as he replied to a post criticising "Jewish communities", but has denied his own post was anti-Semitic and threatened to take legal action over Media Matters' investigation.
The group said adverts were being put next to posts with Hitler quotes or were supportive of the Nazis and the Holocaust.
Read more: Artificial friends, deadly robots and no more work: Sunak hails 'landmark' agreement as PM meets with Musk over AI
Musk said: "The split second court opens on Monday, X Corp will be filing a thermonuclear lawsuit against Media Matters and ALL those who colluded in this fraudulent attack on our company."
He posted it with a statement called "Stand with X to protect free speech" which said Media Matters had "completely misrepresented the real user experience" and were attempting to "undermine freedom of speech and mislead advertisers".
The billionaire also amplified a post asking why the media and advertisers did not go for other platforms, like TikTok, Reddit and Facebook.
But it was his response to another post, criticising Jews, which has angered critics.
A White House spokesman said the post he was replying to was an anti-Semitic conspiracy theory that motivated the Pittsburgh synagogue shooter, who killed 11 people in 2018.
Musk had referred to the post as "actual truth".
Read more: Woman bursts into anti-Semitic tirade on bus after Palestine protest on Armistice Day
White House spokesperson Andrew Bates said it was an "abhorrent promotion of anti-Semitic and racist hate in the strongest terms".
"It is unacceptable to repeat the hideous lie behind the most fatal act of antisemitism in American history at any time, let alone one month after the deadliest day for the Jewish people since the Holocaust," he said, in reference to Hamas's October 7 massacre in Israel.
X has said the adverts are not being intentionally put next to adverts and users who promote Nazis will not earn money.
Musk has been adamant that he prefers to restrict how visible offensive posts are, instead of taking them down, although posts with illegal content will be removed.
Linda Yaccarino, the chief executive of X, said anti-Semitism is "ugly and wrong" and the firm had been "extremely clear" about fighting it.