Ariana Grande divorce details revealed: Pop star's requests following split from Dalton Gomez
21 September 2023, 13:14 | Updated: 21 September 2023, 13:23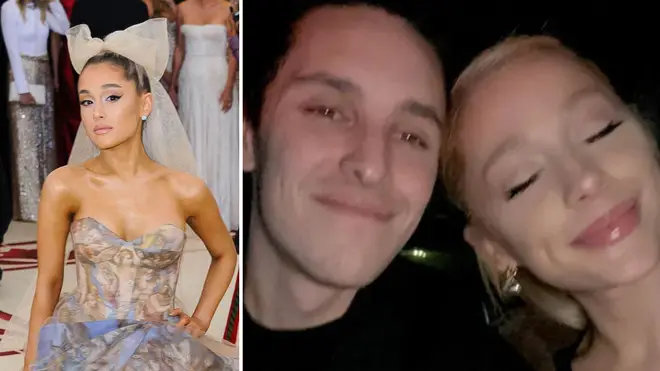 Details of Ariana Grande's divorce from Dalton Gomez have been revealed, with the singer listing her requests following the split.
Grande filed for divorce from 28-year-old Gomez earlier this week after just two years of marriage.
She asked that spousal support and property be granted in accordance with her prenup, according to court documents seen by E! News.
The pop star also requested "miscellaneous jewellery and other personal effects" and "earnings and accumulations of petitioner before marriage, during marriage, and from and after the date of separation".
Grande is said to be worth around $240 million.
Both she and Gomez will pay attorney fees, the outlet said.
Read more: Stephen Fry rushed to hospital after falling off O2 stage following AI speech
Read more: Cindy Crawford blasts Oprah for demanding she show off her body when she was 20
Grande cited "irreconcilable differences" in documents seen by TMZ, which revealed Gomez also filed for divorce almost simultaneously.
The date of separation was listed as February 20, 2023, with sources saying the pair "worked everything out" before going to the courthouse and that Grande will "cut Dalton a [cheque]".
The pair are said to have taken their time to go over the details and settle amicably, hence there being such a long period between the split and divorce filing.
Insiders said: "They've been really caring and respectful of one another every step of this process."
It was revealed in July that Grande and Gomez had separated after getting married just two years earlier in May 2021.
They began dating in January 2020 and announced their engagement 11 months later.
Grande is reported to have since started dating her Wicked co-star, Ethan Slater, who is also divorcing his wife.