Half a million protesters to descend on London as Met braces for 'serious disorder' with Armistice Day 'ring of steel'
11 November 2023, 07:33 | Updated: 11 November 2023, 10:47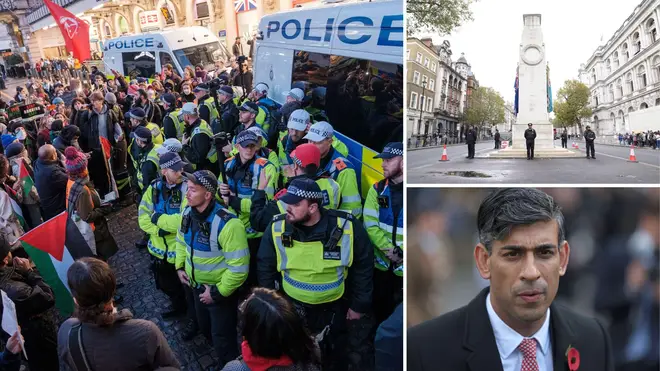 Hundreds of thousands of pro-Palestine protesters are set to descend on central London today, as almost 2,000 officers brace for the unprecedented security operation.
It is thought that Saturday's march will be the largest so far, as organisers have predicted half a million people will gather.
Protesters will again call for a ceasefire in Gaza during the march, which has been controversial because it coincides with the day of solemn remembrance for Britain's war dead.
Mr Sunak labelled plans for an Armistice Day protest as "provocative and disrespectful" and said there was a "clear and present risk that the Cenotaph and other war memorials could be desecrated".
Follow all the key developments from today's protest in our live blog here.
Rishi Sunak said both the police and the government are working to ensure that Armistice Weekend goes ahead without any disruption - which has included banning some smaller protests planned for train stations.
Almost 2,000 officers will be on guard throughout remembrance weekend events, with more than 1,000 cops drafted in from across England and Wales to assist in policing the weekend's events.
Protesters will congregate in Hyde Park, roughly a mile from the Cenotaph, at noon. They will march to the US embassy in Vauxhall on the south bank of the Thames when it is expected to end at 4pm.
Scotland Yard said on Friday afternoon that an exclusion zone will be put in place covering Whitehall, Horse Guards Parade, the Westminster Abbey Field of Remembrance and other relevant areas, in effect banning those on the march from these locations.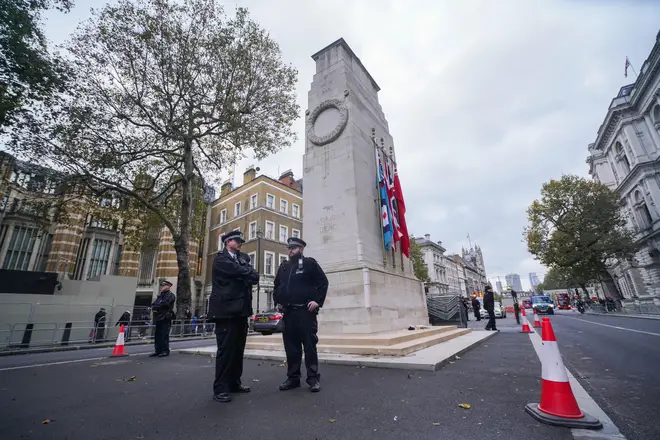 The Cenotaph will be under 24-hour guard from officers - those found gathering near the memorial can be arrested under measures announced by the Met.
Read more: Rishi Sunak calls for unity on Armistice Day, as police fear 'serious disorder' amid Palestine march counter-protests
Read more: Cenotaph to have 24-hour police guard in 2,000-strong Armistice Day 'ring of steel' as Sunak bans smaller protests
Mr Sunak issued a further statement on Friday afternoon, saying: "This weekend people across the United Kingdom will stand together in quiet reflection to remember those who made the ultimate sacrifice for our country.
"This act of remembrance is fundamental to who we are as a country and I want to reassure those wishing to pay their respects, attend services and travel that they can and should do so.
"Following my meeting with the Metropolitan Police Commissioner earlier this week - and the Government's engagement with police forces around the country – the police assure us they are taking all steps to ensure Remembrance services are safeguarded from any protests.
"Protests will only be permitted far away from Remembrance events, and the Cenotaph in Whitehall – the abiding symbol of Remembrance – has been placed in an exclusion zone and will be guarded around the clock to protect it for those travelling to pay their respects."
He added that the government had banned several protests that had been planned for train stations, which he says "were only designed to disrupt and intimidate".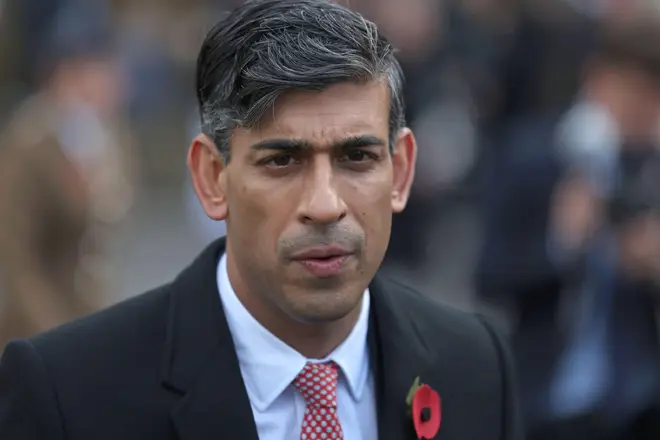 "It is because of those who fought for this country and for the freedom we cherish that those who wish to protest can do so, but they must do so respectfully and peacefully," Mr Sunak continued.
"Remembrance weekend is sacred for us all and should be a moment of unity, of our shared British values and of solemn reflection. Above all, this weekend should be about the selfless bravery of our armed forces. We shall remember them."
Scotland Yard is also planning a clamp down on convoys of Palestine supporters driving through London's Jewish communities.
Specialist traffic officers will be deployed in cars and on motorcycles and public order officers deployed to keep communities safe and to ensure any cars travelling towards the protest do not commit offences.
Police warned that they would probably use force to manage the protests at some stage.
Deputy Assistant Commissioner Laurence Taylor, who will be running the police's response on the day, said: "There will be times this weekend where you see pockets of confrontation, you will see police intervention".
He added: "I hope we don't but I think it's likely you'll see police use force to manage the situations.
"At times it might look messy and that doesn't equate to serious disorder or us losing control, but it does equate to us taking robust action.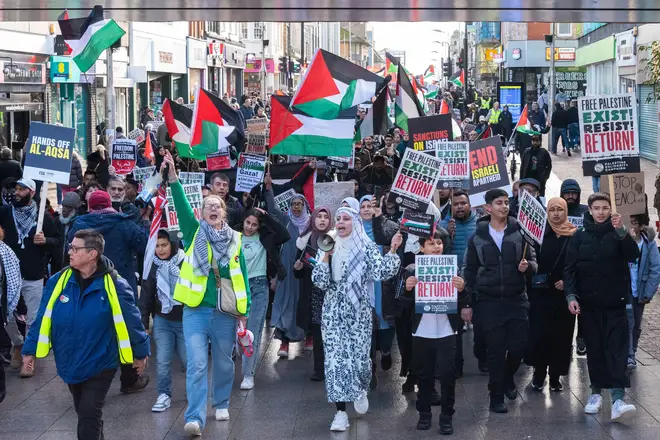 "Our use of force is to prevent serious disorder, harm coming to people or to prevent serious disruption. Significantly bigger police resource than any other remembrance weekend.
"This is probably going to be one of the most challenging weekends I've had and it's certainly one of the biggest responses we've had".
He said that the closest comparison in terms of numbers would be the People's March against Brexit in October 2019, where between 900,000 and 1.1 million are thought to have taken part.
One person was arrested at that march for trespassing in Parliament. Dozens of protesters have been arrested so far on the pro-Palestine marches, including several for hate crimes. Some police officers have been injured as well.
"There is no doubt this is going to be a very tense weekend," DAC Taylor said.
He added: "We know there are likely to be groups from both sides who seek each other out later in the day. We have constantly assessed intel throughout the week to ensure it's a proportionate policing plan in place and I do believe if the groups come together there will be serious disorder."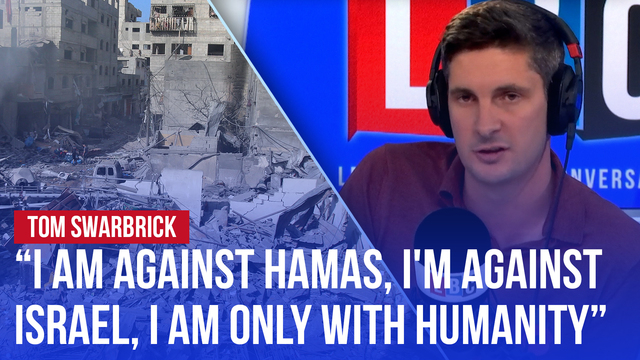 Caller shares he has lost 23 family members due to the bombs in the Jabalia refugee camp
More than 10,000 people have died in Gaza amid an Israeli bombing campaign and ground invasion, which follows a Hamas massacre in which over 1,000 were killed.
The protesters are calling for a ceasefire, which neither Hamas nor Israel has said they want, although the IDF has agreed to daily humanitarian pauses to allow aid into Gaza.
The Prime Minister has faced calls to sack Home Secretary Suella Braverman after her incendiary comments about the planned pro-Palestine, writing in an article for The Times.
Downing Street said on Thursday that it did not clear her piece accusing police of "playing favourites" with protesters, but that Mr Sunak still has confidence in the Home Secretary.
But the Prime Minister is said to be considering Ms Braverman's future, and considering the possibility of bringing forward a Cabinet reshuffle previously slated for before Christmas.
Downing Street is conducting an internal investigation into whether Ms Braverman broke the code by not getting her article signed off fully. If it finds there was a breach, Mr Sunak may either demand an apology, or fire her.