Asylum barge start delayed again as Bibby Stockholm needs more work to prevent fire risk
31 July 2023, 21:55 | Updated: 1 August 2023, 07:05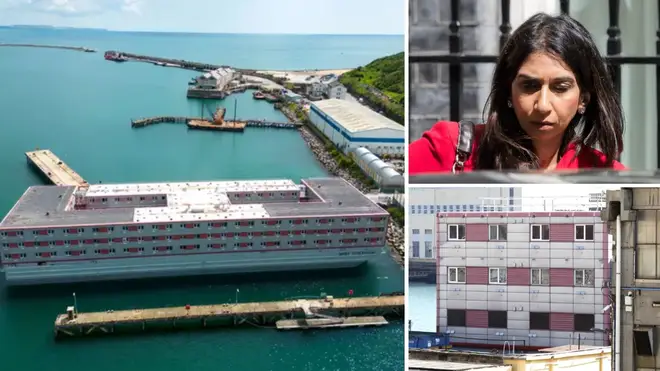 The housing of asylum seekers aboard the Bibby Stockholm barge has been delayed again - with new work taking place to mitigate a fire risk.
Last-minute meetings are being held in order to respond to safety concerns - delaying the much-anticipated introduction of the vessel that was due to take place on Tuesday.
There is, however, still a chance that asylum seekers will be moved onto the 500-bed barge docked in Portland, Dorset, later this week, according to Sky News.
Earlier reporters suggest that the approval of the vessel by fire services had not been granted yet - with rumours of serious safety concerns.
Read More: Fears Bibby Stockholm migrant barge could become 'floating Grenfell' due to lack of fire safety protocols
One source even claimed that the Bibby Stockholm could become a floating 'Grenfell' in reference to the catastrophic fire which claimed 72 lives in 2017.
Responding to the delay, a Home Office spokesperson said the barge was "undergoing final preparations to ensure it complies with all appropriate regulations before the arrival of the first asylum seekers".
"This is part of the government's plan to reduce the use of expensive hotels and offer alternative accommodation that is more manageable and better value for communities, just like our European neighbours are already doing," they added.
The barge is one of a number of accommodation sites that will be used to house migrants in a bid reduce the cost of housing them in hotels.
Other sites include RAF Scrampton, a former Dambusters headquarters bassed in Lincolnshire, where plans to move people in have been delayed until October.
Landry and Kling, the company that manages the barge, told the publication there are no plans to carry out fire drills as migrants may have faced "traumatic situations" on their way to the UK.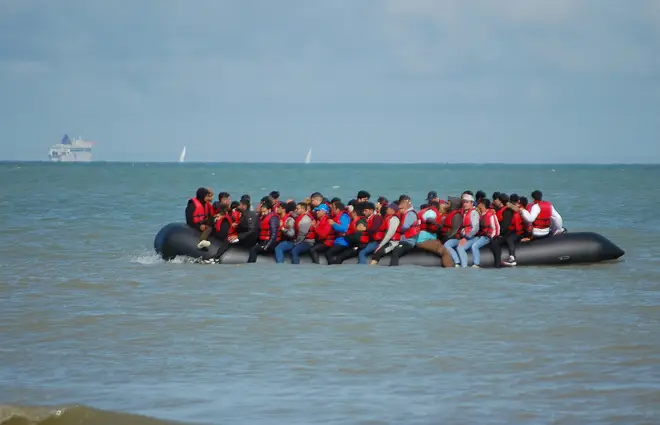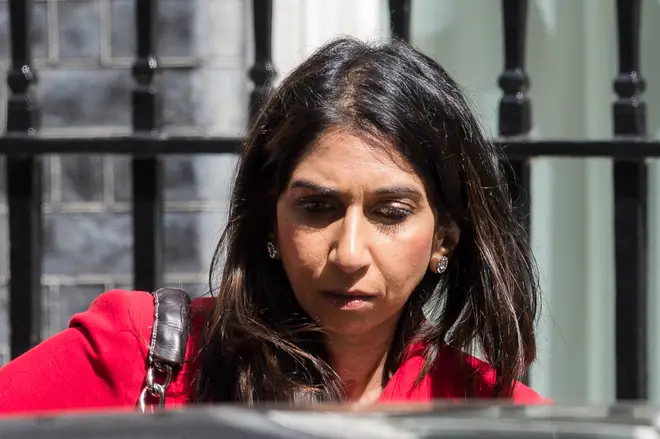 The evacuation point for migrants on board has been described as "completely inadequate", with warnings there could be a "Hillsborough-type crush".
It is now understood plans to house migrants on the barge from tomorrow face being delayed amid the fire safety concerns.
"We continue to work closely with Dorset and Portland councils, as well as the local NHS and police services, to manage any impact in Portland, including providing substantial funding to local services, to address the local community's concerns."
Ahead of its arrival, the government described the divisive new home for migrants as "basic and functional accommodation" and designed to "minimise the need to leave".Upon entrance, the barge has a reception and a security check-in.
The barge has 222 bedrooms. One bedroom offers a single-sized bunk bed, a desk with a chair, a small screen TV, a wardrobe and large window overlooking the rest of the dock.
Inside the bedroom is also an en-suite wet room, with a toilet, sink and mirror.