From Rebecca Loos to World Cup red card: Key revelations from Beckham documentary
4 October 2023, 14:52 | Updated: 5 October 2023, 10:09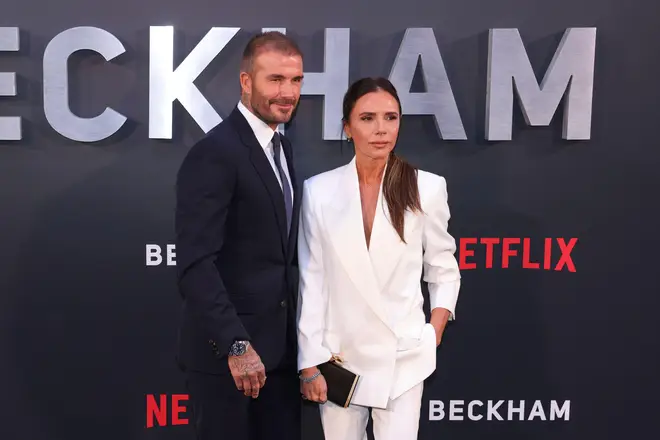 David and Victoria Beckham have candidly lifted the lid on some of the biggest and most infamous moments of their life in a new tell-all documentary.
David tells of his struggles with his mental health after becoming public enemy No 1 following his infamous red card during the 1998 World Cup against Argentina.
While Victoria also joins him in speaking for the first time about the pain suffered in the aftermath of claims about his alleged affair with Rebecca Loos. The former Spice Girl breaking down in tears as she confides it was the 'hardest' time of her life.
Here are more details on that revelation and other insights into their lives from the Netflix series released today: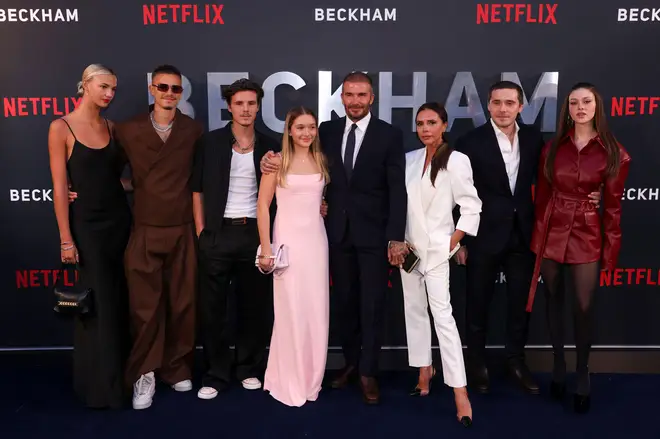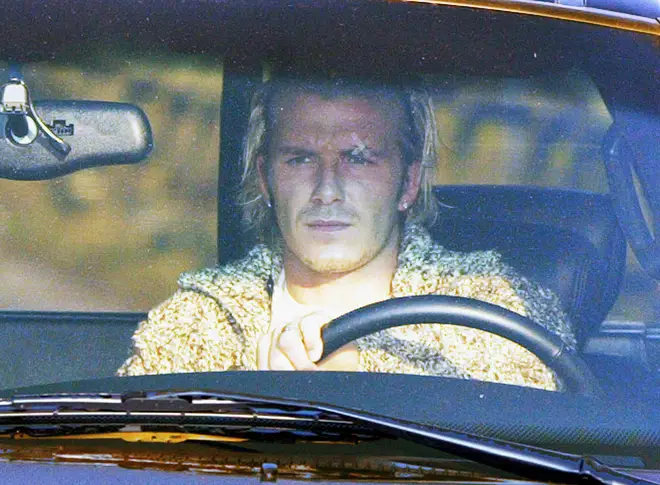 The infamous boot incident
Manchester United manager Sir Alex Ferguson infamously kicked a boot into Beckham's face during a dressing room row after United lost an FA Cup fifth-round tie 2-0 to rivals Arsenal.
Beckham reveals the row er after he told him to "f*** off".
It also emerges the boot belonged to former teammate Ole Gunnar Solskjaer, who went on to manage United himself.
Beckham was later seen sporting the injury during training.
Sir Alex tells the documentary makers: "I kicked the boot at his head. I mean, honestly, it was an absolute freak."
When he is asked about the photos, he replies: "Yeah I'm not going to talk about that. The only thing I will say is that I think that was stage-managed. It wasn't even worth a stitch."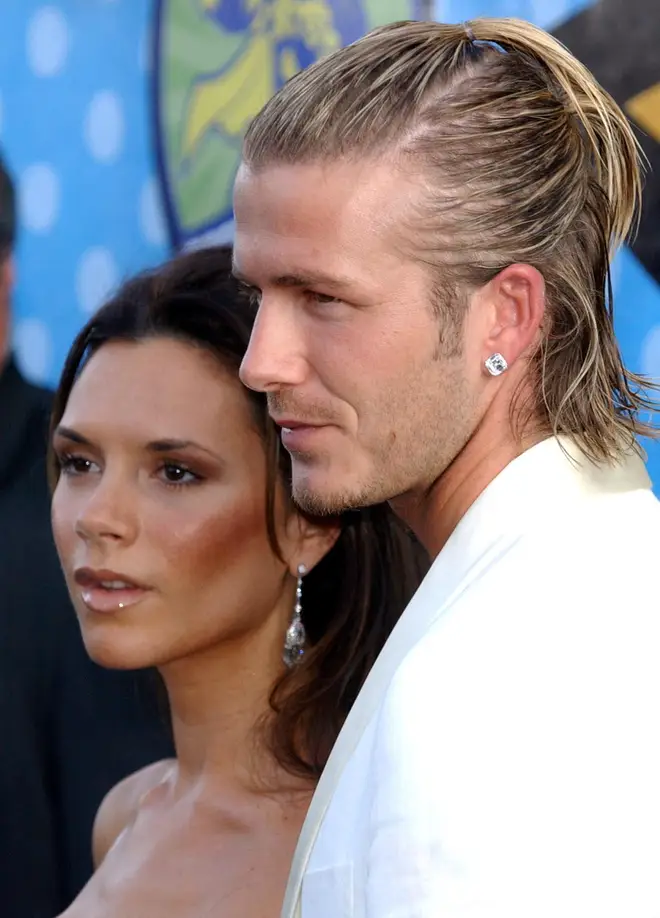 Read More: Where is Rebecca Loos now as David and Victoria Beckham break silence on cheating scandal
Read More: Victoria Beckham speaks out for the first time revealing how Rebecca Loos claims almost ended marriage
David's relationship with Victoria and how Sir Alex believes it changed him
David and Sir Alex clashed over his relationship with Victoria and David's soaring celebrity status - with the couple being dubbed "Posh and Becks" because of Victoria's nickname in the girl band the Spice Girls.
David says: "I knew my career was going to come to an end at some point and I wanted a career after football - that ate away at the manager.
"He just wanted me to be the best footballer that I could be and be married to a local girl that wasn't a superstar."
Sir Alex tells the documentary: "He changed. There's no doubt about that."
David also reveals his heartbreak after having to leave Manchester United for Real Madrid.
He says: "Did I ever want to leave Man United? No, never.'It was my home. My relationship with the boss was always special. We had our moments, but I still loved him."
Sir Alex says their relationship "was at a stalemate".
"There was not going to be any point in me saying to David, 'I'm selling you'," he added.
"The decision was made, it was better he went.
"He didn't need to go. He could have stayed if he wanted. I think he knew it was the right time."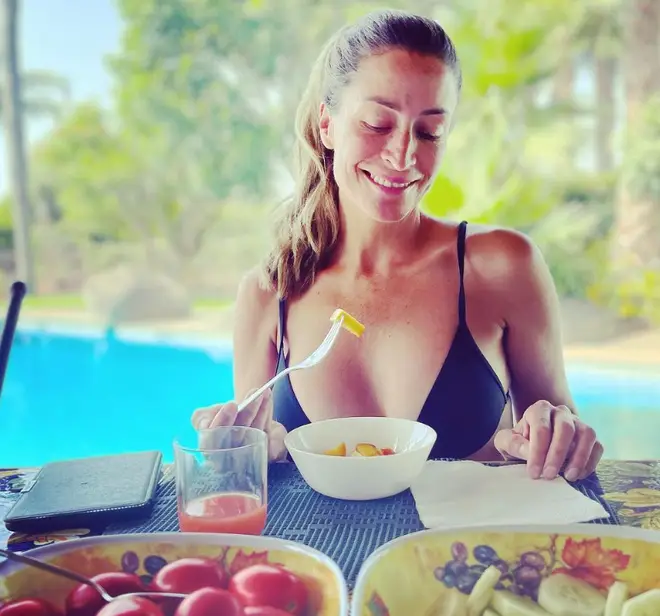 Impact of David's alleged affair with Rebecca Loos
In another revelation, Victoria finally speaks out about the "hardest period" of her marriage - the time David was accused of having an affair with his former personal assistant Rebecca Loos.
She says she was "the most unhappy I have ever been" during the aftermath of the alleged infidelity which is said to have happened in 2003 while he was playing for Real Madrid.
The couple have always denied the claims.
Victoria says: "It was the hardest period because it felt like the world was against us," she says.
"Here's the thing - we were against each other if I'm being completely honest.
"You know, up until Madrid sometimes it felt like us against everybody else but we were together, we were connected, we had each other.
"But when we were in Spain, it didn't really feel like we had each other either.
"And that's sad. I can't even begin to tell you how hard it was and how it affected me. It was a nightmare.
"It was an absolute circus - and everyone loves it when the circus comes to town, right? Unless you're in it."
When the 49-year-old is asked if she "resented" her husband, she replies: "If I'm being totally honest, yes I did. It was the most unhappy I have ever been in my entire life."
David says: "There was some horrible stories which were difficult to deal with.
"It was the first time that me and Victoria had been put under that kind of pressure in our marriage."
"I don't know how we got through it in all honesty, Victoria is everything to me, to see her hurt was incredibly difficult but we're fighters and at that time we needed to fight for each other, we needed to fight for our family and what we had was worth fighting for. But ultimately it's our private life.
"There were some days I would wake up and I would think how am I going to go to work, how am I going to walk on to that training pitch, how am I going to look as if nothing is wrong... I felt physically sick every day when I opened my eyes."
Victoria told David she was pregnant before World Cup match
In the documentary, Victoria reveals she dropped the news of her first pregnancy to David in a phone call from Brooklyn the night before England played Argentina at the 1998 World Cup - during which her husband was famously shown a red card for kicking out at Argentina's Diego Simeone.
She says: "He was so, so happy, we both were and there was never any doubt in my mind that I should tell him.
"I mean, it was what we wanted and he could not have been happier."
David adds: "Before the Argentina game, she phoned me and said I've just taken a test and I'm pregnant. So I found out then.
"The first thing I wanted to do (was get out of there and be with Victoria) but I couldn't, we were in a major tournament."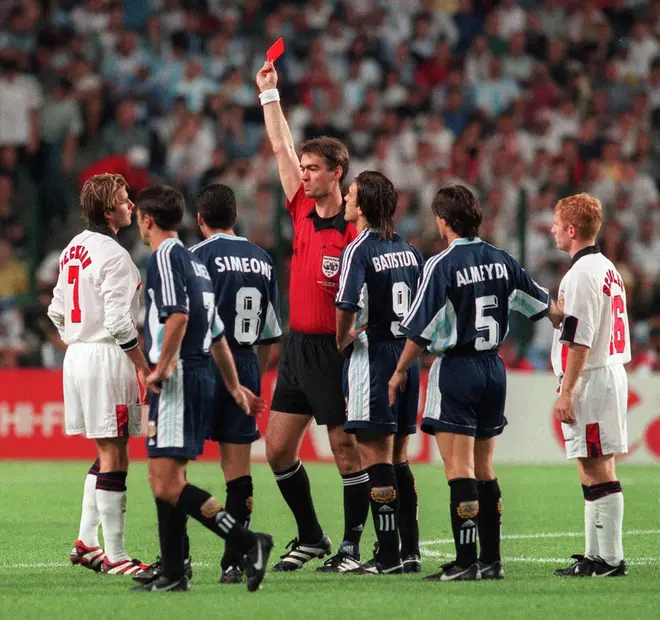 World Cup red card left David 'clinically depressed'
Victoria also reveals David was left "clinically depressed" after his red card at the 1998 World Cup.
After the game, an effigy of Beckham hung in a pub, and during the following season, Manchester United's team bus was attacked with rocks and pint glasses at West Ham.
Victoria says: "He was absolutely broken. He was in pieces.
"He was really depressed, absolutely clinically depressed.
"It pained me so much... I still want to kill these people."
David says: "To walk down the street and to see people look at you in a certain way, spit at you, abuse you, come up to your face and say some of the things they said, that is difficult.
"I wasn't eating, I wasn't sleeping. I was a mess. I didn't know what to do.
"The boss (Alex Ferguson) called me. He said 'David, how are you doing?' I think I got quite emotional. He said 'how are you doing, son?'. I said 'not great boss'. He said 'OK, don't worry about it, son'.
"That was the only thing I could control, once I was on the pitch, then I felt safe."