Rees-Mogg says 'perspective' needed over Partygate fines
19 April 2022, 17:09 | Updated: 19 April 2022, 21:03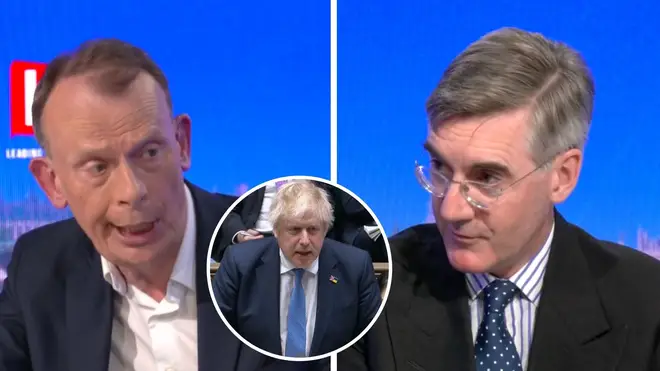 Jacob Rees-Mogg has told Andrew Marr a "sense of perspective" is needed over Partygate fines.
Boris Johnson faced a grilling from MPs for the first time since receiving his fine from police.
He reiterated his apology over Partygate to the House of Commons, despite continuing to insist he did not believe he had broken Covid rules.
Speaking to Jacob Rees-Mogg on Tonight with Andrew Marr, Andrew recalled the Brexit opportunities minister's description of Partygate as "fluff" and said: "I buried my father on the week that one of those parties took place, and it was a party.
"And he was an elder of the Church of Scotland - that church was locked and barred. We had a small gathering, most of the family weren't there.
"The other parishioners that he would have loved to be there weren't allowed to be there because we followed the rules, and I felt intensely angry about that - and I do not regard this as fluff."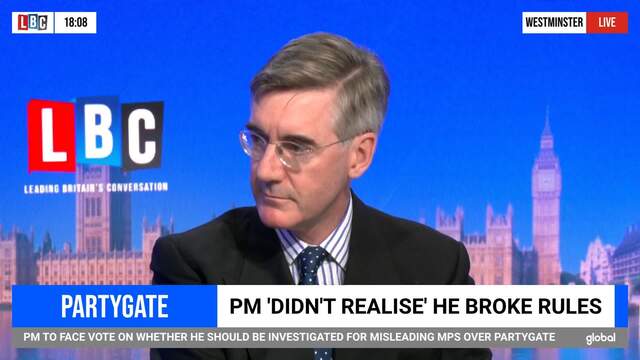 Jacob Rees-Mogg tells Andrew Marr to 'get perspective' over fluff comment
Jacob Rees-Mogg argued: "In comparison to the war in Ukraine - with a fundamental threat to the safety of the West from Putin - a fine for something that happened two years ago is not the most pressing political matter."
He said: "What is happening now two years on against what's going on in Ukraine, what is going on with the cost of living crisis, one has to get a sense of perspective.
"What is going on in Ukraine is fundamental to the security of the Western world.
"And you are comparing this to a fine issued for something that happened two years ago."
Watch Tonight with Andrew Marr exclusively on Global Player every Monday to Thursday from 6pm to 7pm https://www.globalplayer.com/live/lbc/uk/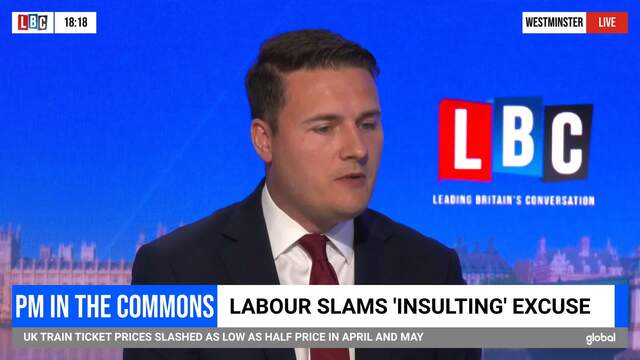 'The Prime Minister not only broke the rules he wrote but then lied about it!'
Using Ukraine to deflect from the Partygate scandal is "reprehensible and utterly ridiculous", senior Labour frontbencher Wes Streeting said.
The Shadow Health Secretary argued: "To use the conflict in Ukraine and people suffering in Ukraine as a fig leaf to defend the Prime Minister – to distract from our problems here at home – is reprehensible and utterly ridiculous.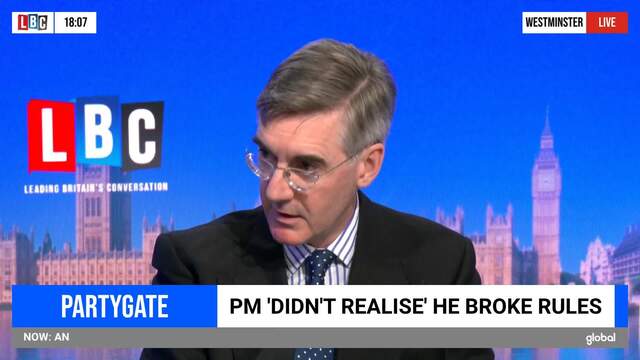 Jacob Rees-Mogg defends Boris Johnson over lockdown busting parties
He went on to say: "The Ukraine policy is supported right across the House of Commons -virtually unanimous.
"So the idea that Boris Johnson is so indispensable – that we can't sack a Prime Minister for lying because of Ukraine – any other Prime Minister coming in, whether it's a Conservative MP tomorrow or Keir Starmer at the next general election, the support for Ukraine is unequivocal and cross-party."
You can also listen to the podcast Tonight with Andrew Marr only on Global Player.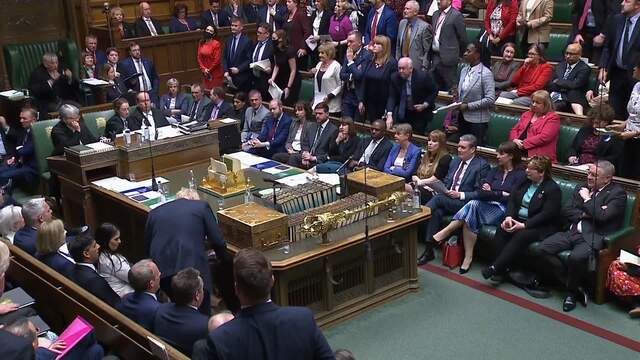 Sir Keir Starmer reacts to PM's 'latest mealy-mouthed apology'
Both Mr Johnson and Chancellor Rishi Sunak received fixed penalty notices (FPNs) for attending a birthday bash in June 2020.
Mr Johnson told MPs: "I offered the British people a full apology and take this opportunity to repeat my whole-hearted apology to the House."
He went on to repeat that he was not aware that the gathering in the Cabinet Room would breach Covid rules.
He said: "It did not occur to me or subsequently that a gathering in a Cabinet Room just before a vital meeting on Covid strategy could amount to a breach of the rules."
Read more: Boris 'braced for second partygate fine' as police continue probe of 12 events
Read more: Top Cabinet members rally round Boris as minister resigns over Partygate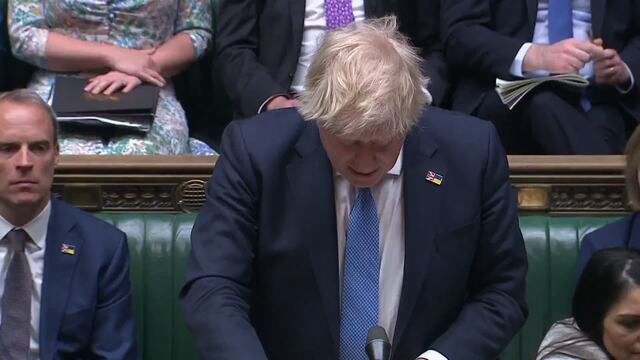 Boris Johnson reiterates he didn't know he broke the rules
Sir Keir hit back saying: "What a joke, even now, as the mealy-mouthed apology stumbles out of one side of his mouth, a new set of deflections and distortions pour from the other.
"But the damage is already done. The public have already made up their mind.
"They don't believe a word the Prime Minister says. They know what he is."
He also drew attention to one of Tory MP Michael Fabricant's constituents, whose family obeyed the rules.
John Robinson could not spend time with his wife before she died and had to limit numbers at her funeral, Sir Keir explained.
In response, Mr Johnson said he apologised "profusely" not only to Mr Robinson but also "all those who lost loved ones, particularly those who suffered during the pandemic".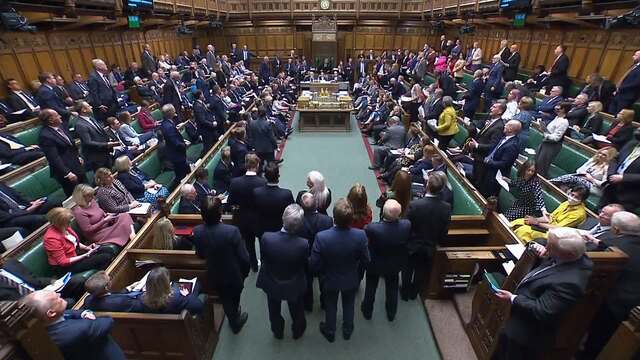 Tory MP Mark Harper takes aim at Boris Johnson
Responding to earlier claims from a minister that the FPN was "the same as a speeding ticket", Sir Keir went on to say: "No one has ever broken down in tears because they couldn't drive faster than 20 miles an hour outside a school.
"Don't insult the public with this nonsense.
"As it happens, the last minister who got a speeding ticket and then lied about it ended up in prison.
"And I know, because I prosecuted him."
Sir Keir also accused the government of having "nodding dogs in the Cabinet", to which Mr Johnson replied: "When he talks about nodding dogs, I'd remind the House there was a certain nodding dog who sat nodding in the previous Labour shadow cabinet that would have happily installed (Jeremy Corbyn), and made I think a disastrous mistake in the security of our country at a very difficult time."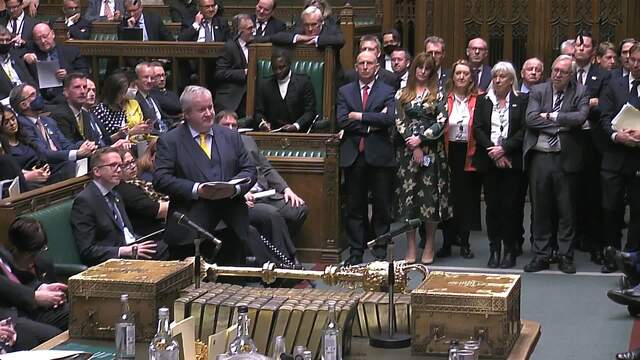 Ian Blackford attacks PM for breaking rules
Conservative former chief whip Mark Harper said the Prime Minister's actions were "indefensible".
He said: "I strongly support the Government's actions in standing up to Putin's aggression and helping Ukraine defend itself and our values and it's exactly at times like this that our country needs a Prime Minister who exemplifies those values.
"I regret to say that we have a Prime Minister who broke the laws that he told the country they had to follow, hasn't been straightforward about it and is now going to ask the decent men and women on these benches to defend what I think is indefensible.
"I'm very sorry to have to say this, but I no longer think he is worthy of the great office that he holds."
Mr Harper has since tweeted his letter of no confidence in the PM.
Earlier, Commons Speaker Sir Lindsay Hoyle announced that Mr Johnson will face a vote on whether he should be investigated for misleading MPs over the Partygate scandal.
He approved an application from Labour leader Sir Keir Starmer and other opposition MPs allowing them to table a motion for debate on Thursday.
Mr Johnson has faced mounting pressure to address criticisms that he misled Parliament - an offence traditionally seen as a resigning matter for ministers - in previous statements about rule-breaking in No10.
At the time, he argued Covid guidance had been followed at all times.