Britain must engage with China despite spy row, government insists, as Tories split over whether Beijing poses 'threat'
12 September 2023, 00:05 | Updated: 12 September 2023, 00:09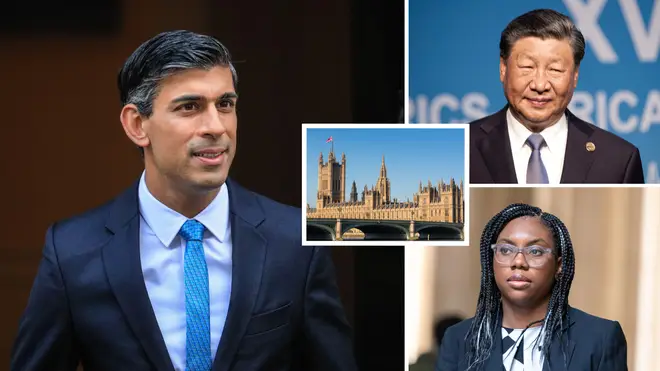 Britain must engage with China "frankly" despite an ongoing row over alleged spying in Parliament, the government has insisted.
Business Secretary Kemi Badenoch has warned against breaking ties with Beijing after a parliamentary researcher was arrested on suspicion of spying for China.
Ms Badenoch warned the UK must maintain a relationship with China if it is to achieve net zero.
She is of several senior government figures to back a relationship with Beijing, including the Prime Minister Rishi Sunak and Chancellor Jeremy Hunt.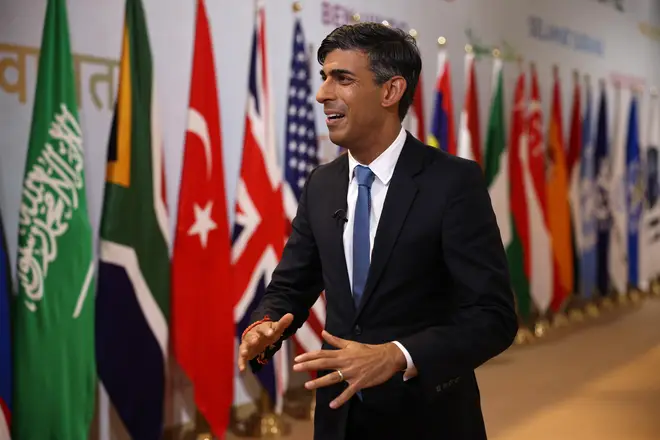 Speaking on Monday, Ms Badenoch said: "At the moment, China is leading on this technology, so we wouldn't be able to get to where we want to get to on net zero by completely stopping or banning Chinese products.
"You can't exclude Chinese-made products from the battery ecosystem."
It comes after a spokesperson for Downing Street insisted the UK "must be in the room" with China.
Read More: Sunak refuses to commit to triple lock on pensions being in Tory election manifesto
Read More: Tory parliamentary researcher accused of spying for China says he's 'completely innocent'
Mr Sunak, meanwhile, said the UK must speak with China "directly and frankly".
He told MPs: "I have been emphatically clear in our engagement with China that we will not accept any interference in our democracy and parliamentary system.
"We will defend our democracy and our security.
"So I was emphatic with Premier Li that actions which seek to undermine British democracy are completely unacceptable and will never be tolerated."
Andrew Marr and David Lammy discuss warning from MI5 over spying
But there is disquiet among some Tory MPs over the government's approach to China, with some calling for the country to be labelled an official threat.
The former prime minister, Liz Truss, had signalled such a move was likely during her short stint in Number 10, but Mr Sunak has taken a more conciliatory approach.
Other Tory MPs, including former leader Sir Iain Duncan Smith, have warned about a potential "espionage cell" in Westminster on behalf of China, The Telegraph reports.
Read More: The British government must wake up when it comes to China and understand the state is a threat
On Monday, Chinese Communist Party (CCP) official Victor Gao told LBC's Andrew Marr that the espionage investigation in Parliament is a 'witch-hunt' and has said the UK government should not, 'overestimate its impact on the global scene and view Britain as a rival of China… Let's make peace rather than agitating for war.'
Speaking on Tonight with Andrew Marr on LBC, Mr Gao also criticised former Prime Minister Liz Truss, saying her mini-budget last year was a 'real blow to British integrity and fiscal responsibility' adding he had, 'no respect' for the former PM.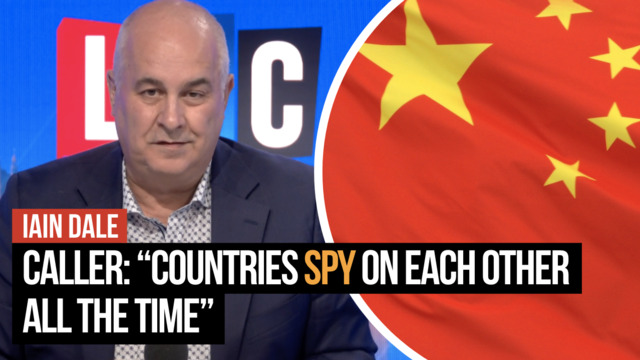 Caller: Threat from China is 'overexaggerated'
Meanwhile, the parliamentary researcher who was arrested on suspicion of spying for China has insisted he is "completely innocent".
The man said he had spent his career highlighting the "challenge and threats presented by the Chinese Communist Party".
The arrest under the Official Secrets Act led to the Prime Minister confronting Chinese premier Li Qiang at the G20 summit in India on Sunday over "unacceptable" interference in democracy.
In a statement released through his lawyers Birnberg Peirce, the researcher - who has not been officially named by police - said: "I feel forced to respond to the media accusations that I am a 'Chinese spy'.
"It is wrong that I should be obliged to make any form of public comment on the misreporting that has taken place.
"However, given what has been reported, it is vital that it is known that I am completely innocent.
"I have spent my career to date trying to educate others about the challenge and threats presented by the Chinese Communist Party.
"To do what has been claimed against me in extravagant news reporting would be against everything I stand for."