UK weather: Football fans to enjoy hottest day of year so far
12 June 2021, 07:38 | Updated: 13 June 2021, 07:19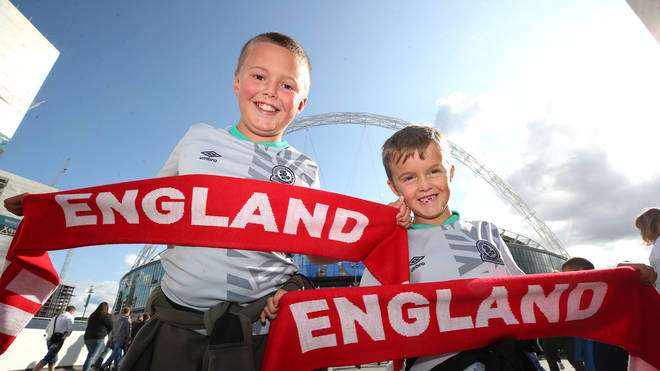 Football fans are set to enjoy the hottest day of the year so far on Sunday with the mercury set to hit highs just short of 30C.
Temperatures will soar to potentially record levels on Sunday afternoon as England's Three Lions take on Croatia, the team who beat the national side in the 2018 World Cup semi-final, at Wembley.
Brits could see highs of around 29C or more, which would make it the warmest 13 June on record and the hottest day of the year so far - if it beats the 28.3C seen in Northolt, north-west London, on 2 June.
Parts of Britain will be hotter than some favourite holiday hotspots, including Ibiza, Mykonos and even California as high pressure moves in from the south.
The Met Office said Saturday brought in warm weather for England, Wales and most of Scotland, with the mercury topping 24.8C at Kew Gardens in London.
Boris Johnson: Don't boo England when they take knee before Euro 2020 games
Euro 2020: Dates, fixtures, teams and how to watch England
Meteorologist Alex Burkill said that temperatures are expected to rise further on Sunday and could get as high as 29C.
But he said it was unlikely that temperatures will go above 30C and added: "We are going to get close tomorrow, it is unlikely we are going to get over 30C - it's going to be touch and go.
"It will be close as to whether we get to 28.3C tomorrow. If we don't there's a chance we could get even higher temperatures on Monday when we could get 29C or 30C.
"The top temperatures are going to be towards the London area, but the heat is going to be widespread, it's not just confined to the South East."
But Mr Burkill said that while most of the country will have a hot day, the north west of Scotland will have temperatures in the high teens and it will be cloudier with some outbreaks of rain.
Euro 2020: Scotland footballers to 'stand up to racism' and will not take knee
Euro 2020: Football fans told to use vaccine passport to enter Wembley
Mr Burkill added: "Sunday is likely to be the hottest day of the weekend, with temperatures reaching 29C (84.2F) in London and the South East, while the bulk of the country will be dry with lots of sunshine.
"This heat is likely to be widespread in the mid-20s which is above the average for this time of year."
He previously said that while it is "unlikely" the mercury could sneak up to 30C (86F), it "shouldn't be ruled out".
Into Monday, he said the weather will split, with the south continuing to see hot temperatures while the north will be cooler.
Mr Burkill added: "We are going to have more of a north-south split.
"On Monday, the heat is going to be largely confined to southern and south-eastern parts of the UK.
"Further north and in Scotland it will be high teens at best. There could be some showers but on the whole it is looking largely dry."