British Horseracing Authority to investigate Grand National horse deaths as it condemns 'reckless' protesters
16 April 2023, 23:56 | Updated: 17 April 2023, 01:33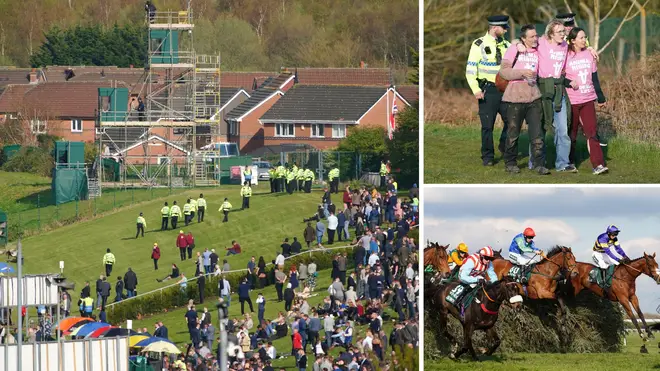 The British Horseracing Authority (BHA) has said it will investigate the deaths of three horses at the Grand National meeting "in painstaking detail", as it condemned protesters who disrupted the event.
Hill Sixteen was put down after a heavy fall during the main Grand National race, becoming the third horse to die at this year's three-day festival.
It followed the deaths of Dark Raven after falling in the Mersey Novices' Hurdle earlier on Saturday, and Envoye Special, who died on Thursday after a fall in the Foxhunters' Chase.
BHA CEO Julie Harrington said: "Our thoughts are with everyone connected to the horses who suffered fatal injuries this week.
"No one will be more affected by this news than the trainers, owners and stable staff who have provided these horses with first-class care and attention throughout their lives.
Read more: Delivery driver, 54, dragged for 800 yards 'as he tried to stop van being stolen' dies in hospital
Read more: Jeeves and Wooster books given trigger warnings and edited by publisher to remove 'unacceptable' PG Wodehouse prose
"The BHA and Aintree racecourse will now analyse the races in painstaking detail, as is the case every year, to build on our existing data and help us understand what caused these incidents."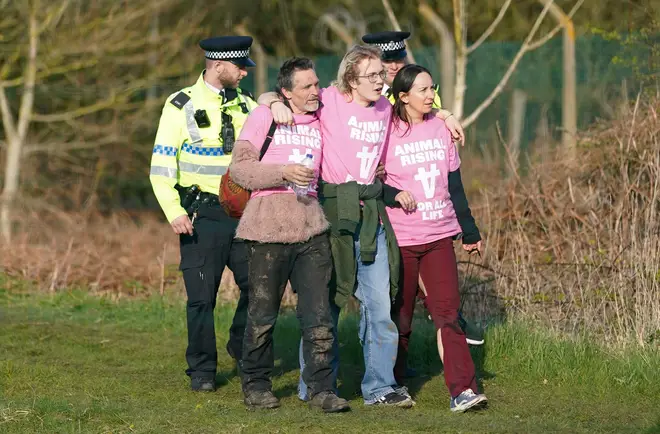 But she condemned protesters who disrupted the race, branding their actions "reckless".
"We respect the right of anyone to hold views about our sport but we robustly condemn the reckless and potentially harmful actions of a handful of people in disrupting the race at a time when horses were in the parade ring.
She added: "Those involved in British racing are rightly proud of our sport and the role it plays in providing an unparalleled quality of life for horses bred for racing. Love and respect for horses is at the heart of everything we do."
It comes as 42 animal rights activists were de-arrested the day after a large group of protesters attempted to enter to the track at Aintree, delaying the race by 12 minutes, campaigner group Animal Rising said.
Merseyside police said 118 people had been arrested on Saturday on suspicion of offences which included conspiracy to cause public nuisance, obstructing highways and possession of controlled drugs, after protesters scaled fences and at least two people attached themselves to a jump with glue and lock-on devices.
Others glued themselves to the M57 motorway, causing traffic delays.
The people arrested were men and women aged between the ages of 18 and 66, and came from as far as Kent, Southampton, London, Essex, Swansea, Falkirk and Glasgow, police said.
65 of those arrested were taken into custody and are being processed and will be bailed pending further enquiries, the force said earlier on Saturday.
Assistant Chief Constable Paul White said: "As you can understand, the safety and wellbeing of everyone is of paramount concern when dealing with large-scale public events such as this, and this includes those who are protesting."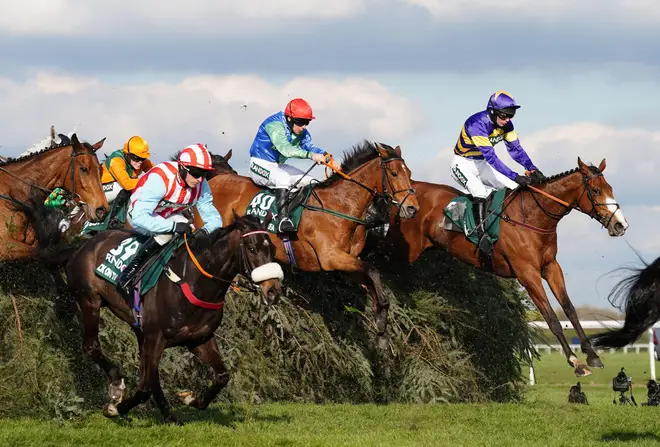 ACC White said though the force respects the right to a peaceful protest and expression of views, "criminal behaviour and disorder will not be tolerated".
Animal Rising spokesperson Nathan McGovern said the protests had been staged to "prevent harm from coming to horses", adding that Hill Sixteen would not have died "if the race had not been run".
"Supporters of Animal Rising do not take the risk of arrest lightly, but taking action to protect animals and nature is more important than upholding business as usual," Mr McGovern said.
"This is just the start of many peaceful actions to really create a national conversation about our fractured connection with animals and our natural world this summer, whether they result in arrests or not."