Bruce Willis' daughter says she's 'really missing her papa' in emotional throwback post amid star's dementia battle
21 November 2023, 05:57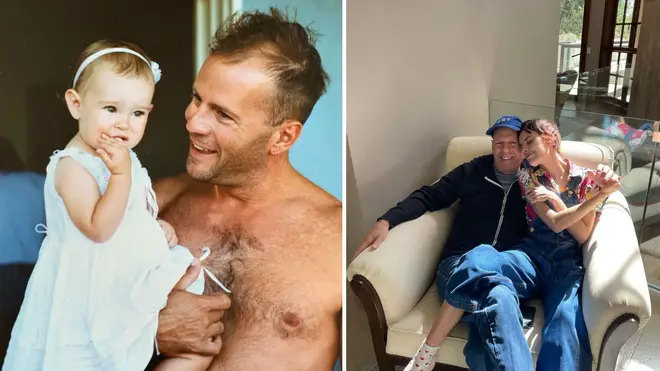 Bruce Willis' daughter shared a nostalgic snap of her father as she said she was 'missing him' amid reports the star's condition is declining.
Posting on Instagram on Monday, Rumer Willis, 35, shared a sweet snap of her younger self with her father.
Bruce is pictured shirtless, holding his eldest daughter Rumer when she was a baby, beaming as he looks over to her.
Rumer's caption reads: "Really missing my papa today."
The Die Hard actor, 68, was diagnosed with Frontotemporal dementia (FTD) in February this year which is an uncommon form of dementia that impacts deterioration in behaviour, personality and language.
It comes after the creator of the star's 80s series Moonlighting, Glenn Gordon Caron, said last month that Bruce's "joie de vive is gone".
Read more: Angelina Jolie and Brad Pitt's son called his father a 'world class a**hole' in scathing Instagram post
Read more: 'I remember your poster': Fred Sirieix slams Nigel Farage 'shameful' over Brexit in heated I'm A Celeb clash
Meanwhile, the star's youngest daughter with ex-wife Demi Moore, Tallulah, penned her own emotional post about her father last week.
Posting on Instagram, Tallulah shared a series of pics of her and her father, including one of the pair sat smiling next to each other on an armchair.
The caption wrote: "damn, these photos are hitting tonight, You're my whole damn heart and I'm so proud to be your Tallulah Belle Bruce Willis".
Bruce had children Scout, Talulah and Rumer, 35, with his ex-wife Demi Moore.
Demi and Bruce divorced in 2000, and nine years later the actor married Emma Heming, with who he now shares two children Mabel, 11, and Evelyn, 8.
Bruce withdrew from acting in 2022 after he began to struggle with aphasia, a condition that affects speech.
His family has been open about the star's journey with with dementia, as they wrote in a statement about his diagnosis: "Bruce has always found joy in life - and has helped everyone he knows to do the same. It has meant the world to see that sense of care echoed back to him and to all of us."