Businessman Jonathan Nuttall jailed for eight years for Gray's Inn bomb plot in £1.4m legal row
22 September 2023, 16:18 | Updated: 22 September 2023, 16:19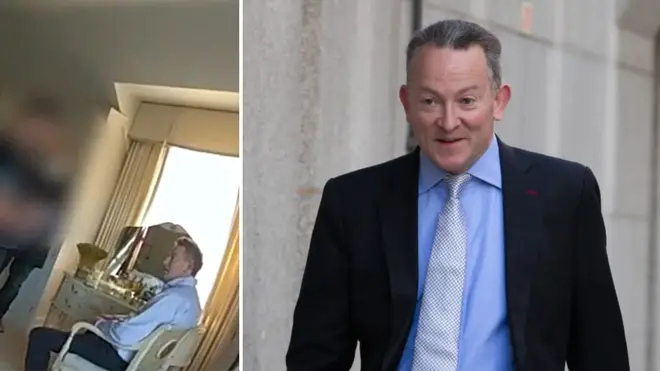 A businessman suspected of being involved in an international money laundering ring who targeted two lawyers for Britain's FBI by orchestrating a bomb plot against them has been jailed for eight years and two months.
Jonathan Nuttall, 50, was convicted of conspiring with his driver, Michael Sode, and an ex-marine, Michael Broddle, to plant two devices in London's legal district.
A four-month trial at the Old Bailey heard that Nuttall had been pursued by the National Crime Agency (NCA) over the seizure of assets worth £1.4 million.
He hatched a plot to target the NCA's lawyers, Andrew Sutcliffe KC and Anne Jeavons, after becoming upset at the prospect of losing his stately home, Embley Manor in Romsey, Hampshire.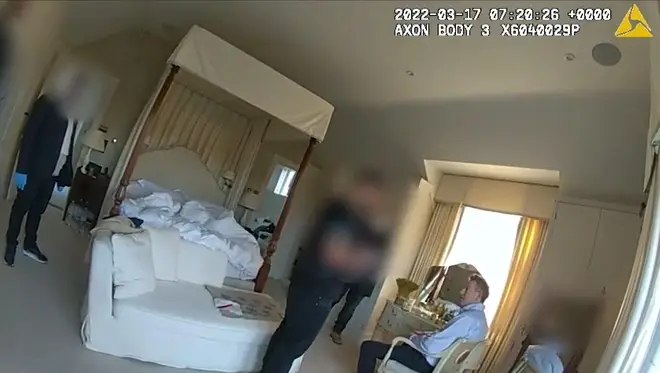 The court heard he used his driver Sode, 59, of Deptford, south-east London, as a "middleman" to recruit former Royal Marine Broddle, 47, to carry out research and reconnaissance on the lawyers.
Broddle was accused of roping in sons to help with the plan, which culminated on September 14 2021 when he planted two devices at Gray's Inn in London, the heart of the English legal district.
Judge Simon Mayo KC, sentencing on Friday, said: "In my judgment this was a malicious, bold and extremely serious attack on those involved in the administration of justice.
"Your agreed purpose was to undermine the administration of justice.
Read more: 'Please don't shoot my grandad': 11-year-old boy's plea as armed gang hold gun to his head in raid on family home
Read more: 'British' missile smashes into Russian Black Sea navy HQ in Crimea, sending plume of smoke billowing into the sky
"I am entirely satisfied that you intended serious harm to be occasioned by your agreed course of conduct.
"It is patently clear that the leaving of those devices would inevitably cause widespread alarm and disruption."
Nuttall and Sode were found guilty of two charges of conspiring with Broddle to place an article with intent on or before September 14 2021.
Nuttall, Sode, and Broddle were convicted of conspiring to transfer criminal property.
Nuttall was convicted of two charges of failing to comply with a notice and Sode was found guilty of one similar charge.
In his victim impact statement Mr Sutcliffe said he had never heard of any legal representative being targeted in a "Mafioso-type way" before in an attempt to disrupt legal proceedings.
Mr Sutcliffe said he was "deeply alarmed and distressed" to learn that Nuttall's "premeditated campaign of fear and intimidation" included keeping his family under surveillance.
Mrs Jeavons said she felt "angry and shaken" that Nuttall had honed his anger into a "cruel, cowardly and entirely misplaced" attack upon herself and Mr Sutcliffe.
In her victim impact statement she described Nuttall's actions as "malicious and vindictive" and said his campaign has had a "significant" impact on her and her family.
The first device, left near a bench, was spotted by a porter and later found to be "potentially viable" as it contained a smoke grenade, jurors were told.
Another smoke grenade was let off with the second non-viable device near Mr Sutcliffe's office with the intent to cause "maximum alarm".
It came with a letter addressed to Mr Sutcliffe, using his old Army nickname "Sooty", which contained false allegations against him.
Previously, Broddle had gone to the lawyers' addresses and written a note threatening to rape Mr Sutcliffe's daughter and dig up his infant son's grave, although it appeared it was never sent.
Broddle, who was paid around £7,000 via Sode, was arrested two days after the devices were planted and police seized fireworks, gas canisters, a hat and wig and rubber face masks from his home.
Before being arrested, Nuttall hid a mobile phone inside an office chair and Sode threw his out of a window, it was alleged.
Mrs Jeavons had told jurors about the history of the financial wrangle with Nuttall, although his wife, Amanda Nuttall, who had won a lottery jackpot of £2.4 million, was named on the NCA legal papers.
She said payments to settle the £1.4 million order had been rejected by the NCA as possibly coming from the proceeds of crime, putting the Nuttalls' mansion at risk.
She said Nuttall was unhappy about that and at one meeting made it clear "it would be a red line if the NCA sought to recover his home".
Jurors heard that Nuttall also had a flat near Sloane Square in west London and a chauffeur-driven Rolls-Royce but neither was owned by him.
The legal proceedings started in 2011 and the original settlement dated back to 2019 and remains unresolved.
The NCA had claimed that assets held in the name of Mrs Nuttall and the associated corporate entities were funded from the proceeds of an international money-laundering network and mortgage fraud.
Nuttall's defence lawyer stressed that the settlement was made on a "commercial basis without admitting the NCA was right about anything".
Previously, Nuttall had been handed a 12-month conditional discharge for failing to pay a bond after his business was reclassified as high risk.
Nuttall blamed his brother, Philip, for some of his financial woes and denied having anything to do with a plot.
Most of the lottery win went to pay off his brother's gambling debts, he said.
He denied concealing his mobile phone from police, saying he was using the bathroom when officers arrived at Embley Manor.
Sode, who denied wrongdoing and claimed he was involved in recovering debts from clients of an escort agency business, was sentenced to six years and six months' imprisonment.
Broddle, who took responsibility for planting the devices but declined to name who he was working for, was jailed for seven years.
Broddle's sons were previously cleared of wrongdoing.