Three arrested after two men shot dead in 'targeted attacks' in quiet Cambridgeshire villages
30 March 2023, 07:21 | Updated: 30 March 2023, 10:06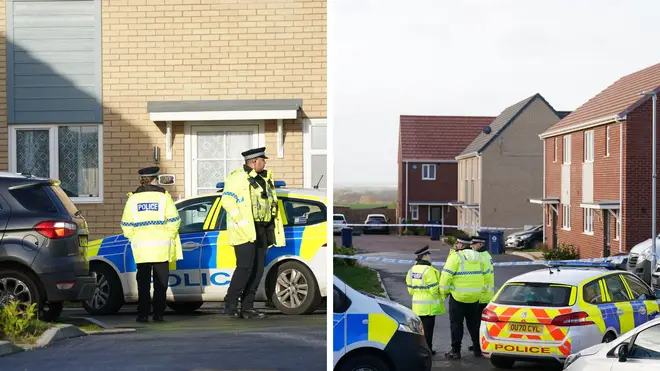 Three people have been arrested on suspicion of murder after two men were shot dead in separate "targeted" attacks in Cambridgeshire.
The men were killed at a house in Meridian Close, Bluntisham at about 9pm, and the Row in Sutton, near Ely, at about 9.37pm on Wednesday night. The two properties are about 6 miles from each other.
Police found both the victims, aged 32 and 57 respectively, dead with gunshot wounds.
Read more: Killer gang members caught on CCTV celebrating after shooting man dead in street and wounding two passers-by
Read more: Brave Nashville headteacher killed after she 'ran towards school shooter when she heard gunfire'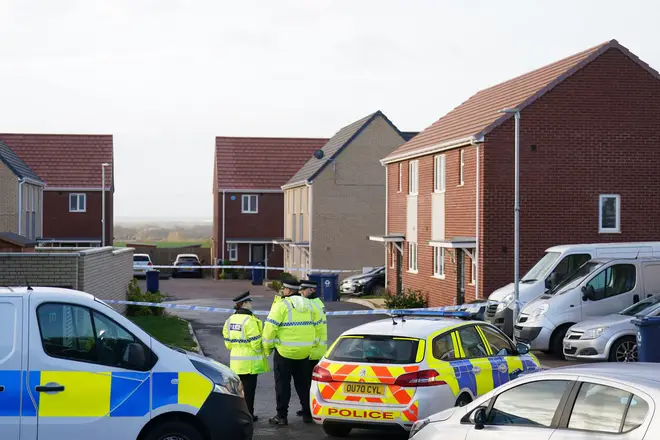 Officers have since arrested a 27-year-old man and a 33-year-old woman in Cambridge, as well as a 66-year-old man in Worcester.
Police have found a shotgun and a white Peugeot 208 that they believe were used by the killer.
Forensics officers in white suits were at the scene in Sutton this morning, as floral tributes were left on the drive and uniformed officers and a marked car beside blue-and-white police tape sealing off the homes.
Neighbour Gordon Murray said he saw police cars "racing down" and armed police shouting on Wednesday evening. The 62-year-old support engineer said officers later asked him if he had CCTV footage, and when he looked back he saw a white car that made two passes, and on the second pass the car stopped and someone opened the boot.
"I saw the police cars racing down here," he said.
"There was a lot of shouting.
"I thought it was an altercation or something. Then I saw the armed police.
"They were shouting something to the homeowners. That was it.
"I stood in the window watching."
Sarah Lown, said she heard three loud bangs on Wednesday evening.
"I didn't know it was gunshots at the time," the 38-year-old designer said.
"It was about 9.15pm; I thought it was something blowing over as I heard a bang.
"There are pallets in our garden that I thought could have fallen over.
"I didn't think anything crazy had happened.
"I heard two more - it was bang, space, bang.
"Whether or not they were each gunshots I don't know; then police were outside the house."
Detective Inspector Mark Butler, from Cambridgeshire police's major crime unit, said: "Tonight we have launched two linked murder investigations following the shootings of two men at separate properties in the county.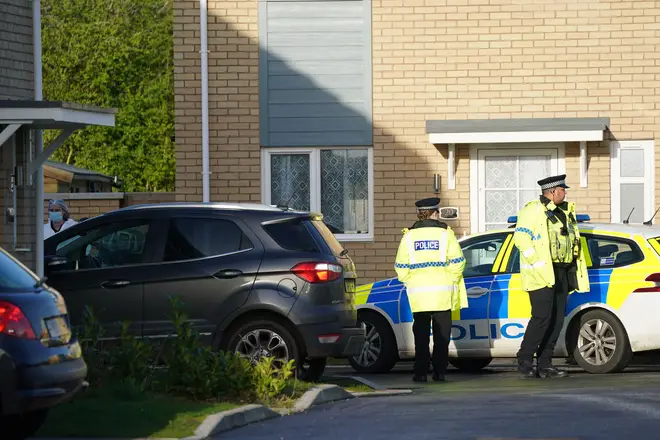 "These events will be shocking to local people and there will be understandable concerns within local communities, however, we are treating the attacks as targeted and there is no wider risk to the general public. There will be an increased police presence in the areas concerned today and officers and scenes of crime officers will be at the scenes throughout the day.
"Our thoughts also go out to the family and friends of the victims. Specially trained officers are in touch with them and they are helping our investigation.
"Detectives are now beginning inquiries into how these events unfolded and we are appealing to anyone who was in either area and saw anyone acting suspiciously or a white Peugeot 208.
"Any information, no matter how insignificant it may seem, could be very important to our investigation."
Anyone with information should report online here or via the web chat service and quote Operation Scan. People without internet access should call 101.