Outcry after 'homeless people's tents dumped in bin lorry' after encampment outside hospital broken up
10 November 2023, 20:28 | Updated: 10 November 2023, 21:51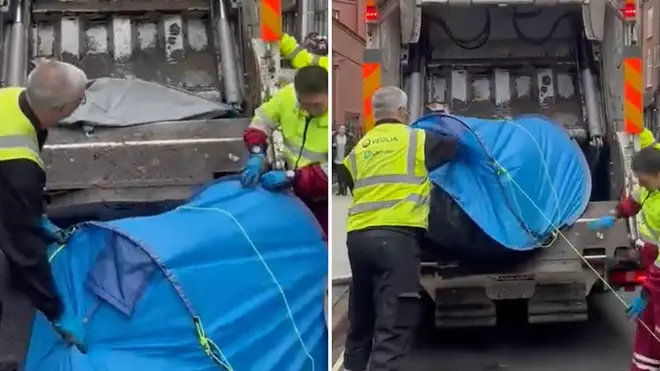 Camden Council workers have been seen seemingly throwing tents belonging to homeless people in the back of a waste disposal truck.
A video posted online by homeless charity Street Kitchen sparked outrage, as footage showed outsourced council workers picking up the tents from the pavement outside University College Hospital and putting them in the back of a bin lorry.
Hospital bosses said rough sleepers camped outside a building for immunocompromised patients had been moved on by police because of public health concerns.
Camden Council said it was investigating the incident, with the local authority's leader saying she was "deeply concerned".
Councillor Pat Callaghan added: "Nothing is more important to us than the welfare, safety, and rights of every person who is experiencing homelessness.
Read more: Tory MPs in fresh WhatsApp row over Suella Braverman's 'homeless' comments
Read more: Heartrending footage of tasered homeless man kissing and cuddling his dogs who were later shot dead by police
"Our outreach team, Routes off the Streets, have been working hard to offer support to every person sleeping rough in Camden, including access to accommodation and a range of other services.
"I'm also concerned that our contracted waste operator has been engaged in this operation and I will be personally looking into why this has happened."
Streets Kitchen pledged in response to "distribute as many tents as we can get our hands on".
Police said they had issued an order that allowed them to keep a person out of a designated area for up to 48 hours.
Officers said: "Met officers worked with University College London Hospital and other partners in response to concerns about approximately ten tents near the entrance to the hospital in Huntley Street, NW1.
"One person was arrested for breach of a S35 dispersal order having refused to comply with the police direction to relocate from the area. He has been taken into police custody.
"Appropriate support is being provided by partner organisations to those affected."
The hospital said that some homeless people had been moved on because of health concerns, as they were sleeping outside a wing for patients with very weak immune systems.
"Following public health concerns, the police have helped to relocate some people sleeping outside the Grafton Way Building, a hospital treating immunocompromised patients," a spokesperson said.
The hospital said it was committed to helping homeless people, including through a programme that tests "thousands of homeless patients a year for serious illness."
London is expected to be cold on Friday night, with temperatures set to drop as low as 4C.
It comes after Home Secretary Suella Braverman said rough sleeping was a "lifestyle choice" and said she would restrict homeless people from using tents, although there is no suggestion the Camden incident is related to her comments.