Tory MPs in fresh WhatsApp row over Suella Braverman's 'homeless' comments
8 November 2023, 18:29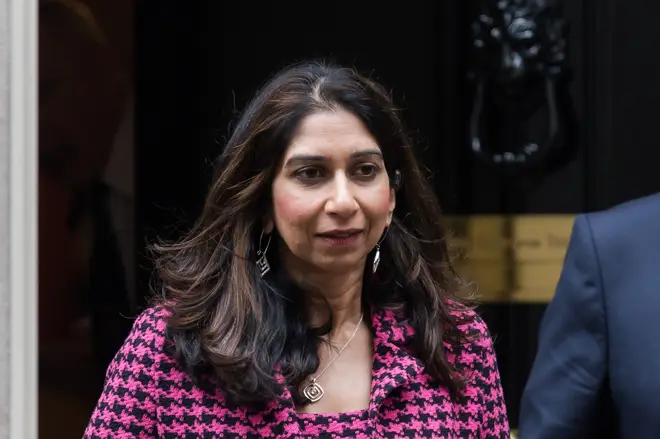 Tory MPs have launched into a round of bitter infighting on WhatsApp over Suella Braverman's homelessness comments.
The Home Secretary has been under fire for comments last weekend where she said homelessness is a choice for some - which has sparked a furious backlash.
And Gloucester MP Richard Graham sparked off a huge spat when he hit out at the Home Secretary in an internal chat, LBC can reveal.
Ms Braverman said last weekend: "We cannot allow our streets to be taken over by rows of tents occupied by people, many of them from abroad, living on the streets as a lifestyle choice."
Read more: Suella Braverman claims sleeping rough is 'a lifestyle choice' as she calls for crackdown on homeless pitching tents
Read more: Pro-Palestine protesters who vandalise Cenotaph 'must be jailed faster than feet can touch the ground', warns Braverman
Sharing a message on Twitter in a Home Office WhatsApp group, Mr Graham said: "Tone matters. It's our duty to calm not inflame: to reduce, not increase, tensions.
"The language of the Home Secretary whether on tents or on marches is unhelpful to cohesion in our communities and is not in my name: nor does it reflect how we tackle issues in Gloucester."
But immediately a string of Braverman-backing MPs piled in to defend her.
Ipswitch MP Tom Hunt said: "I saw that. I totally disagree.
"It's incredibly unhelpful for you to start taking public pot shots.
"I may have concerns about a number of ministers but I don't take to twitter and start slagging them off."
Jill Mortimer replied: "Nice bit of unity there - what about that tone?
"What you have tweeted is more akin to washing dirty linen.
"Gloating and sharing an anti-Home Secretary tweet on a Home Office WhatsApp group was probably not the brightest decision by our gentle colleague."
And Tory Deputy Chair Lee Anderson added: "Quite right Tom. I thought we were supposed to criticise the opposition, not one of our own. Maybe I got this politics all wrong."
Stoke On Trent's Jonathan Gullis said: "Well done on the self-promotion, I'm sure all the likes on Twitter will make you feel better."
Mr Graham defended his message, saying "democracy is all about disagreeing agreeably".
And he said the Home Secretary's language was "dangerous for us all" - adding that it was the first time in fourteen years he was publicly attacking a colleague.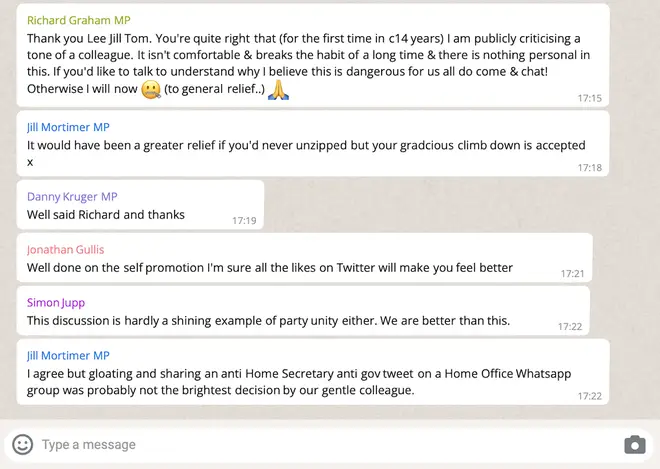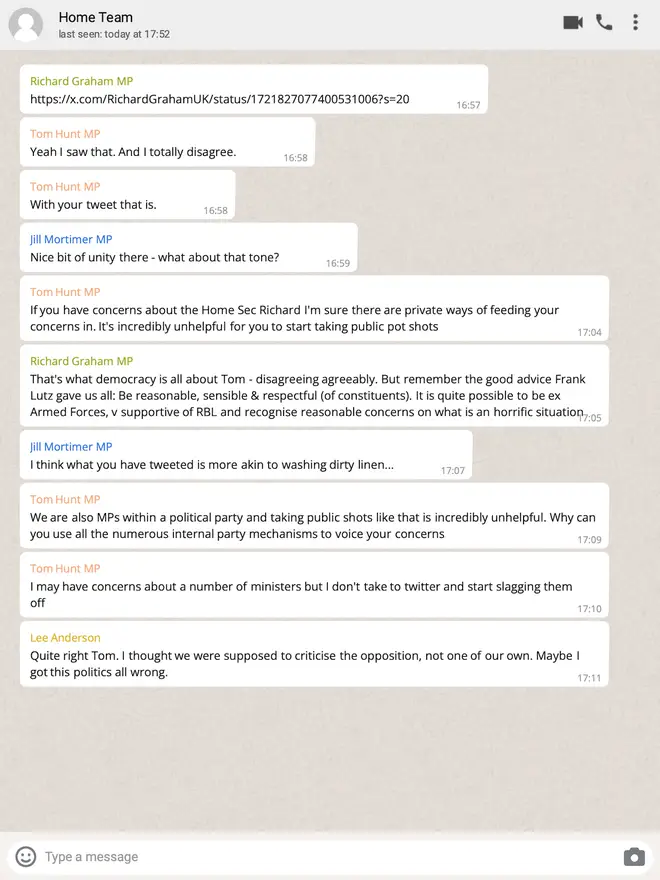 There have been several complaints made to the Chief Whip about Ms Braverman's comments, LBC understands.
The Home Secretary had been pushing for new laws to include fines for rough sleepers who have been warned by cops about their tents causing a nuisance.
And there would be civil penalties for charities that supplied tents to people identified by cops as causing a nuisance.
Despite the policy not appearing in yesterday's King's Speech, sources close to the Home Secretary confirmed to LBC that she is still pushing for it.
No10 said no decisions had yet been made.