All six English clubs set for European Super League have withdrawn after fan protests
20 April 2021, 23:13 | Updated: 21 April 2021, 00:03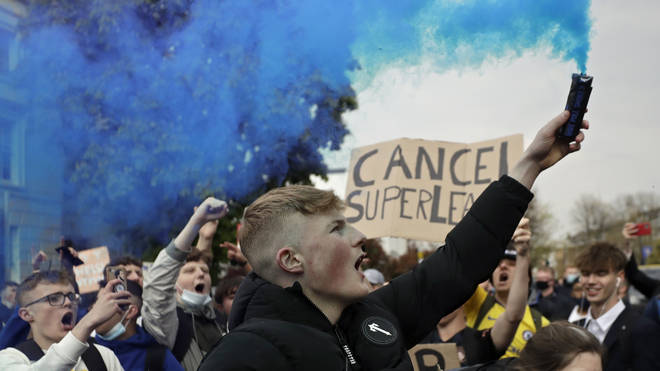 All six English clubs that were due to join the European Super League have withdrawn following a furious backlash from fans, players and politicians.
Plans for the breakaway competition have now been thrown into turmoil.
Manchester City were the first to confirm their departure from the proposed competition, amid reports Chelsea were also planning to back out on Tuesday night.
Arsenal, Manchester United, Liverpool and Tottenham later announced their planned withdrawals.
It comes just two days after the proposal - which would have changed the structure of football forever and led to widespread condemnation across Europe - was confirmed by clubs.
Chelsea owner Roman Abramovich is understood to have driven the decision for his club to leave having listened to fan protests.
Manchester City also officially took the first steps towards withdrawing from the league, despite previously not commenting on the news "for legal reasons".
A statement on the club's website read: "Manchester City Football Club can confirm that it has formally enacted the procedures to withdraw from the group developing plans for a European Super League."
Read more: Gavin Williamson brands Super League plan 'quite simply wrong'
Watch: European Super League plan is driven by greed, says AFTV founder
In response, UEFA president Alexander Ceferin said he is "delighted to welcome Manchester City back to the European football family".
Liverpool released a brief statement just before 11pm announcing the club's withdrawal.
"Liverpool Football Club can confirm that our involvement in proposed plans to form a European Super League has been discontinued.
"In recent days, the club has received representations from various key stakeholders, both internally and externally, and we would like to thank them for their valuable contributions."
In a statement, Manchester United said: "Manchester United will not be participating in the European Super League.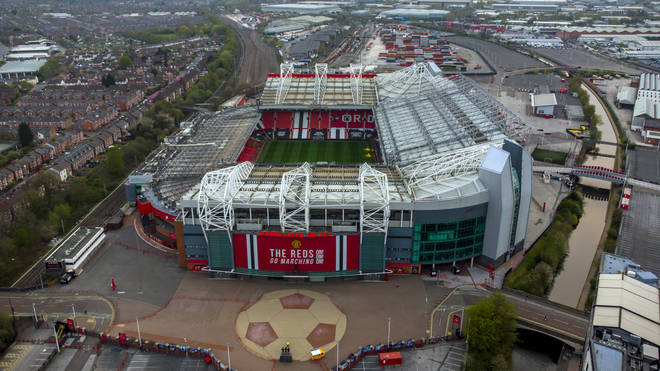 "We have listened carefully to the reaction from our fans, the UK government and other key stakeholders.
"We remain committed to working with others across the football community to come up with sustainable solutions to the long-term challenges facing the game."
Arsenal described the move as a "mistake" and said it was withdrawing while Tottenham chairman Daniel Levy said he regretted the "anxiety and upset" caused and the club was also dropping out of the plan.
"We should like to thank all those supporters who presented their considered opinions."
Meanwhile, Ed Woodward has resigned from his role as Manchester United's executive vice-chairman.
The 49-year-old took the post at Old Trafford in 2013 and played a key role in the now stuttering Super League.
It is understood he will continue in his role with United until the end of 2021.
The closure of the New York Stock Exchange brought confirmation of his departure shortly after 9pm.
Woodward said: "I am extremely proud to have served United and it has been an honour to work for the world's greatest football club for the past 16 years.
"The club is well positioned for the future and it will be difficult to walk away at the end of the year."
Analysis: European Super League could be massive own goal for the beautiful game
Co-chairman Joel Glazer added: "Ed Woodward has served the club with great distinction. On behalf of everyone at United I would like to place on record our sincere thanks for his tireless work and dedication.
"His contribution to the club has been massive, and he will always be welcome at Old Trafford as a part of the Manchester United family."
On Tuesday, Prime Minister Boris Johnson was said to be considering a "legislative bomb" to block the proposals for the competition and he praised the move, as did Labour leader Sir Keir Starmer.
The decision by Chelsea and Manchester City is – if confirmed – absolutely the right one and I commend them for it.

I hope the other clubs involved in the European Super League will follow their lead.

— Boris Johnson (@BorisJohnson) April 20, 2021
Reports have also emerged that Andrea Agnelli is set to resign as chairman of Juventus.
Meanwhile in Spain, Barcelona and Atletico Madrid are also said to be stepping down from the plans for the breakaway competition.
Liverpool skipper Jordan Henderson - who was reportedly leading a meeting of all the Premier League's club captains earlier in the day - made his feelings and those of his teammates abundantly clear on Twitter.
He wrote: "We don't like it and we don't want it to happen. This is our collective position.
"Our commitment to this football club and its supporters is absolute and unconditional.
"You'll Never Walk Alone."
His clubmates immediately followed up his post by sharing it on their social media accounts as well.
Manchester City midfielder Kevin De Bruyne voiced his concerns about the European Super League on social media.
He posted a picture of a statement on Twitter: "This man comes out a little town out of Belgium dreaming of playing at the highest stage possible. I've represented the Belgium, German and English league. And also proudly represented my country.
"I have worked and competed against everybody trying to win the ultimate. But the most important word in this is COMPETING.
"With all the events that been happening the last few days maybe this is good moment for everybody to come together and try the work for a solution. We know this is a big business and I know I am part of this business.
"But still I am a little boy who just loves to play football. It's not about a certain entity in this case, it's about the football over the whole world.
"Let's keep inspiring the next generation of footballers and keep the fans dreaming."
Appearing to mock the troubles of the Super League, Leeds owner Andrea Radrizzani tweeted: "The One Day league".
Meanwhile, ex-Liverpool midfielder Dietmar Hamman said: "The existence of the Super League was shorter than Perez wanted the games to be. Well played football community."
Hundreds of Chelsea fans who had gathered outside Stamford Bridge to protest against the club's plans to join the league cheered when they heard it was now preparing to withdraw.
The One Day league ? 🤔🤭 💛💙

— Andrea Radrizzani (@andrearadri) April 20, 2021
The existence of the Super League was shorter than Perez wanted the games to be. Well played football community

— Didi Hamann (@DietmarHamann) April 20, 2021
One unnamed fan said: "The fans have won."
Another supporter, sporting a Chelsea jacket, described plans for the Super League as "a terrible move".
He said: "It's going to really annoy everybody, but maybe bring all the clubs in the football league together, all the supporters, to fight it."
He added: "Tonight they might not even let this game happen with a bit of luck and that will create a bit of a buzz around it, because it's not right, we're not having it.
"I think the amount of people that are here and the sort of mood everybody's in, I think there's a big determination and I think this is feeding around the country now, and everyone sees it's escalating. Each club is doing it, it started last night and I think they'll all come together."