Couple cooks steak and eggs on iron to avoid missing favourite TV show
16 October 2023, 21:48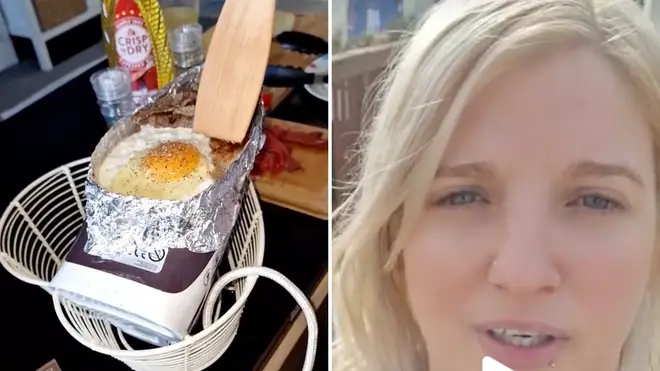 A couple have brought new meaning to the phrase 'comfort food' after cooking steak and eggs on an iron so as not to have to get up from the TV.
Charlotte and her partner Dan have gone viral with their technique of wrapping tin foil around the hot side of the iron.
They claim this has a similar effect as if they were cooking on the hob.
"So, we're watching a series. Dan wanted to make steak. He ended up coming in with the iron," Charlotte said.
"It makes sense," Dan chimed in. "Then at least we can watch series while we cook."
Charlotte said that the steak "was actually cooking nice".
Read more: Horror in Brussels as two people 'wearing Sweden football shirts' shot dead, with 'ISIS member' still on the loose
Read more: Weather warnings issued as Storm Babet set to bring 'extremely' heavy rain and floods to parts of Britain
"You don't even have to clean a frying pan, you just put the foil in the bin and the iron back away again", Charlotte said.
"I don't know why Dan thought of this but it's a pretty nifty idea to be fair."
She added: "You don't even have to buy a cooker. If you've got an iron - you're alright!"
But this way of cooking clearly isn't for everyone.
One commenter on a popular forum said: "The biggest problem besides the logistic issues involved in doing this without getting horribly burned is that the iron only provides like 25% of the power of a stove element, so it won't get hot enough to make cooking simple."