Culture Secretary Lucy Frazer says 'from the river to the sea' chant is anti-Semitic
8 November 2023, 10:09 | Updated: 8 November 2023, 10:11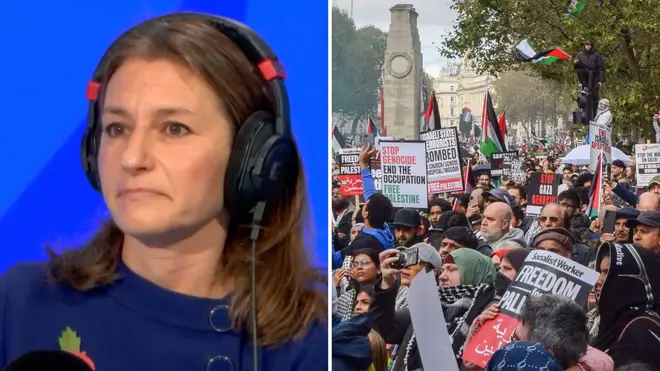 The "from the river to the sea" chant used during pro-Palestine protests is anti-Semitic, Culture Secretary Lucy Frazer has said.
Speaking on LBC's Nick Ferrari as Breakfast, Frazer said she knew how people felt about "the marches, the number of people on these marches and what they're saying".
Addressing use of the phrase "from the river to the sea", she went on to say: "That is a chant that is calling for the eradication of the state of Israel and by analogy therefore the eradication of the Jews within Israel and I think that is extremely offensive.
"I think it is anti-Semitic," Frazer added.
Read more: 'Very provocative' Armistice Day pro-Palestine protest must be kept 'under review' Culture Secretary tells LBC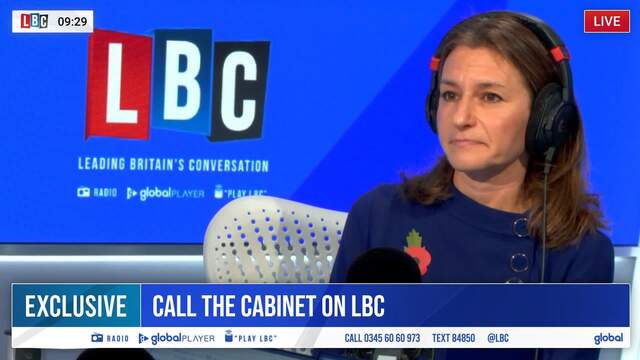 Culture Secretary Lucy Frazer says 'from the river to the sea' chat IS anti-Semitic
It comes amid concerns that protesters may disrupt Armistice Day after the head of the Met Police said there is no law that he can use to stop the pro-Palestine march from taking place.
Thousands of people are expected to take to the streets in London again on Saturday to protest the war in Gaza and the thousands of civilian casualties.
Frazer said: "I do think it is wrong for criminal activity to take place, which is intimidating, which involves extremist behaviour, which involves incitement to racial hatred and I do think the police should think carefully about that and I hope that they keep this under review."
She went on to say: "This is a very provocative event and what we're talking about this weekend is respecting those who have fought for our country, respecting the fallen... the wounded and servicemen and women who gave the ultimate sacrifice – their lives for our country."
Read more: Police will not ban pro-Palestine protest on Armistice Day, Met chief says, as threshold for 'serious disorder' not met
Read more: Labour frontbencher Imran Hussain resigns over Sir Keir Starmer's stance on Gaza, as he calls for ceasefire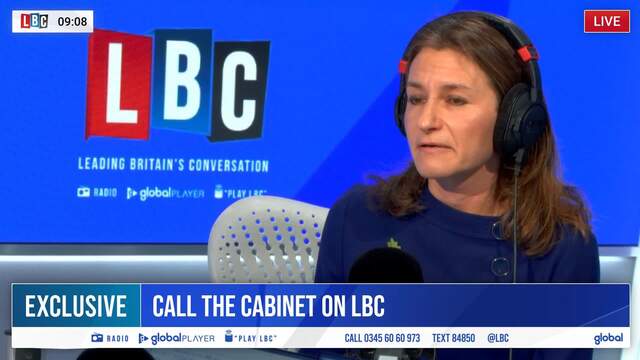 Culture Secretary says Met police should keep protests on Armistice Day under review
The controversial "from the river to the sea" phrase has been widely criticised due to its prominence at the protests, with Home Secretary Suella Braverman previously saying: "It means the River Jordan and the Mediterranean Sea - the boundaries of Israel - and comes from the dark days when most Palestinian groups sought to eliminate Israel.
"It was dropped by mainstream organisations after Israel and the PLO [Palestinian Liberation Organisation] made peace with the 1993 Oslo Accords."
A senior Labour MP was also suspended at the end of October for using the phrase at a pro-Palestine rally in London.
Andy McDonald, the MP for Middlesbrough, used the phrase as he called for peace amid the ongoing war between Israel and Hamas.
"We won't rest until we have justice, until all people, Israelis and Palestinians, between the river and the sea can live in peaceful liberty," he said.