Customers line up to support Jewish cafe owner in New York after his baristas all quit over support of Israel
8 November 2023, 11:04 | Updated: 8 November 2023, 12:54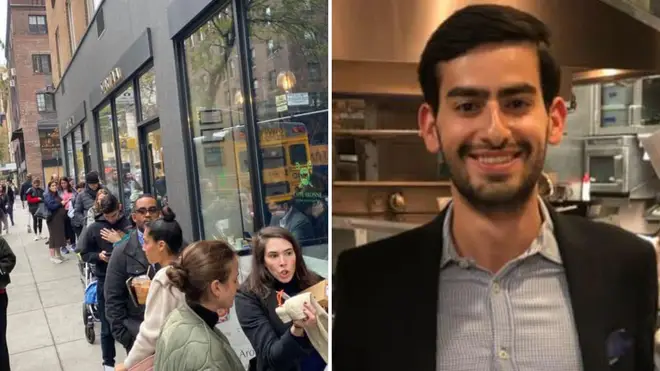 Customers have lined up around the block to support a Jewish cafe owner in New York after his baristas all quit over his support of Israel.
Caffe Aronne was left short-staffed on Tuesday after the owner addressed the 'Free Palestine' pins baristas were wearing to work.
Aaron Dahan, 25, said five of his staff had walked out since Hamas' October 7 attack in Israel.
It came after he displayed an Israeli flag at the cafe and started a fundraiser for the Israeli Red Cross.
Dahan's mother, Peggy, said she was inundated with emails from all of the baristas, announcing their resignation.
She took over the store after her son called asking her to shut the location down for the day. She said the community had instead come out in full support, with customers queuing around the block to visit the cafe.
Read more: Police will not ban pro-Palestine protest on Armistice Day, Met chief says, as threshold for 'serious disorder' not met
Read more: Labour frontbencher Imran Hussain resigns over Sir Keir Starmer's stance on Gaza, as he calls for ceasefire
"Our staff was young. They think they know everything, liberal, college-educated," Dahan, who is Jewish, told the New York Post.
"They think we're supporting genocide, we're supporting colonialism. They know the keywords but they don't really know what they mean."
Dahan said he was disappointed as he considered his staff family and had even sat down with them before they quit to discuss their views.
"We knew our staff. We knew they were thinking these things. I said, 'Let's go for dinner. Let's sit. Let's ask questions. Let's learn. Let's realise that we're not all here trying to kill each other'," he said.
Plastic Surgeon Dr Ira Savetsky, who is also the husband of former Real Housewives of New York star, Lizzy Savetsky, highlighted the incident on his Instagram, urging people to show their support.
"Nearly all of the workers at my favorite cafe, @caffearonne, just down the block from my office, quit today because the owner is a proud Jew and supporter of Israel," he said. 
"Please everyone go support them by visiting them at 71st and Lexington, buying gift cards, donating to their ambucycle for @magen_david_adom, and leave them a positive review on Google!"
It came after the cafe released a statement showing support for the Israeli Red Cross, Magen David Adom, and started a fundraiser.
"We have all recently seen the terrorism and barbarism that has been unleashed onto Israeli citizens and with all of our help, we are looking to purchase a medi-cyle - motorcycle ambulance hybrid," they said.  
"Every year Magen David Adom saved the lives of tens of thousands of Israeli Jews, Muslims, and Christians. Whether they be religious or secular, straight or gay, man or woman, each life is worth saving. We hope you join us by scanning the code below as we aim to do good!"