Disposable vapes are 'aimed at children' and cause 'school kids to be distracted' could be banned within months
12 October 2023, 10:52 | Updated: 12 October 2023, 10:54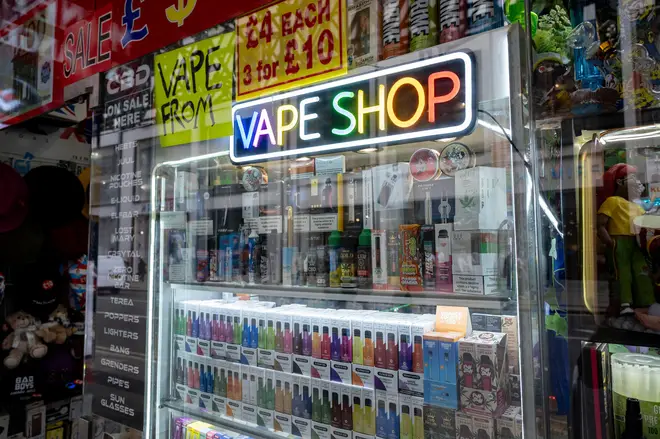 Additional reporting by Henry Riley
The vaping industry is "targeting children" with flavours and packaging causing schoolchildren to be distracted and unable to sleep due to nicotine addiction.
The UK government has unveiled new proposals aimed at curbing vaping and smoking among young people, including gradually raising the legal age to purchase tobacco.
Speaking to LBC radio, Health Minister Neil O'Brien said the number of children vaping has "tripled in the last couple of years." He claimed the vaping industry was "clearly targeting children" with flavours and packaging.
He also revealed that school children are "distracted, not sleeping properly because they're getting hooked on nicotine."
To address this, O'Brien said the government plans to restrict vaping products and is considering "a ban."
It is illegal to sell vapes to under-18s but social media is flooded with posts from teenagers showing coloured vapes and discussing flavours such as pink lemonade, strawberry, banana and mango. Many contain nicotine.
Read more: Sunak says 14-year-olds will 'never be sold a cigarette' under plans to raise smoking age by one year, every year
Read more: Urgent warning issued over vapes after exploding device set house on fire leaving family grateful to be alive
Earlier, Health Secretary Steve Barclay told LBC's Nick Ferrari at Breakfast a consultation will be launched to "get the policy right" in balancing vaping's role for adults while preventing marketing to kids. He specifically mentioned regulating disposable vapes due to environmental concerns over waste.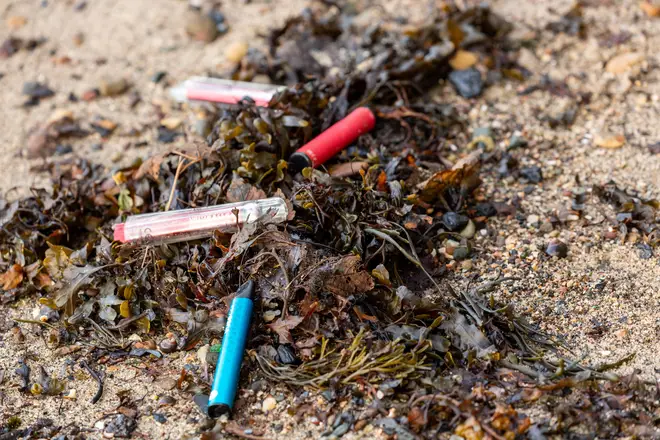 Last week, Prime Minister Rishi Sunak announced in his Conservative Party conference speech a plan to incrementally raise the legal smoking age each year from 2023.
The age would increase annually so that "a 14-year-old today will never legally be sold a cigarette," Sunak said.
He described the policy as "the single biggest intervention in public health in a generation." Sunak aims for the plan to result in 1.7 million fewer smokers by 2075. A parliamentary vote on the age increase plans has not been scheduled yet.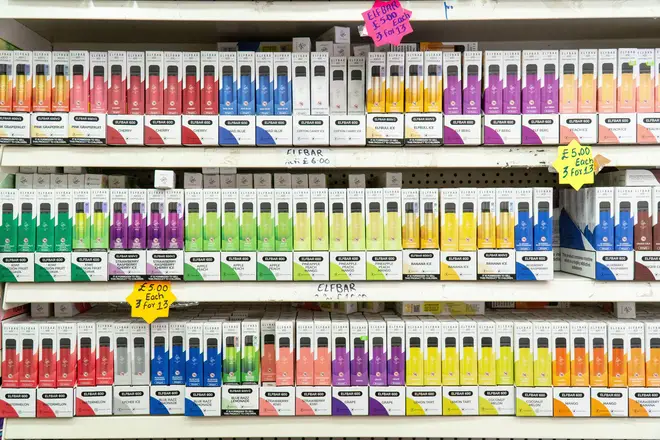 England's Chief Medical Officer Chris Whitty backed the announcements, saying smoking causes stillbirths, childhood asthma, heart disease, stroke, dementia and most lung cancer cases. He said preventing smoking addiction early is "one of the most important measures we can take to improve health."
The government will also consult on further restricting vape flavors, displays, packaging and disposable vape sales.
Public health experts have called for a disposable vape ban to protect children and the environment.
"Disposable vapes are an inherently unsustainable product, meaning an outright ban remains the most effective solution to this problem," said David Fothergill, chairman of the Local Government Association's Community Wellbeing Board.